'Driver who makes fewer crashes will have a higher value'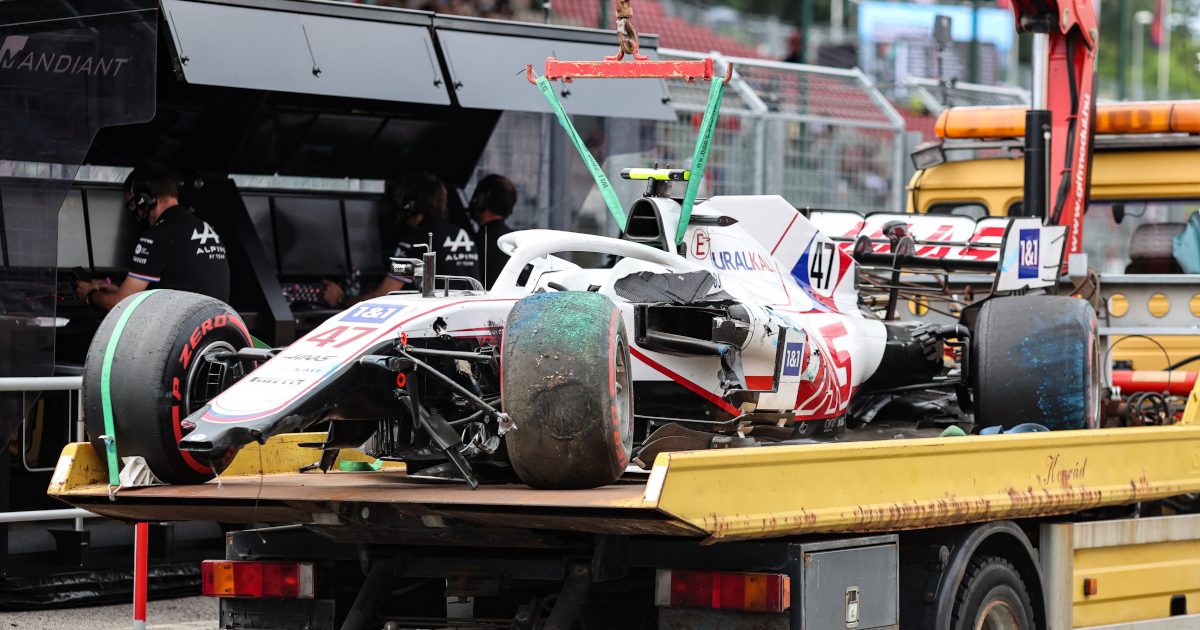 As the F1 teams grapple with the budget cap and the cost of crashes, Guenther Steiner reckons it is no longer speed alone that determines a driver's value.
Crashes and the cost of them has been making headlines over the last few weeks as Red Bull had three cars involved in two crashes, neither of which were Max Verstappen nor Sergio Perez's fault.
Instead both were caused by Mercedes drivers with Christian Horner asking if Toto Wolff was going to pick up the bill.
Every crash this season has an even bigger price to pay than in previous years as, running under a budget cap, the teams are limited in how much they can spend so repairing a car means a few pounds less towards improving it.
But while the Mercedes team-mates left Red Bull with a hefty repair bill, they also cost them own team a pretty penny.
Steiner is familiar with this having been upset when his own driver Mick Schumacher hit the barrier in FP3 in Hungary, the German's second big crash of this season.
The Italian reckons with Formula 1 teams now having a limited budget, it is not just speed that will determine a driver's value.
He told The Race: "I know this is a sore point at the moment and when it comes to the budget cap, racing was always going to be unpredictable and we wanted unpredictability.
"If we engineer everything and organise everything to the ultimate end, we won't have unpredictability anymore.
"We see when it rains that things become unpredictable and this is part of racing and the teams don't expect these crashes to happen.
"We've had quite a lot of damage – mainly of our own fault – and this is what it is. This will now make up the value of a driver in the future.
"A driver who does very few mistakes will have a higher value because there will be less damage and you can use that money for development rather than repair. This is all part of the game."
Steiner also had a repair bill for Nikita Mazepin in Hungary, the Russian hit by Kimi Raikkonen in the pits.
Unfortunately Nikita has had to retire from the race. He was hit by an Alfa Romeo in the pit lane and his car is too damaged to continue. #HaasF1 #HungarianGP pic.twitter.com/BerAYUML2F

— Haas F1 Team (@HaasF1Team) August 1, 2021
Check out the Haas collection via the official Formula 1 store
He, however, insists changing the budget cap to penalise the driver who caused the crash, is not a viable solution.
"If we put it in the rule that whoever runs somebody off is at fault for the damage, we then have the insurance assessor coming along to say whose fault it was and then all of a sudden we are employing another 20 people to be judges and stewards and working out how many percent is whose fault," he said.
"And the next thing we'll be in court as someone owes you $100,000, because the value of the parts is never straightforward. A component that's on its last race of five has less value than a new part and so on.
"At some point you have to say 'we live with this, we'll manage it' and move on. Otherwise we could complicate the hell out if it and we'll need a higher budget cap just to employ the damage assessors.
"People want to watch the racing, they don't want to hear about insurance claims. Sometimes we have to rein it in a bit.
"If we have three races without any damage, everyone will forget about it."