How Haas' new-look livery for F1 2023 has led to performance gains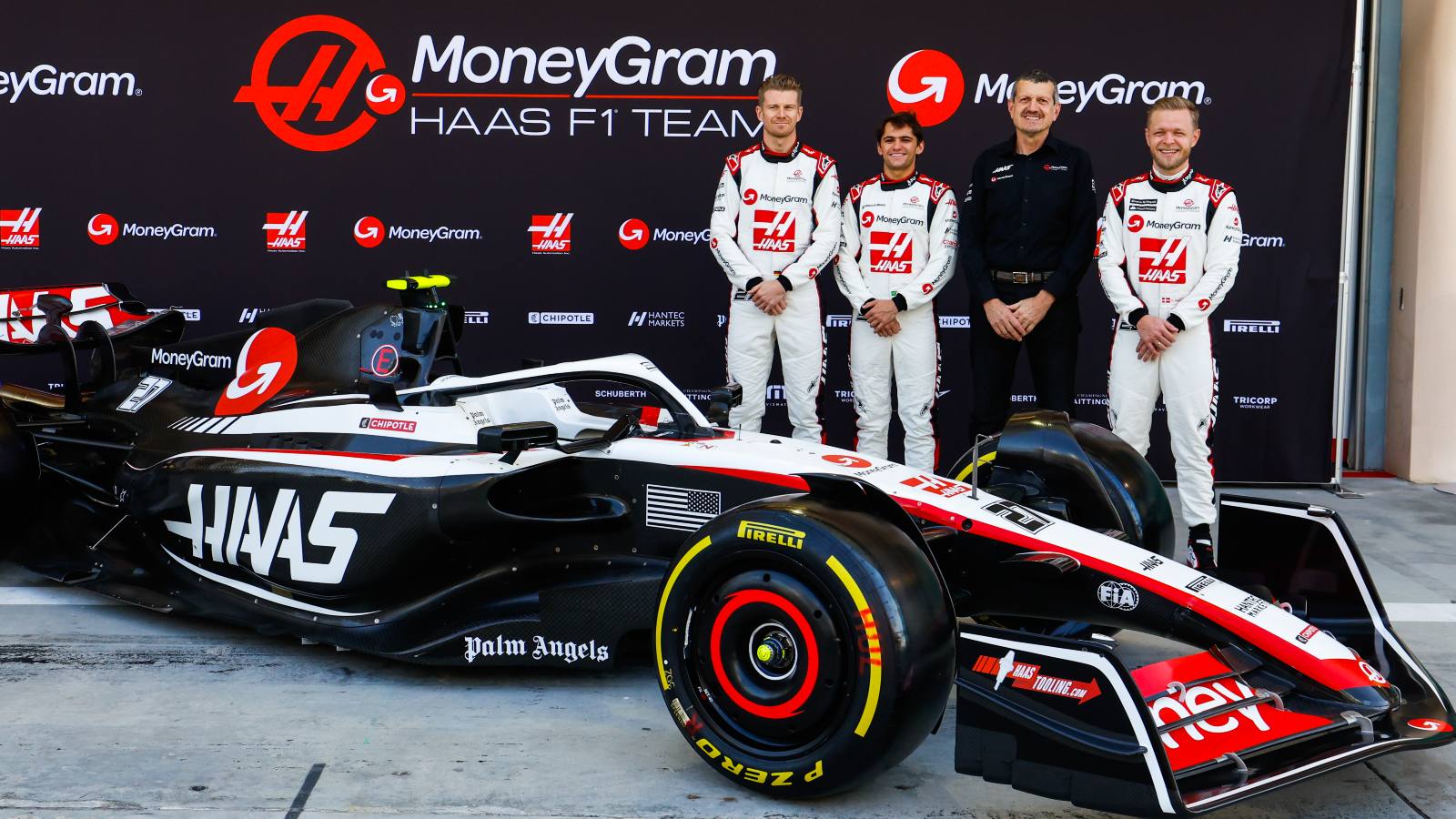 Haas' new white and black look has more benefits than just aesthetic ones their technical director has revealed.
As teams try to get as close as possible to the weight limit, plenty have adopted liveries with interesting paint schemes or lack thereof.
More and more teams have favoured stripping away the paint to the carbon fibre underneath in an effort to shed any excess weight and that is an option Haas have gone for.
In a throwback to their early liveries, Haas' 2023 was predominantly white, as it was last year, but with black replacing 2022's blue.
Technical director Simone Resta said that by choosing to ditch the paint, it saves about a pound of weight.
"It depends on the amount of paint that you apply, whether you apply more of a reflective paint or a matte paint," the Italian told Motorsport.com. "So there are a lot of variables and I'd say you can probably shed a pound.
"[The livery change] is really helpful, but it's still super nice. So I think it was a good decision.
"I think that as a team we really all pulled together and tried to prioritise the weight while ensuring a nice finish and I think we really found the right spot."
Resta also confirmed that with the lack of paint and other weight-saving measures, Haas had reached their weight target.
"We are satisfied with the weight," he said. "The guys at the factory did a great job developing the car.
PlanetF1 recommends
The problems facing Ferrari and Mercedes that will be music to Red Bull's ears
Is Max Verstappen the modern day equivalent of Ayrton Senna?
F1 rumours: Laurent Mekies part of Ferrari mass exodus? Leclerc meets Ferrari president
"We're still working on the reliability to understand if everything works as expected. But so far we're very happy with the weight and are under the weight limit."
The weight limit is not the only cap that Haas will be able to hit this season with injection of cash provided by title sponsor MoneyGram allowing them to reach the budget cap for the first time.
Resta said the team planned to spend the extra funds on developing the car and finding ways to spend it that will benefit the team.
"There's a nice new sponsor on the car," Resta says. "It was a big cash injection to fund the development of the team. Last year we put together something like a package and a half. And this year we plan to do even more.
"Not only will we take a big step, we will also distribute more at the different races. So that's the plan. But of course we have to see how much we can get out of the wind tunnel and when we're ready we'll put parts into production.
"I think it's a very good opportunity for the group to develop more at the factory and then take more parts to the track, learn and keep improving.
"So I think it's a very good opportunity and it's a good job by the team, by Guenther [Steiner] and the marketing people that we have more resources available."
"A lot of attention is paid to investing the available funds in a way that benefits the team. I think the team has learned to be very economical and I think that could be an advantage for the team to be able to spend funds wisely."