Haas driver Mick Schumacher had to 'adapt to different world' when Kevin Magnussen arrived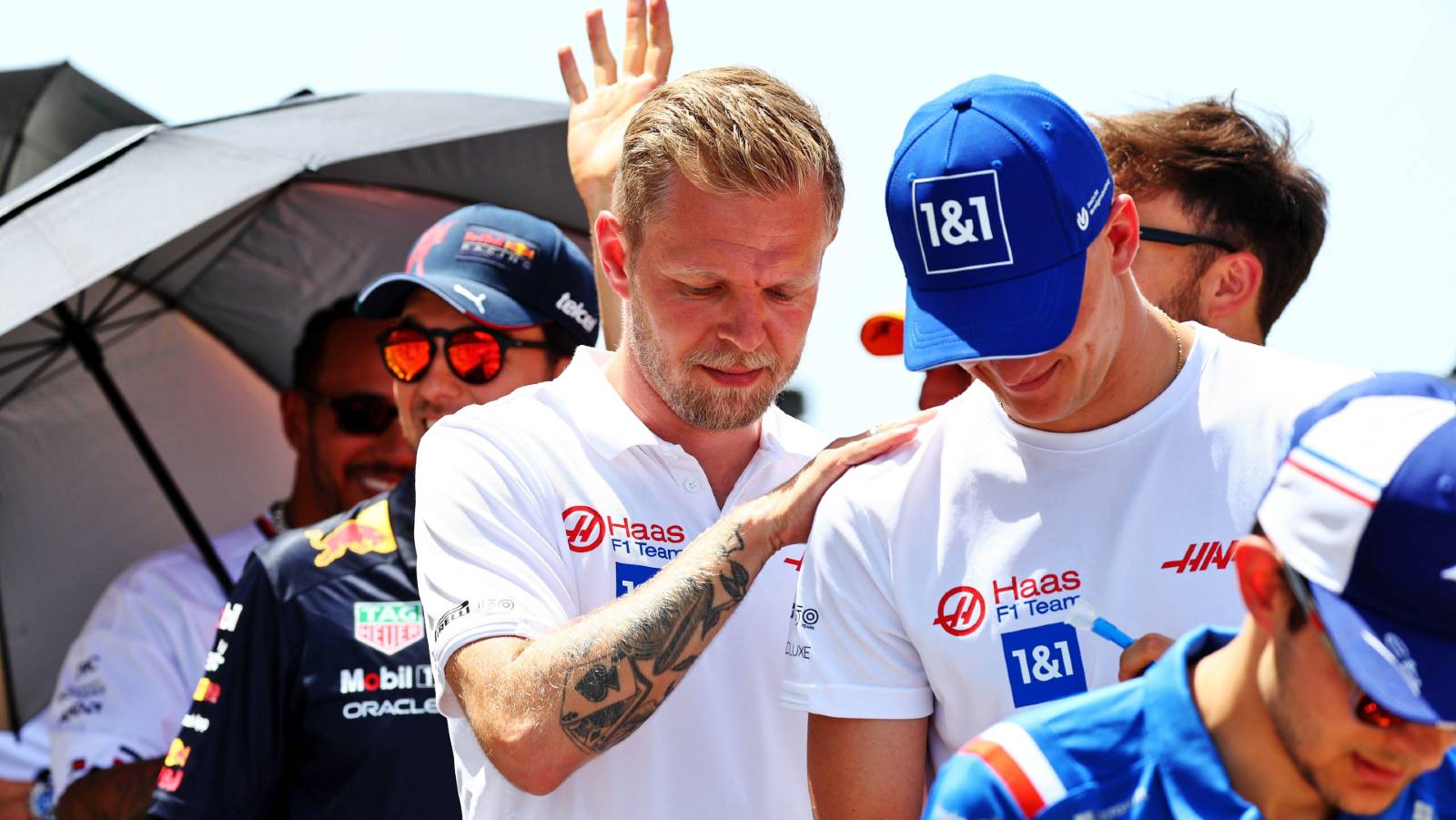 Guenther Steiner described Kevin Magnussen's arrival at Haas as a "different world" that Mick Schumacher needed to adapt to.
The Dane returned to the American team following Nikita Mazepin's sacking just weeks before the season started and looked as if he had never been away. He earned P5 in his very first race back and has since finished within the points on four more occasions.
His arrival also represented a significant step-up in terms of team-mate comparison for Schumacher, who went from facing a fellow rookie with a habit of spinning to an F1 veteran who has a podium finish under his belt.
Taking his time to readjust to this new yardstick of which he would be measured against, the young German found his feet at the British Grand Prix and has finished ahead of Magnussen in every race since then.
Team principal Steiner has praised Schumacher's ability to deal with the pressure and said he believes his role is to give each driver the same opportunity.
"I think a lot of pressure was brought from outside into him, and I don't know how he deals with that one, because he's doing his own thing there," he said, as per Motorsport.com.
"But I think on what I always do, and always will do as team principal, is I give them the same opportunity as the other driver.
"And as long as you keep that, you can look in both drivers' eyes and say: 'Hey, this is what you've got, it's now down to you to find a solution to it because I cannot drive the race car. I know it's not going as you wanted to go. But keep on trying, this is the same opportunity.'
Guess who's back… @HaasF1Team @F1 pic.twitter.com/ybaRZbpMmj

— Mick Schumacher (@SchumacherMick) August 23, 2022
"Other than the upgrade in Hungary, everything was always equal treatment, and with strategy, the same thing. So that is the only thing that I can try to stabilise: so that he stays focused mentally. Then obviously, the interference from outside, I cannot manage that because I cannot go into his head."
Steiner described Magnussen's arrival as a "different world" for Schumacher to adapt to but believes he has now adjusted to it.
"Obviously, at some stage when Kevin [Magnussen] came in, it was a different world for him and he needed to adjust to it," the 57-year-old said. "But I cannot tell him that; he needs to see that on the data where he loses time and stuff like this.
"But I think he got over that, you know. Obviously, we would have liked it to come earlier, because then we would have more points, but in the end, Silverstone and Austria, they were two good races for him. So then I hope now we are on that road."
With his F1 future in doubt, Mick Schumacher needs to show he is deserving of his spot
Nine races to go and your future in the sport as the carrot dangling in front of you, the second half of the 2022 season could prove to be career-defining for Mick Schumacher.
In his rookie season, he was afforded some slack given the slowness of the Haas car and also his consistent ability to beat Mazepin but now, with both the car and his team-mate quicker, Schumacher has been asked to step up.
If you were to ask anyone if Schumacher would continue with Haas just five or six races ago, the answer would not have been as positive as it is now. The back-to-back points scores at Silverstone then Austria has raised the German's stock and also shook the lack of a points score monkey off his back.
But it is still not enough to guarantee he will be at Haas come next season. With a lack of available seats, the team have been coy when it comes to offering to extend Schumacher's contract which ends following the 2022 season.
Schumacher was described as the "one loser" following the filling of the Aston Martin seat and it removed any leverage he may have had in terms of agreeing to a new deal.
What does now face Schumacher is nine races to prove he is worthy of a place in the sport. Haas may choose to go elsewhere with reports linking them to a move for McLaren's Daniel Ricciardo but even if Schumacher did leave the team, it does not necessarily mean an end to his time in F1.
For the son of one of the most famous drivers to ever race, it is time to prove it is more than just his last name that is keeping him on the F1 grid.