Haas 'didn't want to take that risk' of more Mick Schumacher crashes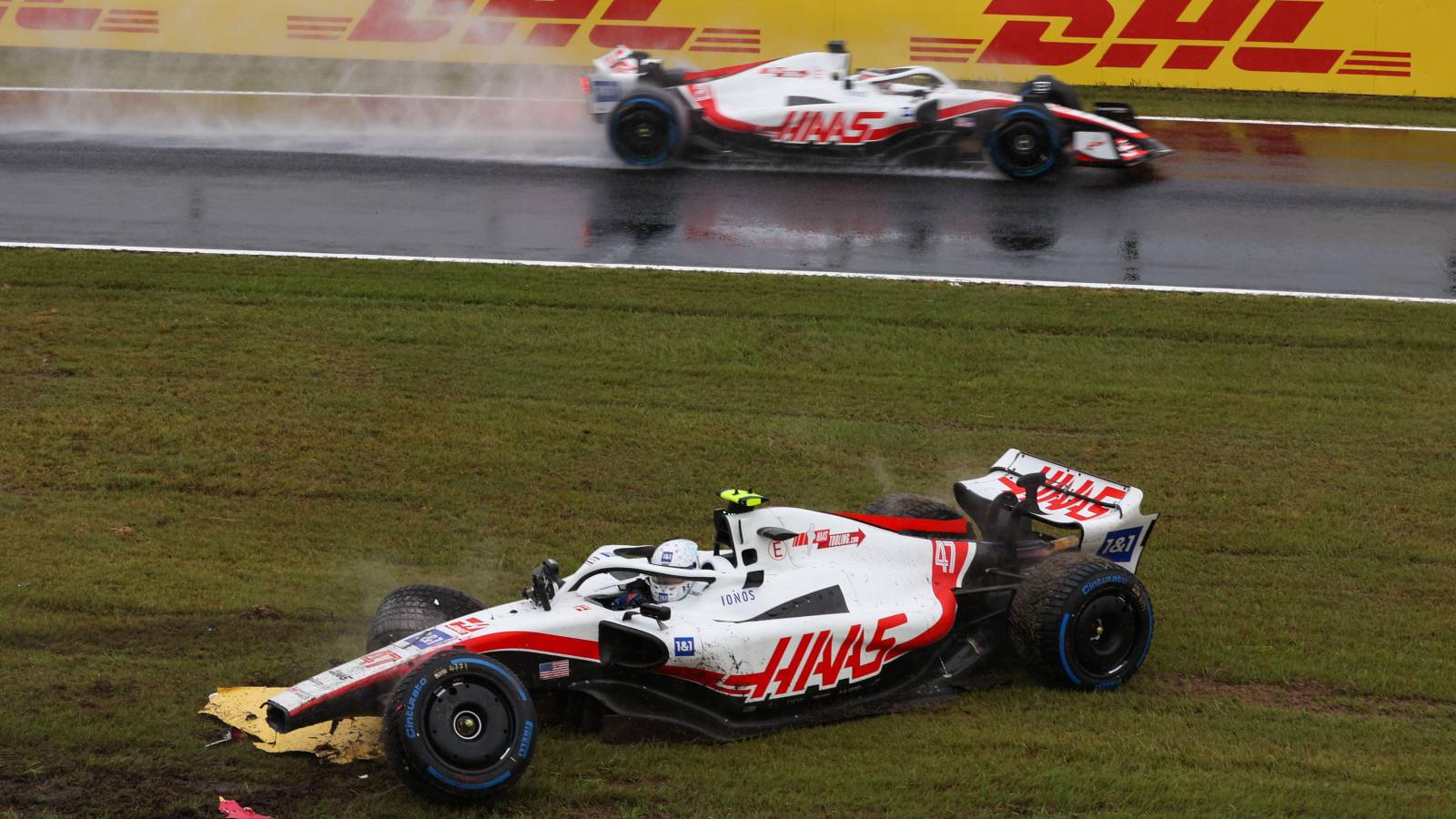 Haas boss Guenther Steiner says Mick Schumacher may have gone on to cut out the errors, but they did not want to wait to find out.
Haas have decided to firmly follow the experience route for 2023, deciding 2022 would be Schumacher's second and final season with the team.
His replacement is Nico Hulkenberg, who brings 181 starts in Formula 1 with him to add to 141 for Kevin Magnussen.
A lot of the damage, literally, was done for Schumacher in the early stages of the 2022 campaign, namely his big shunts in Saudi Arabia and Monaco, Steiner publicly mentioning the impact on Haas' finances as a result of these incidents.
As the season went on, Schumacher's errors became less frequent as his performance level improved, although there was a further crash to come during a wet FP1 session at the Japanese Grand Prix.
Haas cannot say whether that would have been the last expensive Schumacher crash had he been retained, but Steiner says the team did not want to take that risk so they went with Hulkenberg, a driver whom Steiner believes "knows how not to do that".
Asked on the Beyond the Grid podcast how much those crashes had dented Schumacher's chances of staying at Haas, Steiner said: "Not in particular the one crash or something like this.
"It's I look back, because you have to look back, but you look forward…if these things happen next year again, does it hinder us to make progress? Yes, because with the budget cap, spending money like this is basically wasted because you cannot make the car go quicker, it's all about that.
"So I'm not saying he will crash next year's cars but he crashed three this year, it happened, because he was the first time in a decent car because last year's car wasn't good, and he had to fight with the best of the best now.
"So he took more risk, obviously, and it didn't pay off. Maybe it would have been his last crash this year and he will never crash again? I don't know that and he will not know that now, at least for next year.
"But in the end, we didn't want to take that risk and we said we'll take somebody who knows how not to do that so we can focus, when we do our budget, this is the money we will spend on development and not put it there just for crashes if they happen."
Harsh on Mick Schumacher, easy on Nico Hulkenberg
Especially earlier in the season, incidents like those in Saudi Arabia and Monaco for Schumacher were disappointing, even if the pressure of his early struggles against Magnussen probably played a part in him pushing the Haas beyond its limits.
But for Steiner to say that in Hulkenberg they are signing someone who "knows how not to do that" in regards to crashing cars, that statement seems rather unfair on Schumacher.
Hulkenberg was one of the strongest and most consistent drivers in Formula 1 during his first stint, although for Steiner to claim Hulkenberg is a driver who eliminates the potential for errors is not exactly a bulletproof viewpoint, as the 2019 German Grand Prix showed.
There, Hulkenberg was in the hunt for a first podium finish in a wet and chaotic race at the Hockenheimring, home turf for Hulkenberg, but his hopes ended when he slid off into the wall after an unforced error.
So can it be guaranteed Hulkenberg will not make the errors Schumacher did, simply because he has much more experience? Not exactly.
Read next – Nico Hulkenberg: Can't feel bad for Mick Schumacher, it's natural in F1