Did Haas' warning for Mick Schumacher not to crash come back to bite?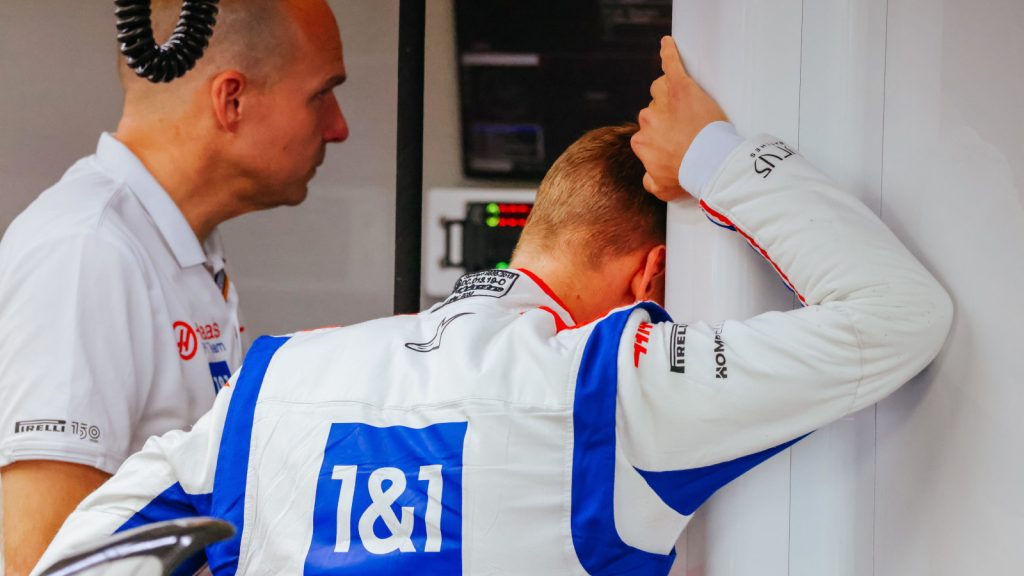 With his race seat on the line and well aware one more crash could end his career, Mick Schumacher was overly cautious in Friday's qualifying in Brazil.
And his Haas bosses have only themselves to blame for that.
While his team-mate Kevin Magnussen, assured of a 2023 Haas race seat, stormed his way to pole position for Saturday's sprint at the Interlagos circuit, Schumacher found himself at the opposite end down in 20th position.
Qualifying began on a damp circuit, the drivers lapping on intermediate tyres before swapping to slicks late in Q1.
Schumacher was among the last to make the switch and got caught out in traffic, forcing him to leave the racing line to make way for Esteban Ocon and Sebastian Vettel.
With his slicks now wet and losing temperature, he struggled for grip and finished slowest of all.
"I had to drive into the wet on my out-lap to let Esteban and Sebastian pass on their fast laps," he told F1-Insider.
"As a result I had too little tyre temperature on the first lap, which didn't give me the feeling to drive faster on the second lap."
And Schumacher is well aware of what a lack of feeling on a damp track can cost him, the driver having aquaplaned off the track and into the barrier in the opening practice session for the Japanese Grand Prix.
Such was the impact, he needed a new chassis – the third time this season he had broken one.
"Disappointing," said Guenther Steiner before reminding Schumacher and everyone else it was "the third time now".
He estimated the crash damage was "half a million dollars", to go with the million from Jeddah and another million from Monaco.
With team owner Gene Haas declaring last month Schumacher "costs a fortune and he's wrecked a lot of cars that have cost us a lot of money" it is no wonder he was tentative in Friday's qualifying – as Steiner himself pointed out.
"Mick has to try to make as much as possible of this situation," the Italian said. "When he went out, he was maybe a bit hesitant on slick tyres."
Can you blame him?
At a time when he is fighting not only for his race seat but his Formula 1 career as a whole, Schumacher has not heard a word of encouragement from Steiner and co – at least not publicly.
Instead, it has all been "50-50", "no crashes", "must score" and what is "best" for the team. Steiner has been very open about speaking with other drivers, more than once even encouraging Daniel Ricciardo to give him a call.
As such, Schumacher probably went into Friday's damp qualifying knowing one more crash would seal his fate, so instead of feeling safe to go for it he was overly cautious.
As Sky Germany pundit Timo Glock put it, "under such conditions you have to risk a lot and maybe he didn't do it enough".
Steiner and Haas have only themselves to blame for that.

Read more: Mick Schumacher responds to Bernie Ecclestone's 'forget about Formula 1' comment