Hamilton: 0.3s gap to Ferrari may be too much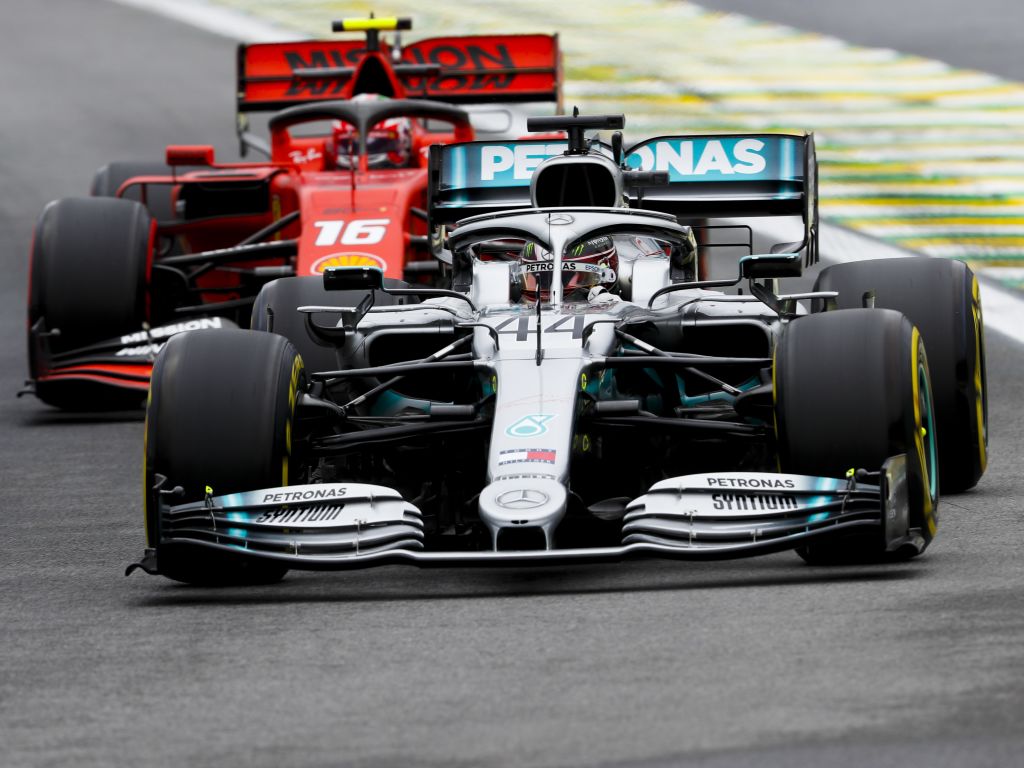 Lewis Hamilton believes Mercedes have a 0.3s gap to make up on Ferrari in Brazil, but isn't sure if that's achievable.
FP1 at Interlagos became unrepresentative of the weekend thanks to the heavy rain before the start, before in FP2 Sebastian Vettel headed a Ferrari one-two, with Valtteri Bottas 0.156s slower in P4 while Hamilton could manage only P5.
The six-time World Champion was 0.223s down on Vettel's time, but he put the gap to their rivals at 0.3s, and as the weekend progresses he isn't sure if Mercedes have it in them to claw back that deficit.
"It started out really well so straightaway from the get go we started on a good baseline, we just made a couple adjustments in that short space of time we had in the session and then we'll do some work tonight to refine it," he told reporters in Sao Paulo of his Friday running.
"It is quite crucial because we only have two sessions ahead of qualifying [due to the wet weather in FP1] to get it right and we have to compact it a little bit more and be a bit more precise with the changes we've made.
"As I said we started off on the right foot already so it should be ok. I don't know if we have three tenths to get where the Ferraris are."
With both titles now wrapped up for Mercedes, Hamilton described the last two races as "freebies" for the team and him to try out some new stuff for 2020.
"[Having won the title] doesn't make it easier and it doesn't – I still want to win the races," he said.
"It's just as hard to win these races that are coming up, but it's almost a different approach for me now because you can be a little bit more aggressive and try some different strategies and different ways in how you go about the weekend and the processes.
"We've got two freebies, basically, to try some new things that can [help] next year.
"Obviously next year we only have six days as opposed to eight of testing [pre-season] so every tiny bit of an advantage you can gain in terms of changing things and gaining and being dynamic hopefully can pay dividends next year, so that's our goal."
It's P4 and P5 for the boys on Friday in São Paulo. Valtteri with a 1:09.373 and Lewis with a 1:09.440. Lots of data to dig into tonight 💪 #BrazilGP pic.twitter.com/t5J2njhcpP

— Mercedes-AMG F1 (@MercedesAMGF1) November 15, 2019
Bottas like his team-mate was relatively pleased with how FP2 went, but he does think that Mercedes have a lot more pace to come.
"I started with the hard tyre as we wanted to get a long run with that and a bit of information on the hard tyre," he explained.
"It was quite tricky at the beginning with a green track and the rubber is pretty hard, so then going on the soft tyre it was quite a big step in terms of how the car was behaving and how much more there was grip.
"But big traffic affected the second run, so actually looking at the times it's pretty close and with the laps I had I think we look quite competitive even for the qualifying battles.
"There's still lot's more to come, it's still only the first proper session in the dry for everyone."
Follow all the action from the Brazilian Grand Prix with the PlanetF1 live centre