Hamilton and Russell both crash out of Austrian GP qualifying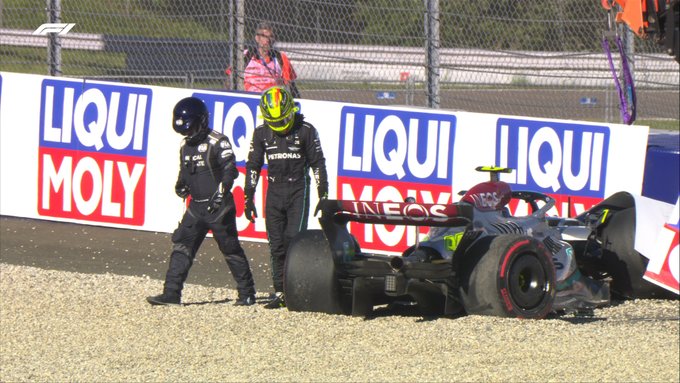 Mercedes have been left shocked as both Lewis Hamilton and George Russell have brought out the red flags in qualifying at the Red Bull Ring.
Both Mercedes drivers have crashed out of qualifying in the final minutes of the Q3 session, bringing out the red flags.
Hamilton was on a push lap with five minutes remaining of the Q3 session, when he lost control of the rear of his W13 through the high-speed Turn 7.
Turning into the slide in an attempt to rescue the situation by driving through the gravel, Hamilton's speed was too great to scrub off quickly enough and not hit the barriers at the exit of the corner.
Hamilton quickly confirmed over team radio that he was uninjured in the incident and jumped clear while the session was red-flagged to retrieve his car and re-organise the tyre barriers.
The Mercedes driver was quick to apologise for what appeared to be a driver error, getting on the radio to say: "I'm so sorry guys. I'm so sorry to damage the car."
As a result of the crash, Hamilton looks likely to start Saturday's Sprint Qualifying from eighth place or lower, having looked set to put in a time competitive enough to vie for the front row.
"Where did we end up? What position am I?" Hamilton could be heard asking over team radio before climbing out of his damaged W13.
When the session resumed, George Russell was about to finish a flying lap when he lost control of the rear of his W13 at Turn 10 and slid off backwards into the tyre barriers. The session was immediately red-flagged again as a disconsolate Russell trudged back to the pits.
RED FLAG

Hamilton into the barriers. He radios that he is ok#AustrianGP #F1 pic.twitter.com/yyTtcaN9h0

— Formula 1 (@F1) July 8, 2022