Hamilton, Norris joke over Sochi strategy calls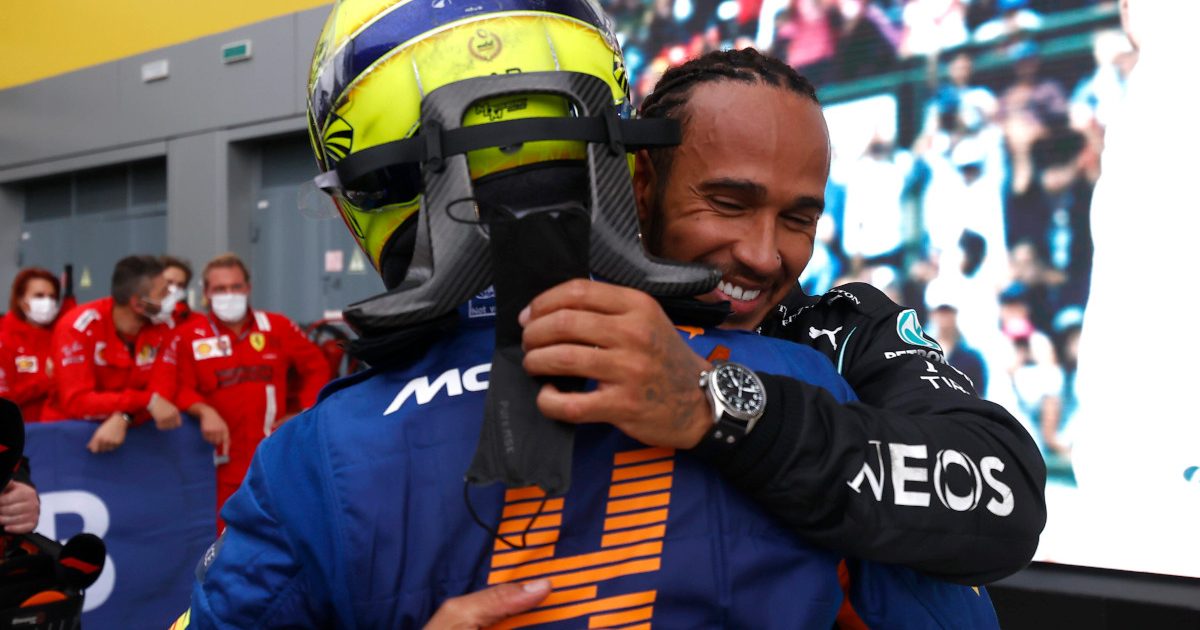 Lewis Hamilton has told Lando Norris that such was the threat he posed to his 100th GP win, that he also wanted to ignore his team and not pit at the Russian GP.
Starting Sunday's grand prix from pole position, Norris lost the lead to Carlos Sainz on the opening lap as he was out-dragged off the line but he fought back to regain it on lap 13.
Heading into the final 15 laps of the Sochi race, it looked as if Norris had just one rival for the win, Hamilton.
The Brit, who had fallen to P7 on the opening lap, had put in a recovery drive to run second and, with 13 laps remaining, was just two seconds behind the McLaren.
And then the rain came down.
A light drizzle saw both Norris and Hamilton wanting to stay out but while the McLaren driver ignored his team's suggestion to pit, Mercedes told Hamilton that it was going to get heavier, and it did.
Hamilton pitted for intermediate tyres; Norris, despite slipping and sliding his way around the track, opted to stay out. He stayed out until his last slide saw him off the track, and Hamilton up into the lead.
The Mercedes driver took the win, his 100th in Formula 1, with Norris a heart-breaking P7.
The youngster, with a smile on face and tears in his eyes, spoke with Hamilton as the two faced the media after the race.
Hamilton admitted he too didn't want to pit, especially as he was worried that would hand Norris the win he desperately wanted.
After the most dramatic of finishes in Sochi, a debrief between @LewisHamilton and @LandoNorris 💬#RussianGP #F1 pic.twitter.com/c2SnM3M8zc

— Formula 1 (@F1) September 26, 2021
Check all the latest 2021 teamwear via the official Formula 1 store
Hamilton: "Lando…you didn't want to come in?"
Norris: "No."
Hamilton: "Me neither! I was like [Lando] is right there in front of me. And I guess you were looking in the mirrors thinking the exact same thing."
Norris: "Yeah until then it was dry enough for slicks."
Hamilton: "[It was wet] between Turn 5 and 7 right?"
Norris: "Yeah…which was tough, but [everywhere else] was dry. So our decision and what I got told was that the rain was just going to stay like that. Apparently what you got told was different…"
Hamilton: "Yeah, yeah, yeah. My team were…pretty great. I ignored the first call because I knew you were right there."
Norris [smiling]: "Well I ignored them the whole time."
Hamilton then back to the interviewer: "Lando is doing an incredible job and it is great to see McLaren doing so well and being so strong."
Hamilton had more words of praise for his compatriot in the post-race press conference, saying Norris' first win will come sooner rather than later.
"He's so young, he's got so many more wins up ahead of him," he said. "He did a fantastic job yesterday [qualifying] in the wet.
"He's doing a great job leading that team, and look, McLaren won the last race, they've been very hard to beat for us all.
"It could have played out any way – but I think our team did a great job in terms of understanding where the rain was coming and it was going to get worse and they were 100% worse.
"Of course, I had to play my role to try to get us in that position in order for that to work. Team-work makes the dream work."