Lewis Hamilton has received his second reprimand of the 2018 season after crossing the white lines on the pit lane entry at the end of FP1.
The Mercedes man was trying to enter the pit lane in Abu Dhabi but locked up and crossed the white lines. He then reversed back to enter the pit lane.
The FIA confirmed that their decision was "consistent with penalties imposed for other similar incidents".
The stewards had previously handed Hamilton a reprimand for a similar incident during the German Grand Prix.
"The Stewards reviewed video evidence and telemetry, noting that on entering the pit lane after the end of FP1, Car 44 locked up and crossed the white line at the entrance to the pits," the statement from the FIA stewards read.
During the first session of the weekend, Hamilton's car had a slight change to it. The number 1 replaced the number 44 for FP1.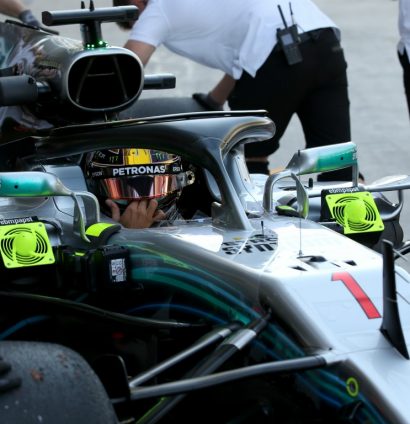 The five-time World Champion admitted that it was not for him, but for his team so they could be proud of their achievements.
"I personally don't like it. [I] don't like it at all," he admitted.
"But, since we have been World Champions, we have never had the number 1 on the car so I thought it would just be cool.
"I remember the engineers and mechanics asking me at one time if I would ever do it.
"I thought it would be cool just to have it on the car for one session so at least they all have a picture somewhere that they can be really proud of that we were number 1."
Hamilton went back to the number 44 for the second session, and will continue with his preferred number for the rest of the weekend.
The Brit also explained how the number 44 has become a part of everyone's lives at Mercedes, especially on his side of the team.
"44 is my special number, and in fact, if you ask everyone in the team, or on my side of the garage in particular, they will say that they saw a bus, for instance, with the number 44," he continued.
"Then they will see a flight number or seat number 44 so it is becoming a part of their lives which is exactly how it is with me, so that is cool."
Follow us on Twitter @Planet_F1 and like our Facebook page.