Hamilton shocked by Red Bull's straight-line speed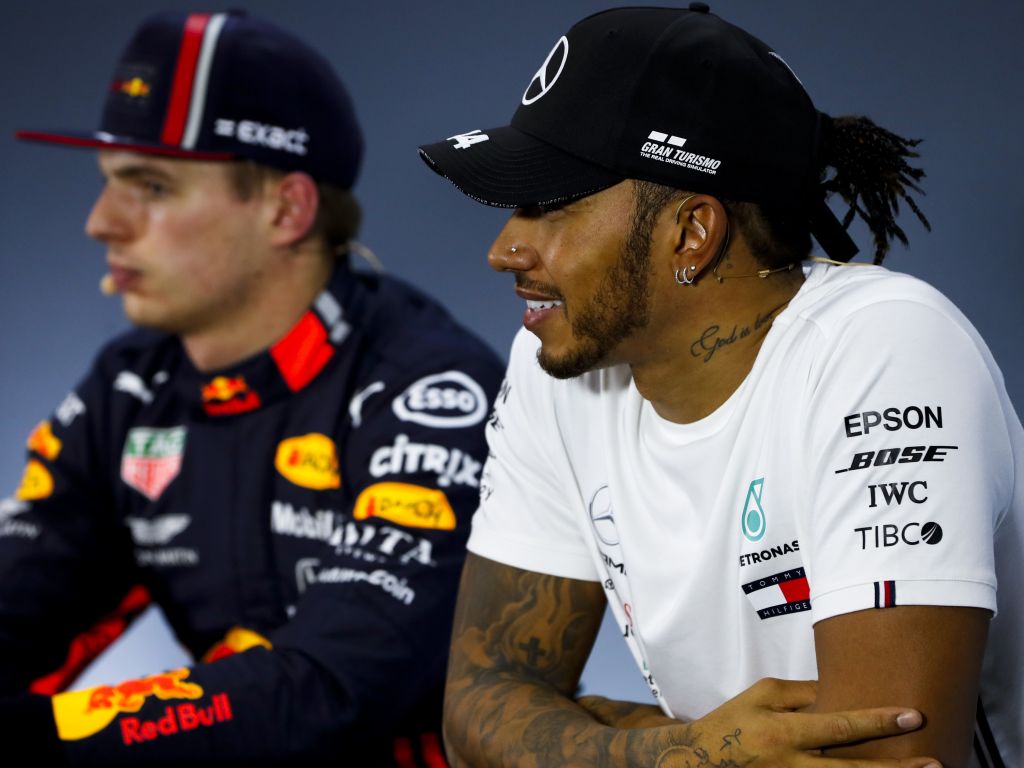 Lewis Hamilton has joined Sebastian Vettel in expressing his surprise at Red Bull's straight-line speed during qualifying for the Brazilian GP.
Max Verstappen dominated all three qualifying sessions as he marched on to take pole for the race, with the power of Honda's PU, particularly in the middle sector, proving a deciding factor.
Sebastian Vettel had a little dig at Verstappen who had accused Ferrari of cheating back in Austin regarding their straight-line speed, and Hamilton also expressed his shock at Red Bull's sudden power gains.
Asked by Motorsport.com if he shared Vettel's surprise, Hamilton, who will start the race from P3, said: "Of course. We didn't expect to come here and see [this].
"On top of that, they're quickest in the middle sector, so they've obviously still got the same amount of downforce, but more power."
Hamilton admitted that Mercedes' deficit on the straights was really hurting his times, but the Briton was glad to do enough to split the Ferraris before Charles Leclerc's 10-place grid drop takes effect.
"We seemed quite competitive in P3 but then we seem to lose when we're going into qualifying, or they gain," he said.
"But nonetheless, I'm really happy that I was able to divide the Ferrari. It's always a tough challenge, but we've been down on power, I guess, compared to the others particularly.
"That's where we lose most of our time. But nonetheless I gave it absolutely everything I had.
"I just kept chipping away at it. "The last lap was actually as good as it could be for us, and the car felt pretty good. We were just lacking a bit of pace on the straights. But hopefully tomorrow that will be good in terms of [tyre] longevity."
Brazil and Abu Dhabi now represent two free hits for Hamilton before the season ends with his P2 finish in Austin securing his sixth Drivers' Championship, and the Mercedes man has said he may go "aggressive" against his rivals in the race, though he feels that's what he has been doing across the weekend already anyway.
"My approach has been pretty much the same way all year long," he explained. "But maybe we can try and be a bit more aggressive tomorrow.
"I don't particularly see there is any reason to make any changes from where I am today. So I will continue like that."
It will be an all-silver second row for the 2019 Brazilian Grand Prix! 🤜🤛

Owing to a grid penalty for LEC, VB will start in P4 tomorrow. You won't want to miss this one! #BrazilGP pic.twitter.com/yN0mdUqCXj

— Mercedes-AMG F1 (@MercedesAMGF1) November 16, 2019
Hamilton's team-mate Valtteri Bottas will start the race from P4, and he believes "everything is still possible" in the race after being stunned by the times being pumped in during Q3 from the top runners, himself included.
"As we've seen for quite some time we do have a good race car so there's no point giving up on anything, I think everything is still possible," he said.
"It was a tricky qualifying, tricky day actually. A very difficult practice three, I was way way off on the timesheets so we had to build up to try and find even the small things here and there.
"Honestly Q3 I felt really good, some good laps and I couldn't believe the lap times of the others because I knew there was maybe a few hundredths in there, but not more in my car."
Bottas expects Verstappen to be quick off the line on Sunday, but believes Mercedes' have the package to threaten him.
"[The start is] going to be important because I think Max and Red Bull they have a good race pace," he admitted.
"I'm sure we will find a way, we've been strong lately on Sunday's so aiming to be so as well tomorrow."
Follow all the action from the Brazilian Grand Prix with the PlanetF1 live centre