Hamilton wanted 'very strict' Verstappen decision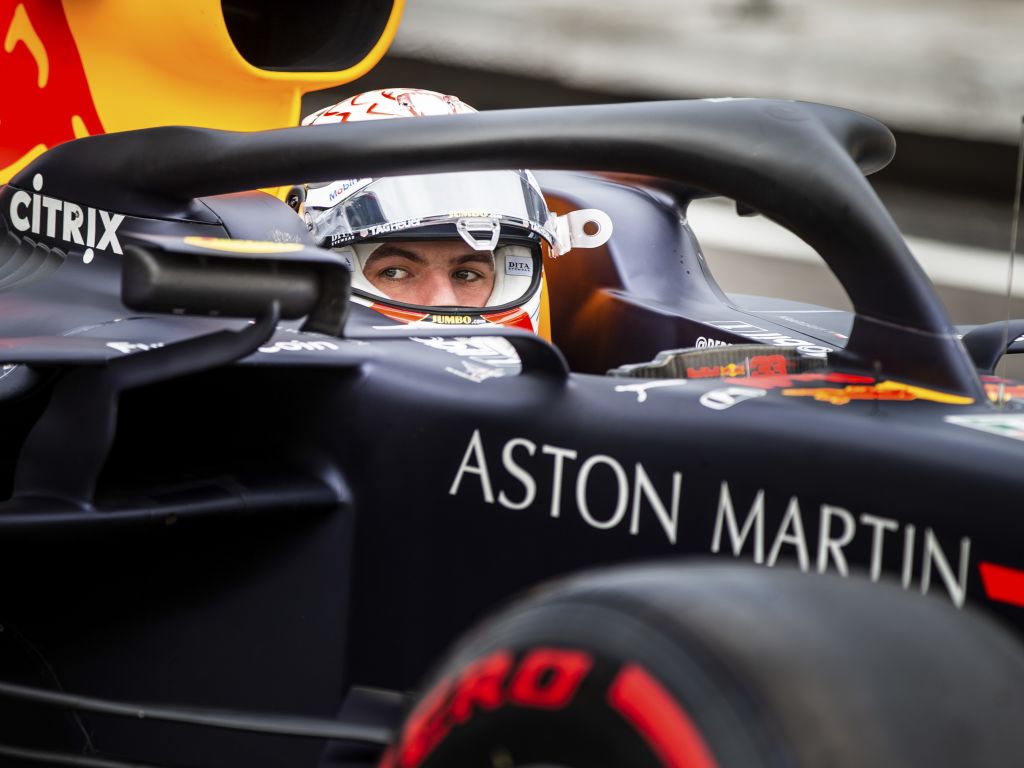 Lewis Hamilton hoped that the stewards would take a "very strict" approach on Max Verstappen's failure to slow under yellow flags in Q3 at the Mexican GP.
Hamilton's team-mate Valtteri Bottas crashed out of qualifying at the final turn on his last Q3 lap, bringing an end to the hopes of his rivals in the pole position shootout.
But, Verstappen, who was already on provisional pole at the time didn't slow down under the yellow flags, setting a faster final sector and admitting after than he didn't slow down.
The Dutchman was ultimately stripped of pole after being given a three-place grid penalty, meaning Hamilton got his wish.
"Valtteri was just ahead of me," he said. "So I came around the corner and I saw bits on the ground.
"There was no flag at the time and I saw bits on the ground and I was quite hesitant because obviously something had happened ahead. And so I wasn't I hesitated getting back on power. And by the time I realised that there was a crash, I was basically past it.
"I think it's very important that the FIA are very, very strict with the double yellow flags. We've seen experiences in the past – I remember like Monaco, for example, where you see the GP2 driver [Pastor Maldonado in World Series by Renault] take out a marshal, a volunteer who puts their lives on the line to make sure the driver is safe on the road.
"If you've got people who are just being careless and not abiding by the rules… He actually didn't even need to stay flat out. He'd already got pole, basically. I think the FIA need to be very, very strict on that."
A BIG hit for @ValtteriBottas 💥😮 But the good news is he's OK! 👌pic.twitter.com/ZLKbi6z2vO

— Mercedes-AMG F1 (@MercedesAMGF1) October 26, 2019
Hamilton pointed out that Verstappen couldn't have known the full situation surrounding the yellow flags, meaning his decision to continue pushing flat out became even more dangerous.
"I don't know what else to say it but luckily there were no marshals on the track. For all he knew Valtteri could have been in the middle of the circuit and the marshals could have been there.
"That's what a double yellow flag generally means, it could be a massive incident ahead. So the fact that he ignored it means it's not great, but it's done.
"Hopefully the right calls are made and put in place. The drivers need to know to respect those things."
While the yellow flags were being waived at the time, it seems that the warning hadn't come up on Verstappen's steering wheel, but either way the Dutchman said he was aware of the yellow flags, so Hamilton believes there was no excuse.
"It doesn't matter where the yellow is. You can see double yellow flags waving in general but I don't think that's a good enough excuse I mean, the fact is he said he saw it," said the Brit.
"So he saw the flags and then decided not to react to it."
Hamilton has now been promoted to P3 on the grid as a result of Verstappen's penalty.
Follow all the action from the Mexican Grand Prix with the PlanetF1 live centre