Helmut Marko disagrees with claim Ferrari are faster than Red Bull
Helmut Marko has refuted suggestions Ferrari have the faster car – but that does not mean he believes Red Bull's is ahead.
Although Red Bull are dominating this year's championship standings, well ahead of Ferrari on both logs, the numbers do not tell the full story.
Ferrari's F1-75, especially in the hands of Charles Leclerc, has often been the pacesetter with the Monégasque taking seven pole positions.
But when it comes to Sundays, that is when it goes wrong for Ferrari which has allowed Red Bull to seize the advantage time and again, Max Verstappen up to eight wins for the season with Sergio Perez on one.
Verstappen laughing all the way to a 2nd title
Max Verstappen has driven superbly, but has also had a helping hand from Ferrari along the way.
Three of Verstappen's wins, in Spain, Baku and France, came after Leclerc retired while running P1 while another, in Hungary, saw him take advantage after Ferrari had dropped the ball with Leclerc's strategy.
But while it is fair to say Red Bull have benefited from Ferrari's reliability issues and strategy blunders, Marko believes there is very little between their cars.
"I don't see it that way," he said in a wide-ranging interview with motorsport-total.com when asked if the F1-75 was faster than the RB18. "Apart from Barcelona, we were always on a par with Ferrari this season.
"Often the day's form decided who was ultimately in front – apart from strategic or technical problems, of which we have far fewer.
"We may only be slightly behind on the individual lap.
"Leclerc has about as many pole positions as we have victories. Pole position doesn't mean much and since overtaking is possible, that's no longer such a criterion.
"But the crucial thing is you can keep up the speed in the race without overtaxing the tyres.
"And I have to disagree – in Le Castellet, Max was faster in the race. If you are a second ahead within 10 laps that shows you're the faster one. We were the faster car there in the race."
The Red Bull motorsport advisor reiterated he believes their performances are relatively equal.
"Looked at over the season, it's at eye level," he said. "It depends on the form on the day and on the updates. They always have an effect for one or two races. But even those aren't a significant shift in power."
Verstappen is 80 points up on Leclerc in the Drivers' standings with Red Bull 97 ahead of Ferrari in the teams' fight.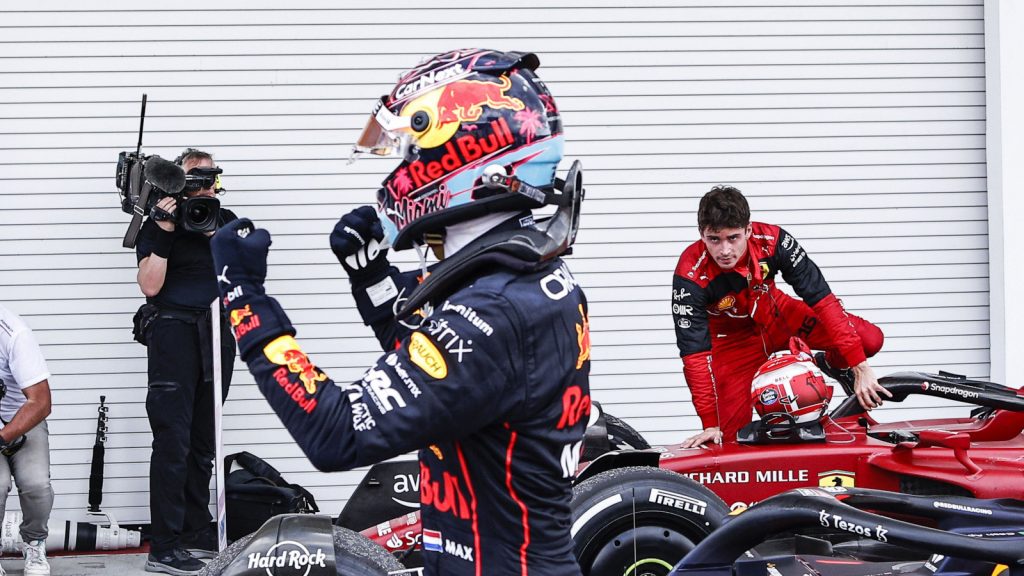 The 79-year-old was also pressed on Red Bull's improved straight-line speed and what he felt was the reasoning behind it.
While the Red Bull cars of yesteryear have been known for being good in the corners, this year's RB18 also has competitive top speed.
Marko explained: "The vehicle concept comes from [Adrian] Newey, who has created a car that produces a lot of downforce with little air resistance. That's one thing.
"The other thing is Honda have evolved and the switch to E10 petrol hardly cost any power. It's the combination of both. Now it's just a completely different approach.
"In previous years we were mostly the slowest on the straights. Now we are the fastest. That's nice. And in the corners we don't lose nearly what we gain on the straights."