Helmut Marko blow for Sergio Perez: 'You can't do that against Max Verstappen'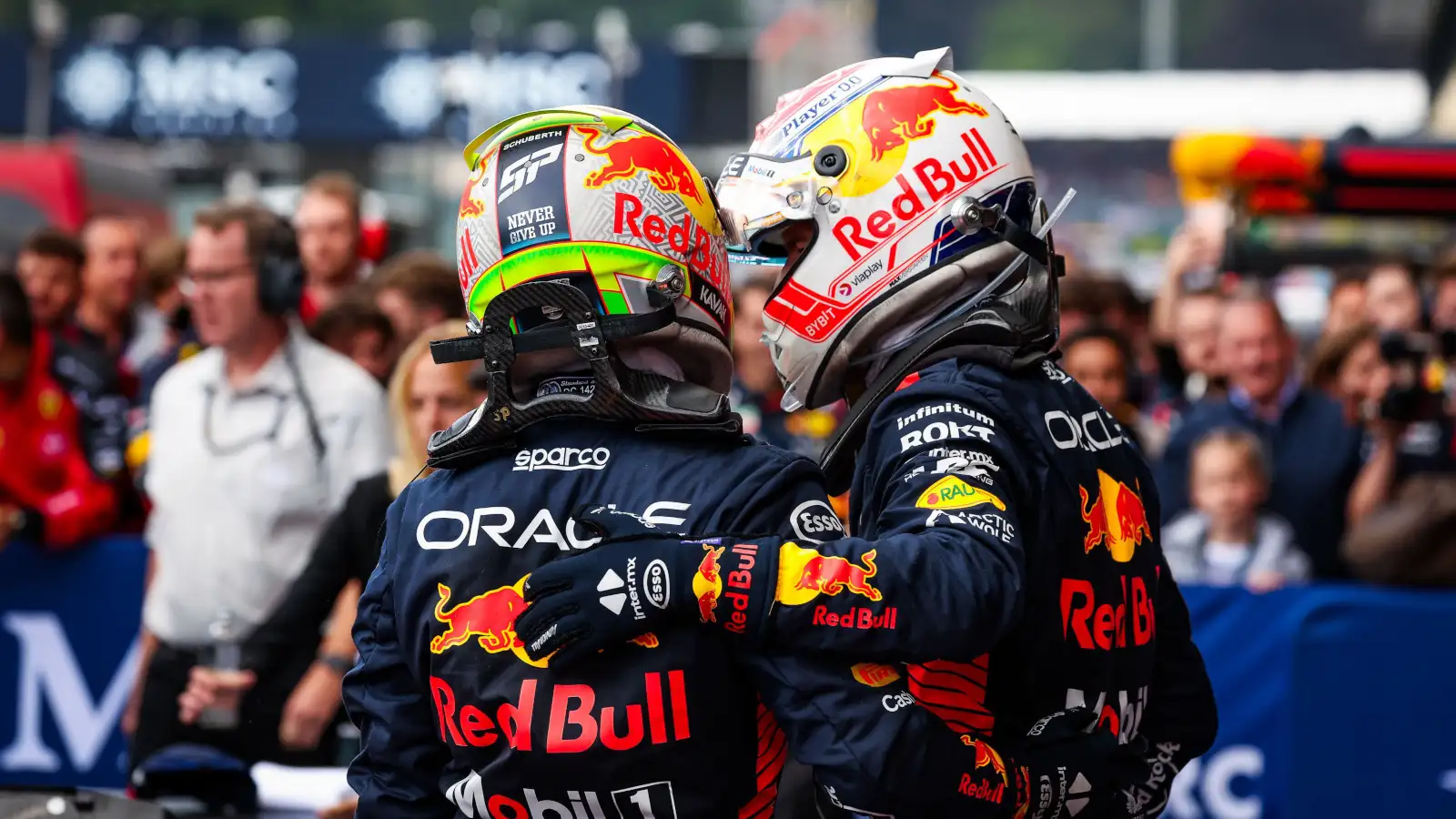 There was good and bad news in Helmut Marko's review of Sergio Perez's Belgian GP as while he was "very strong", the Red Bull motorsport advisor says he just "can't" compete with Max Verstappen.
Putting to rest any lingering concerns about his qualifying form, Perez set the third fastest time in Friday evening's qualifying for the Belgian Grand Prix.
It was, however, a session in which Verstappen was fastest, 0.8s up on second-placed Charles Leclerc, but a gearbox penalty meant he lined up sixth on the grid with Perez elevated to P2.
Helmut Marko: You compete to win, [but] you can't do that against Max
The Mexican driver made short work of passing Leclerc on the opening lap and was just under three seconds ahead of his team-mate when Verstappen overtook the Ferrari driver to make it a Red Bull 1-2 on lap 9.
Less than 10 laps later it was Verstappen who was leading the grand prix, powering past Perez down the Kemmel Straight and immediately putting distance between himself and the 33-year-old.
Verstappen would go on to win the race by 22 seconds with Perez runner-up in what was the team's first 1-2 result since the Miami Grand Prix. Marko was happy with the result, the Austrian accepting Perez that did the job Red Bull required of him.
"The whole weekend was very strong," the Red Bull motorsport advisor told Sky Deutschland. "We knew he was one of the top drivers.
"Nobody looks good next to Verstappen and you have to deal with that psychologically when you see that someone is better in every phase than you are.
"You compete to win, [but] you can't do that against Max Verstappen."
Adding that Perez does his "job very well", Marko was happy to see he "consolidated number two in the World Championship. The whole team – and he's also part of the team – didn't make mistakes.
"One can only hope it continues like this."
PlanetF1.com recommends
F1 2023: Head-to-head qualifying and race stats between team-mates
F1 records: Who are the youngest drivers ever to race in Formula 1?
Sergio Perez sets out his goal for the remainder of the season
Although Perez consolidated P2 in the Drivers' standings, his gap to Fernando Alonso up to 40 points, Verstappen's latest victory means he is now 125 points behind his team-mate with his title hopes all but mathematically over.
The driver himself admits that while he had a good race at Spa, "there was nothing for me to do" when Verstappen came up to pass him.
"After that, it was about driving the race home safely without damaging the car," he said.
Recording his first back-to-back podium celebrations since Baku and Miami, Perez says that's now the goal for the rest of the season.
"I don't want to leave the podium until the end of the year," he said. "It has been a tough time, but we scored great points for the team. I'm looking forward to the break and coming back to Zandvoort very strong."
Read next: Belgian Grand Prix conclusions: Verstappen's radio wars, Piastri's arrival and more