Honda fear 'difficult situation' with Max's engine
Forced to change Max Verstappen's engine after qualifying in Hungary, Honda have sent it back to Japan to see if it can be repaired.
But given that Honda are not permitted to replace parts, only repair surface damage, technical director Toyoharu Tanabe has no idea at this point where they stand.
Although Verstappen's power unit was given the green light after his huge British Grand Prix crash, recording an impact of 51G, the engine developed a crack over the course of the Hungarian GP weekend.
Looking at the data after qualifying, where Verstappen was third behind the Mercedes team-mates, Honda discovered a crack in the transition from the engine to the gearbox.
The Japanese engine supplier changed the power unit in the build up to the race, giving Verstappen his third of the season, and the last penalty-free PU.
Honda are still hoping that the cracked engine can be repaired and returned to the pool.
Tanabe said via Autosport: "We will send it back to Sakura [Honda's R&D facilities in Japan] to check the situation of the crack and its position.
"We can then work out what will happen in the future, and consider whether it can be repaired.
"Since it is not possible to replace parts, we will consider whether it can be repaired from the outside.
"The result of that will determine whether or not it can be used in the future. I don't know, but I feel that it's a pretty difficult situation."
Red Bull merchandise is available to purchase now via the official Formula 1 store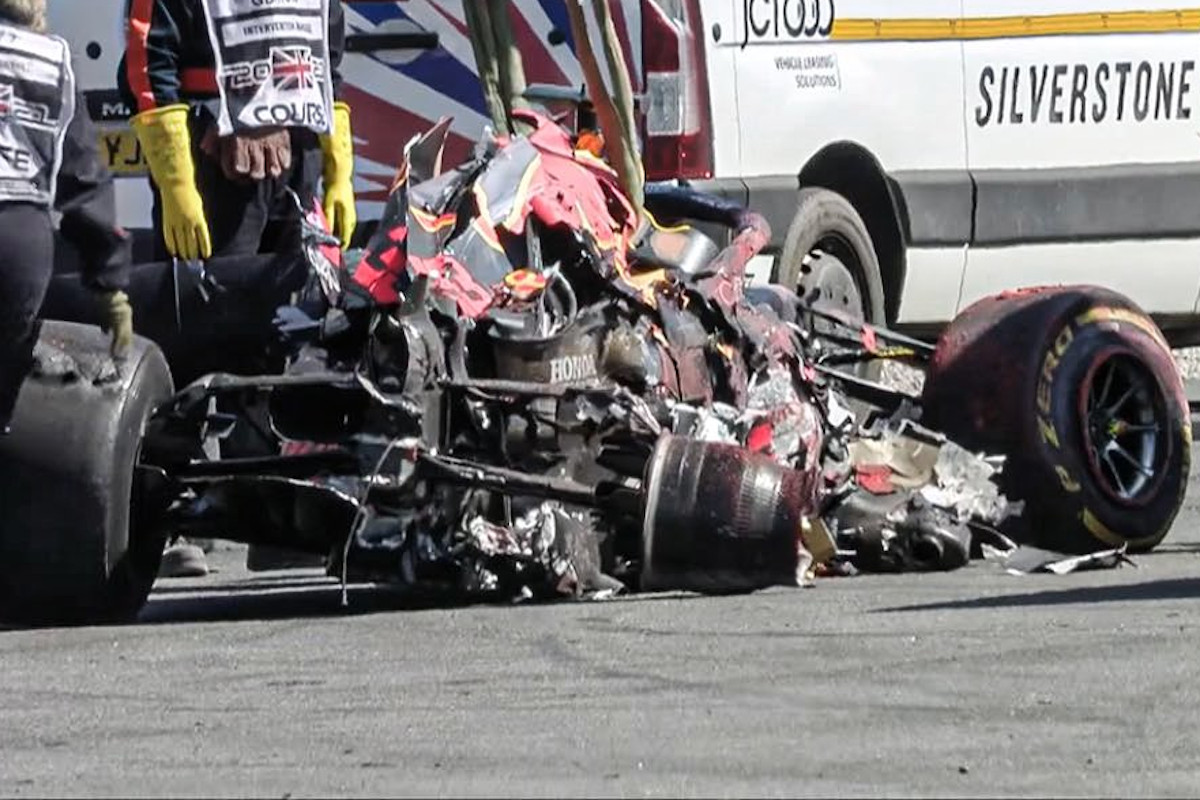 Red Bull advisor Helmut Marko believes the crack was the result of Verstappen's British GP crash.
"The damage is the result of the crash at Silverstone," he said on Sunday.
"The engine was no longer usable and we still have to investigate whether it can be saved.
"At the moment, we have to assume that we will put in a fourth engine, which means that we will have a grid penalty."
Honda also didn't get to see Verstappen's third PU at its best, the Dutchman caught up in Valtteri Bottas' lap 1 chaos, leaving him with a badly damaged RB16B. He crawled home in ninth place.
Red Bull and Honda are also examining Sergio Perez's engine after he retired on the opening lap, also because of Bottas' crash.
Christian Horner fears his PU is also out of the game.
"It lost all its water immediately," said the team boss. "We'll have to look into it in more detail, but the initial reports are it will no longer be in service."