Race: A win for Max, another questionable Ferrari strategy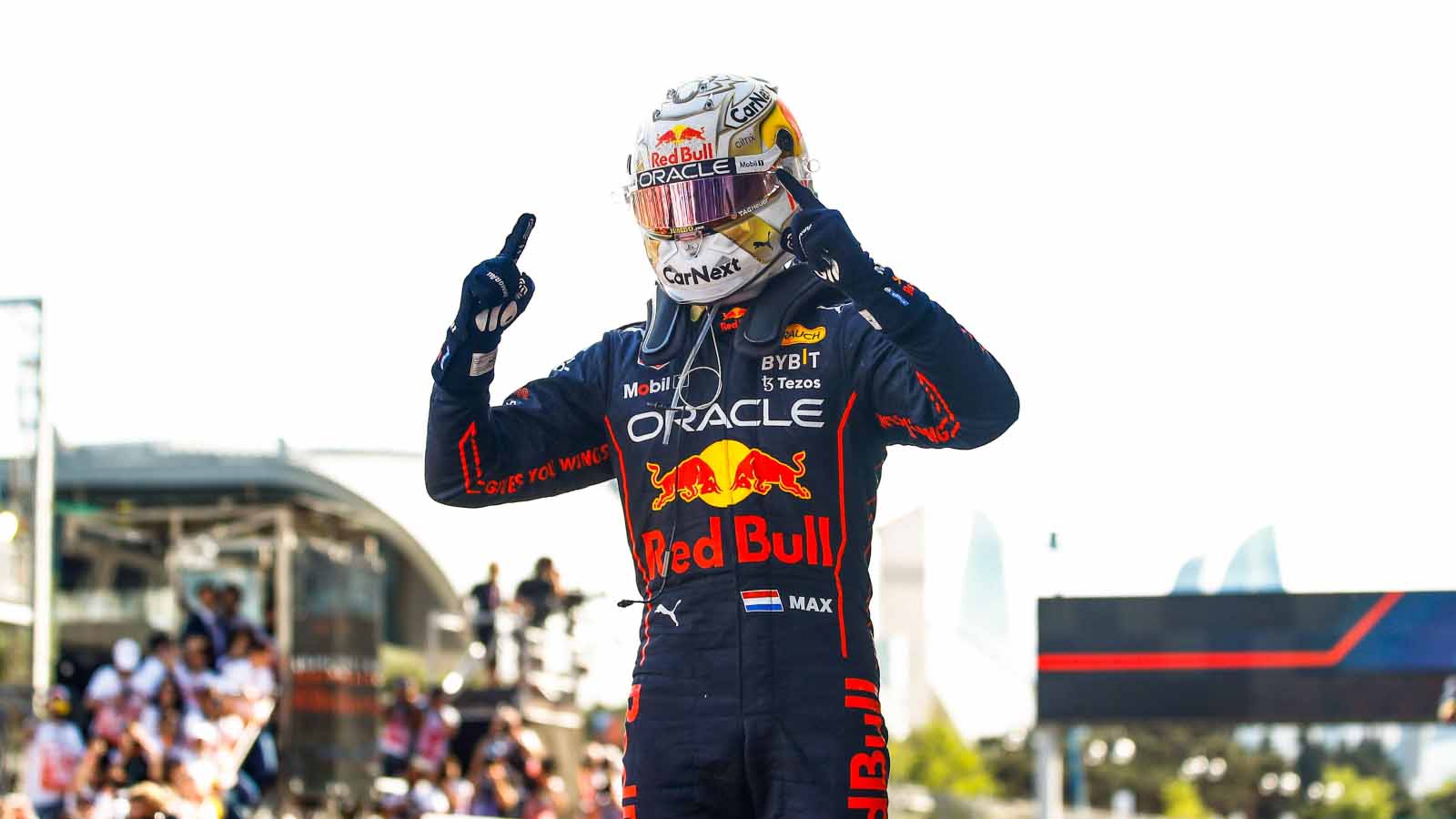 Max Verstappen raced his way to his eighth win of this season in Hungary, P1 in a grand prix in which three teams fought for victory.
Eventually it went to Verstappen, the Red Bull driver taking the lead on lap 52 of the 70-lap grand prix with Ferrari again putting Charles Leclerc on a questionable strategy, one that left him down in sixth place.
Lewis Hamilton put in a late charge to take second place off pole-sitter George Russell, Mercedes recording back-to-back double podiums for the first time this season.
MAX VERSTAPPEN WINS!!!

Hamilton takes second with team mate Russell coming home in third#HungarianGP #F1 pic.twitter.com/axK773gQQq

— Formula 1 (@F1) July 31, 2022
George Russell made a great start to keep P1 against charging Carlos Sainz, the Spaniard all over the place as he tried to edge ahead while also defending against Charles Leclerc. Lando Norris held on to fourth ahead of Hamilton and Esteban Ocon.
The VSC was deployed on lap two due to debris from Alex Albon v Sebastian Vettel, the Williams driver losing his front right endplate in the contact. Fernando Alonso was on the radio complaining about his team-mate Ocon's defending.
Russell continued with his run of epic VSC restarts as he leapt to an almost instant 2.5s lead over Sainz, Verstappen up to eighth ahead of Sergio Perez who was reporting a "strange sound", Red Bull saying it is "all good". Kevin Magnussen held on to the final points-paying position in the early running.
LAP 5/70

Verstappen makes a move on Alonso and he's now P7#HungarianGP #F1 pic.twitter.com/7Vqc95BRXM

— Formula 1 (@F1) July 31, 2022
On a track where the drivers usually complain about the difficulty in overtaking there was a spate of passes in the top 10 with both Red Bulls attacking the Alpines one by one before chasing down Norris and Hamilton. The McLaren driver dropped from fourth to sixth in the space of two corners on lap 12, Hamilton passing at Turn 1, Verstappen at Turn 2. Then he lost sixth to Perez a lap later.
Despite seemingly on a charge, Verstappen reported he had "slip" to Red Bull, the team telling him there was a "fail 21". The problem was short-lived, the driver back on the pace a lap later.
Ferrari, meanwhile, threw a dummy to Mercedes telling Sainz to 'box', he stayed out, Russell stopped. So did Verstappen with Sainz then in a lap later. Hamilton and Perez stopped four laps after that, Leclerc leading the grand prix before he stopped on lap 22. That saw Russell regain the lead and Leclerc overcut Sainz for second with Verstappen fourth ahead of Hamilton, Perez and Norris.
Undercut ✂️ Strong laps from Max on new tyres means he is now P4 on Lap 21 💪 pic.twitter.com/vszHKAObyW

— Oracle Red Bull Racing (@redbullracing) July 31, 2022
Just behind them, Alpine had pitted both drivers for hard tyres with Daniel Ricciardo on the mediums. Ocon came out of the pits metres ahead of Alonso who, while trying to get the position off his team-mate, found himself losing one to Ricciardo who took both Alpines in one corner. The Aussie was P10 behind the Alfa Romeos who had yet to stop. Ricciardo: "Let's f****** go!"
Back at the front, Russell was under threat from Leclerc, the two going wheel-to-wheel through Turn 2 three laps in a row before Leclerc made it stick on lap 31, DRS-ing his way past and into the lead. He immediately put distance between himself and Russell, the Mercedes driver then having Sainz on his rear wing with Verstappen also lurking.
As the second round of pit-stops played out, Verstappen got the ball rolling followed by Leclerc and Russell. The Ferrari driver came out ahead of his title rival but, on hard tyres, Verstappen made short work of passing him only to spin a few corners later with Leclerc back again. Their battle was by no means over, Verstappen making another pass on lap 45 to run P3 behind Sainz and Hamilton, both of whom had yet to stop.
LAP 45/70

Verstappen is back hounding Leclerc and makes his pressure stick getting past as the pair exit Turn 1 #HungarianGP #F1 pic.twitter.com/3R62Edc4iB

— Formula 1 (@F1) July 31, 2022
Sainz stopped with 22 laps remaining, Ferrari putting him onto the soft tyres – a better choice than Leclerc's strategy, with Hamilton in three laps later, also onto softs. That put Verstappen into the lead for the first time on lap 52, the Red Bull driver ahead of Leclerc on "sh*t tyres", who was under attack from Russell. Russell returned the favour from earlier, taking P2 two laps later and then Sainz also passed, Leclerc stopping for soft tyres. He came out P6.
Heading into the final 10 laps, Verstappen was leading ahead of Russell and Sainz, Hamilton on fresher soft tyres catching them while Leclerc in sixth was closing in on Perez. Hamilton needed all of a lap to pass Sainz before he set about chasing down Russell, his team-mate making him work for second.
There was a double late threat for Verstappen – Valtteri Bottas' retirement on the side of the track with Race Control opting for a VSC, not a full Safety Car, and then rain on the penultimate lap.
Verstappen raced to the victory, his eighth of this season, ahead of Hamilton and Russell in a second successive double podium for Mercedes. Sainz was fourth ahead of Perez and Leclerc while Norris, Alonso, Ocon and Vettel completed the points.
Result
1 Max Verstappen Red Bull
2 Lewis Hamilton Mercedes 7.834s
3 George Russell Mercedes 12.337s
4 Carlos Sainz Ferrari 14.579s
5 Sergio Perez Red Bull 15.688s
6 Charles Leclerc Ferrari 16.047s
7 Lando Norris McLaren 78.300s
8 Fernando Alonso Alpine 1 Lap
9 Esteban Ocon Alpine 1 Lap
10 Sebastian Vettel Aston Martin 1 Lap
11 Lance Stroll Aston Martin 1 Lap
12 Pierre Gasly AlphaTauri 1 Lap
13 Guanyu Zhou Alfa Romeo Racing 1 Lap
14 Mick Schumacher Haas 1 Lap
15 Daniel Ricciardo McLaren 1 Lap
16 Kevin Magnussen Haas 1 Lap
17 Alex Albon Williams 1 Lap
18 Nicholas Latifi Williams 1 Lap
19 Yuki Tsunoda AlphaTauri 2 Laps
Did not finish
Valtteri Bottas Alfa Romeo lap 68 – engine