Qualy: Unbeatable, unstoppable, unmistakably Mercedes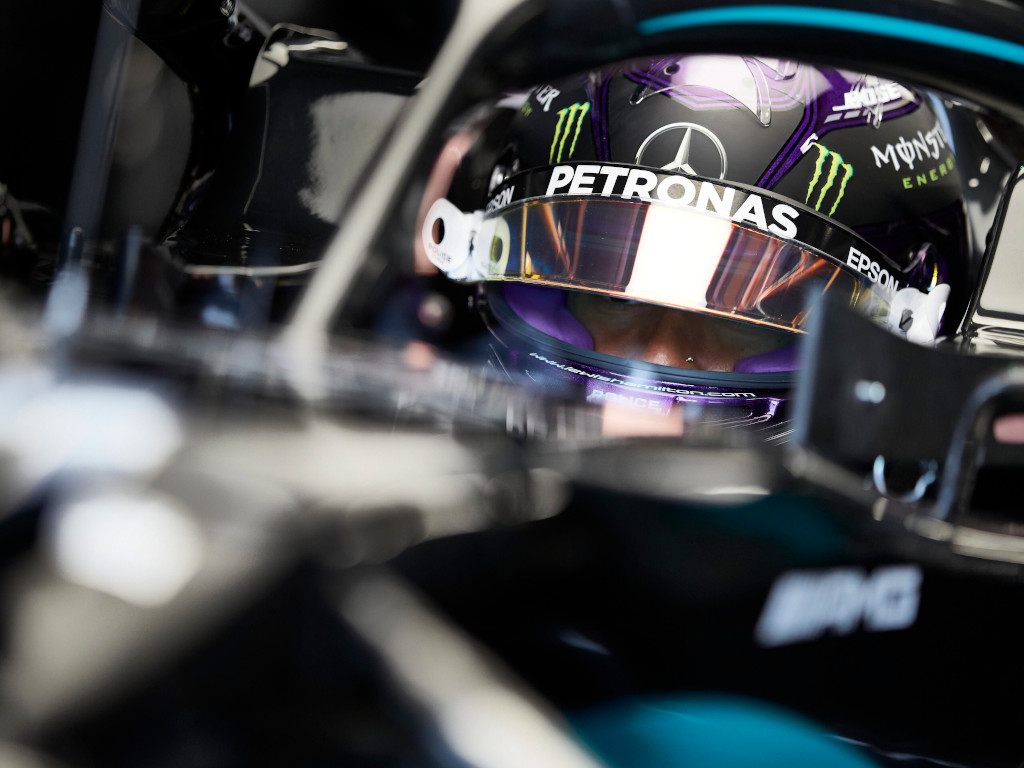 Lewis Hamilton and Valtteri Bottas were in a straight forward duel for pole position for the Hungarian GP with the Hamilton taking it with a new track record.
Bottas qualified his Mercedes in second place ahead of the two Racing Points while, for the first time since Monza 2018, Williams put both cars up into Q2.
Get your hands on the official George Russell 2020 collection via the Formula 1 store
For the second week running Formula 1 was in for a wet qualifying, or at least the possibility of one, sending the drivers scurrying out of the pits early to wait at the end of the pit lane for the start of Q1. Max Verstappen leading the queue on a set of shinning new soft red Pirellis.
Verstappen, Valtteri Bottas, Lewis Hamilton and Lance Stroll all went purple in one of the stages with Bottas quickest on a 1:15.4. Hamilton was a tenth behind with Stroll a further two-tenths down ahead of Sergio Perez, Charles Leclerc and Verstappen. Hamilton's third hot lap, a 1:15.3, put him 0.118s up on Bottas with Daniel Ricciardo taking P6 off his former Red Bull team-mate, Verstappen.
Both cars are back, just over 6mins left of Q1 and the rain is still very much expected… #RSspirit #HungarianGP pic.twitter.com/y7aifRDzVl

— Renault F1 Team (@RenaultF1Team) July 18, 2020
With a sprinkle of rain falling on the main straight, the conditions became a tad more difficult for the drivers with Antonio Giovinazzi the first to lose a lap time for exceeding track limits. He was left down in 20th place, 10s off the pace. Giovinazzi eventually made his mark, up to 18th place, one position ahead of his team-mate Kimi Raikkonen.
With three minutes to go it was notable that the track conditions were improving, Perez went quickest ahead of Stroll, Russell jumped up to fifth place behind the two Mercedes and Nicholas Latifi climbed to eighth. Sainz shot up to third, Norris and Vettel split the Mercedes driver and Verstappen, who had dropped to P15, moved up to P8.
"We have to check my engine mate, it's all over the place," he told the Red Bull pit wall.
Perez topped Q1, Russell was an incredible P9 with Latifi 15th, and out went Kevin Magnussen, Daniil Kvyat, Romain Grosjean, Giovinazzi and Raikkonen.
Unfortunately, that's a wrap for us today. Difficult Saturday, but we have to focus on tomorrow's race now.

GIO 👉🏻 P19
RAI 👉🏻 P20 #HungarianGP pic.twitter.com/LLfl0b0Bao

— Alfa Romeo Racing ORLEN (@alfaromeoracing) July 18, 2020
With the track evolving and rain still a threat, Racing Point took the gamble of sending Stroll out on medium tyres as were Perez, both Mercedes drivers and the Renault team-mates. Hamilton started the session with a 1:14.261, Bottas 0.2s while Vettel, on the softs, was third ahead of Verstappen, also on softs. Ricciardo was P10 with Ocon down in 14th place.
Oof. 🔥 Lewis kicks off Q2 with a 1:14.261 on the Mediums! pic.twitter.com/xG5p466QFR

— Mercedes-AMG F1 (@MercedesAMGF1) July 18, 2020
Pierre Gasly had yet more engine troubles. "I feel like I'm destroying the engine," he told AlphaTauri. The team informed him that there was nothing they could do about at this moment, so "push" to try get through to Q3.
Renault returned to the track on the soft tyres but Racing Point decided to stick with the medium tyres, a massive gamble. Stroll progressed in seventh place while Perez was not able to improve his time but made it through in ninth. Ricciardo, despite his swap to soft tyres, dropped out in P11 with Ocon P14.
Out went Ricciardo, Russell, Alex Albon, Ocon and Latifi. Albon was not impressed. "I'm sorry guys but I told you don't put me out in traffic," said the Red Bull driver.
Nobody improved on their second #Q2 run. @MercedesAMGF1 and @RacingPointF1 will start on the medium tyre tomorrow #HungarianGP pic.twitter.com/nMLkJy5YaR

— Pirelli Motorsport (@pirellisport) July 18, 2020
The pole position shoot-out began with Hamilton laying down a new track record for the fun of it, a 1:13.613, with Bottas lining up in second place, 0.3s down. The Mercedes works drivers were a second faster than the third placed driver.
Stroll took third while Perez had his lap time deleted for exceeding track limits at Turn 4. Rather than try for a second hot lap, Perez headed back into the pits for fresh tyres, down in ninth place without a time with Gasly, also without a time on the board, P10.
Vettel, P7, and Leclerc, P8, were the first two out for a second attempt followed by Stroll as a few spots of rain fell on the camera lens. Perez was the next out.
Vettel moved up to fourth place with Leclerc climbing to fifth. The Ferraris, though, had to wait as their rivals put in a final lap. Stroll stayed third, Perez went fourth. The Racing Point team-mates locking out the second row of the grid.
In a straight duel with his team-mate, Hamilton put in a 1:13.447 to take pole position by 0.107s ahead of Bottas. It was yet another new track limit for the Brit, who was 0.9s up on third placed Stroll, and his 90th F1 pole position.
Verstappen was not able to improve his time, qualifying P7 behind the Ferraris with Norris, Sainz and Gasly completing the top ten.
90 @F1 poles. Let that sink in… ❤️ pic.twitter.com/h1t0BXzo3W

— Mercedes-AMG F1 (@MercedesAMGF1) July 18, 2020
Times
1 Lewis Hamilton Mercedes 1:13.447
2 Valtteri Bottas Mercedes 0.107s
3 Lance Stroll Racing Point 0.930s
4 Sergio Perez Racing Point 1.098s
5 Sebastian Vettel Ferrari 1.327s
6 Charles Leclerc Ferrari 1.370s
7 Max Verstappen Red Bull 1.402s
8 Lando Norris McLaren 1.519s
9 Carlos Sainz McLaren 1.580s
10 Pierre Gasly AlphaTauri no time
11 Daniel Ricciardo Renault 1:15.661
12 George Russell Williams 1:15.698
13 Alex Albon Red Bull 1:15.715
14 Esteban Ocon Renault 1:15.742
15 Nicholas Latifi Williams 1:16.544
16 Kevin Magnussen Haas 1:16.152
17 Daniil Kvyat AlphaTauri 1:16.204
18 Romain Grosjean Haas 1:16.407
19 Antonio Giovinazzi Alfa Romeo Racing 1:16.506
20 Kimi Raikkonen Alfa Romeo Racing 1:16.614
Follow all the action from the Hungarian Grand Prix with the PlanetF1 live centre