What we know about the Mercedes and Ferrari upgrades heading to Imola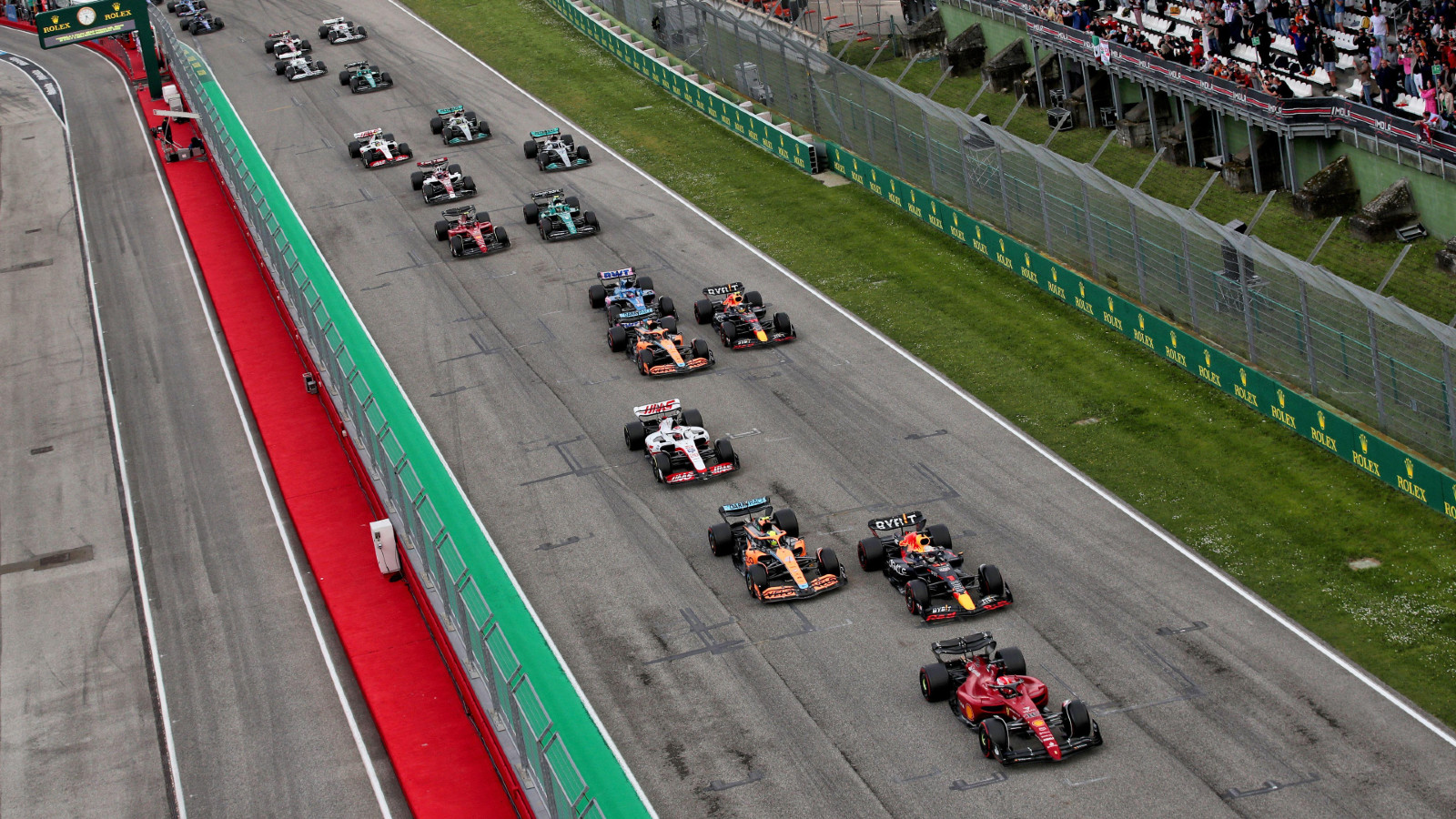 'Upgrades' will be the word of the weekend at Imola, with many of the teams rolling out their first update packages for the 2023 F1 cars.
Formula 1 heads to Europe for the first time this season this weekend, with long-time San Marino GP venue Imola playing host to the Emilia Romagna Grand Prix.
Having fallen out of favour in F1 in the modern era, Imola's return to the calendar during the COVID-affected 2020 season proved popular enough to the point where the sport returned in 2021, before a longer-term deal was signed to keep the circuit on the schedule until 2025.
While the first five races of 2023 have largely been street circuits, with the exception of the season-opener in Bahrain, Imola represents the first 'old-school' challenge of the calendar with gravel traps and grass lining the thin tarmac strip sinewing its way through the northern Italian countryside.
Unfortunately forever linked with the tragic events of the 1994 Grand Prix weekend, in which Roland Ratzenberger and Ayrton Senna lost their lives in separate crashes, Imola has been revamped considerably in recent years.
While the Tamburello and Villeneuve corners were completely neutered following their crashes, the final chicane Variante Bassa has been removed for the modern configuration – much improving the chances of overtaking at what was otherwise a Monaco-esque procession – as evidenced by the 2005 and 2006 races when neither Michael Schumacher nor Fernando Alonso could overtake each other in roles-reversed attacks at the two races.
Emilia Romagna has been in the headlines in recent weeks for some rather extreme weather events, with stormy wet weather also expected in the days leading up to the race. Whether the rain may play a part or not this weekend remains to be seen, but a spokesperson for the circuit told PlanetF1.com that the storms have not affected the racetrack nor the preparations for the weekend.
Upgrades to be the main focus of attention
With the first five races out of the way and now back in Europe, most of the teams will be rolling out upgrade packages this weekend – some set to be quite major. The effects of the budget cap mean teams have to be far more circumspect and pragmatic in their approach to upgrades, meaning less experimentation and more certainty over the parts set to be fitted to their cars.
Championship leaders Red Bull are not expected to have anything major for their RB19, perhaps a symptom of their wind-tunnel time penalty this season in light of their 2021 budget cap breach, but their main rivals will have big changes for their cars.
Mercedes have been particularly ebullient about their Imola upgrade package, having highlighted a whole new design direction they wish to pursue with the W14. The changes have been talked about since pre-season testing, although the exact nature of their upgrades is yet to be confirmed.
One known change will be to their sidepod design, which are set to be revised substantially.
"It won't be the same as other people's and it won't be the same as we've got, it'll be different," then-technical director Mike Elliott said back in Bahrain.
"We have got a very different sidepod coming – I say very different, a different sidepod that's coming."
Lewis Hamilton has made it clear he's eagerly awaiting the upgrades, but team boss Toto Wolff has downplayed their significance.
"What we are doing is we're introducing a new bodywork and we're introducing a new floor and we're doing a new front suspension," he said.
"That's a pretty large operation, a large surgery and so there is going to be a lot of learning.
PlanetF1.com recommends
George Russell 'won't give secrets away' after testing Mercedes upgrades in simulator
The rumoured date for Ferrari's 'Red Bull's style' upgrades to hit the track
"We need to manage our own expectations because we are bringing an update package but I have never in my 15 years in Formula 1 seen a silver bullet being introduced where suddenly you unlock half a second of performance. I very much doubt this is going to happen here.
"What I'm looking for is that we take certain variables off the table where we believe we could have introduced something that we don't understand in the car and to have a stable platform. We shall see what our baseline is and what we can do from there."
Ferrari will also be bringing a significant upgrade package that will see them set off in a similar aerodynamic direction as Red Bull, with a new floor set to be introduced. The Venturi tunnel has been completely changed in order to increase the ground effect load, while a new rear suspension will be rolled out to make the SF-23 less sensitive to ride height changes.
The Scuderia will also be introducing RB19-style sidepods, but these won't make an appearance until the Spanish Grand Prix, at the earliest.
Having introduced their first updates at last month's Azerbaijan Grand Prix, Aston Martin will also have further evolution on their AMR23 in a bid to close the gap further to Red Bull and remain in the battle with Ferrari and Mercedes.
In theory then, the gap between Red Bull and their pursuers should shrink this weekend – will it be enough for one of the other teams to finally end Milton Keynes' sweep of 2023?
Sergio Perez to keep up the pressure on Max Verstappen?
Having claimed two wins in the opening five races, Perez is just 14 points behind Max Verstappen heading into the Emilia Romagna Grand Prix. However, Perez is facing an uphill task to keep up the momentum in the Drivers' Championship as the Mexican typically hasn't fared as strongly as his teammate when it comes to the more traditional circuit types.
Verstappen dominated the last two races held at Imola, with Perez finishing last year's event a distant second. But such finishes are sufficient to keep his title challenge alive for the circuits at which he excels, namely street circuits, meaning keeping up the momentum this weekend will be very important before flying off to Monaco next weekend.
The Perez/Verstappen fight remains completely amicable and reasonably balanced at this early stage of the title fight but, with Perez gamely hanging on, a bad result for Verstappen could completely change the complexion of the fight, and of the team dynamic.
Looking back to 2016, when Lewis Hamilton and Nico Rosberg's title squabble became outright warfare, it was Rosberg's ability to settle into second place and claim the maximum points he could on 'damage limitation' weekends that kept his title fight alive despite Hamilton's arguably higher highs.
Given that Verstappen is still the outright quicker and more versatile of the pair, it's all eyes on Perez to see whether he can follow suit on a similar approach. Or, in even better news for the championship, outright beat Verstappen in a straight fight at a circuit the Dutch driver is expected to be favourite for…
There's also the question mark over whether Charles Leclerc can steady the ship after his dodgy Miami weekend, with two crashes in two days and a lacklustre race on Sunday. This weekend marks a year since the first significant driving error he made during his meteoric start to the 2022 season and, following plenty of criticism after Miami, the pressure will be on Leclerc and his upgraded Ferrari to bring some home cheer to the Scuderia at what is one of their home races this year.