Can Sergio Perez do a Nico Rosberg or forever be a Valtteri Bottas?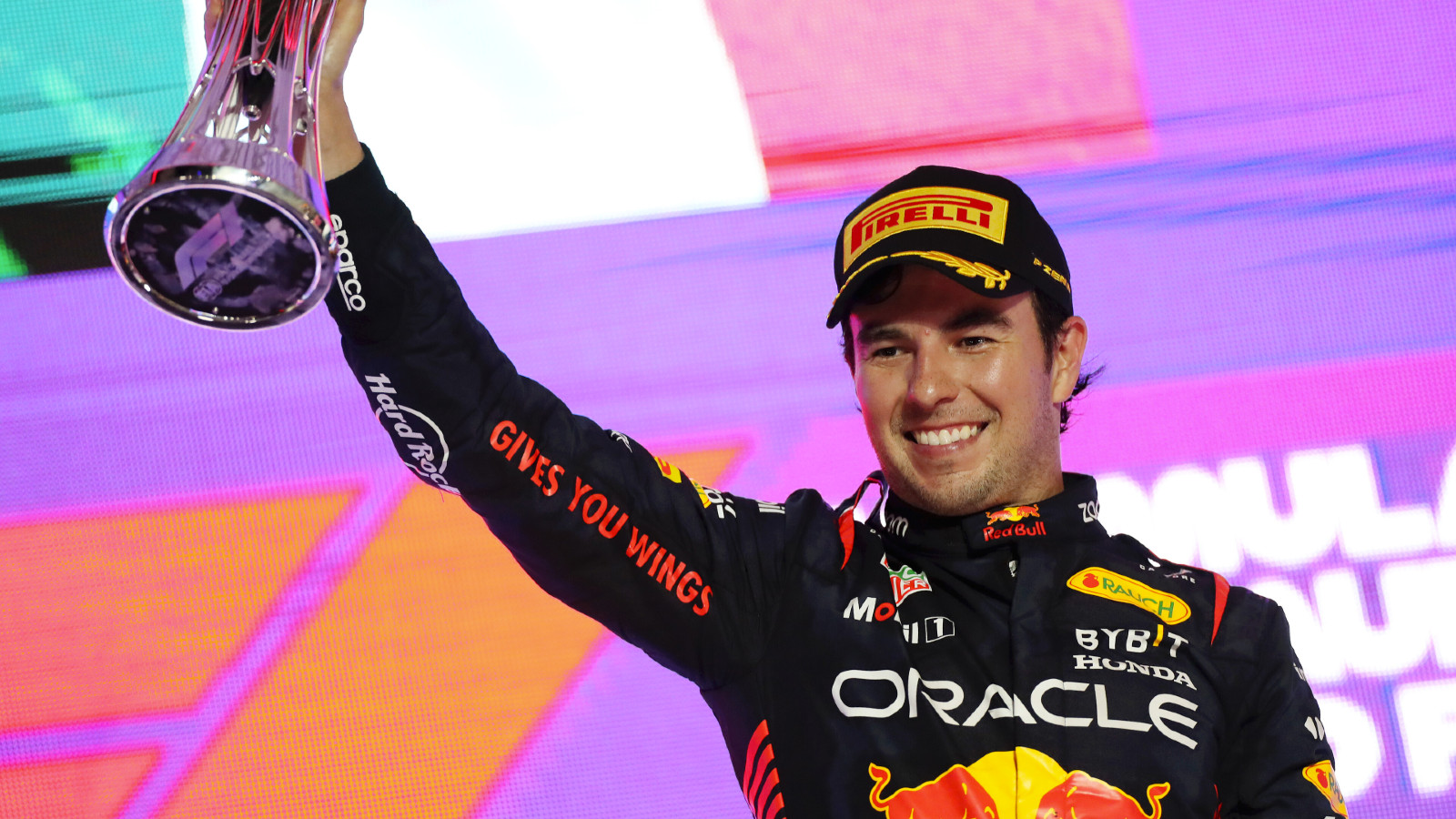 With Red Bull seemingly romping to more titles this year, can Sergio Perez step forward to be the thorn in Max Verstappen's side?
Red Bull have kicked off 2023 with two dominant 1-2 finishes in Bahrain and Saudi Arabia, with Max Verstappen winning the first and Sergio Perez winning the second.
It's been a dream start for the Milton Keynes-based squad, scoring 87 out of a maximum 88 points in the Constructors' Championship – putting them 49 points clear of Aston Martin and Mercedes at this early stage in the season.
However, while the Constructors' title may be one that's already seemingly a done deal, the Drivers' Championship is the more interesting prospect.
With Ferrari and Mercedes not yet on the pace of Red Bull, and Aston Martin finding their feet as regular podium finishers with an eye to becoming challengers as the season develops, the likely scenario is of an intra-team squabble for the 2023 title – namely Verstappen against Perez.
While this particular team partnership has been very one-sided in their two-and-a-bit years together, with Verstappen taking title glory in 2021 (with a lot of self-sacrificing co-operation from Perez in the finale) and 2022, there are signs that Perez is eager to rise to the challenge and stare down his teammate in a title battle.
The last six months have been strange for Red Bull in that, outwardly, all appeared well on the surface between their drivers, only for that surface tension to break in Brazil when, faced with the choice of helping Perez in his bid for second place in the Drivers' Championship by giving his teammate a meaningless sixth place, Verstappen refused to help.
It led Perez to say "it shows who he really is" and, with all sorts of speculation bubbling up about the possible meanings behind Verstappen's "I already told you my reasons" radio message, Red Bull quickly papered over the cracks and had calmed the situation by Abu Dhabi.
2023 wiped the points slate clean, but not the tension
What has become apparent from the opening two races of 2023 is that, while there doesn't appear to be outright hostility between the Perez and Verstappen camps, the atmosphere has become less amicable between the pair than it has been in the past.
With the status quo remaining 'as normal' in Bahrain with Verstappen leading home a comfortable win, the tensions made themselves known in Saudi Arabia.
Verstappen appeared nailed on for a dominant weekend after his pace in the practice sessions, only for an errant driveshaft to take him out of contention in qualifying.
Perez, handed the gift of the road opening up in front of him, capitalised to take pole, quickly got back past Fernando Alonso after being jumped at the start, and then looked set to be doomed to second once the Safety Car intervention brought Verstappen right back into play.
Only… that wasn't what happened. Verstappen did quickly climb back into second place, just five seconds behind Perez with half the race still to go. Given his huge pace advantage in practice, and how races usually play out, one might have expected Verstappen to quickly catch and pass his teammate.
But, with Red Bull giving their two drivers free reign to race, no team orders came into play and Verstappen, try as he might, couldn't do anything to close down Perez – his situation not helped by late concerns over driveshaft vibrations.
PlanetF1.com recommends
Ferrari's Saudi Arabian GP branded a 'complete disaster' raising questions about Leclerc's future
Mercedes explain why team orders were not used on George Russell in Jeddah
Are Red Bull cracks widening with Sergio Perez calling for a 'review' of communications?
With the drivers being told to maintain pace, Verstappen broke rank to take the fastest lap point away from Perez on the final lap – a situation Perez called out himself in an understated way by referencing the 'different information' that was given to the two cars.
Listening back to team radio shows Red Bull were eager to keep their drivers circulating at the same pace, with Perez already having the fastest lap point, only for Verstappen to take matters into his own hands and build up to take the fastest lap point away on the final lap.
Verstappen did his best to hide his unhappiness after the chequered flag, which he didn't manage to do very well – the Dutch driver taking the opportunity to make it clear that "personally, I'm not happy. Because I'm not here to be second, especially when you are working very hard, also back at the factory to make sure that you arrive here in a good state and making sure that everything is spot on.
"When you're fighting for a championship, especially when it looks like it's just between two cars – we have to make sure that also the two cars are reliable."
One only has to turn the clock back seven years to see how a teammate battle can lead from tensions to outright warfare. Coming off the back of two consecutive title wins, and his third in total, Lewis Hamilton went into 2016 as title favourite after easily having the measure of Nico Rosberg in 2015.
But the early momentum went with Rosberg who, Monaco aside, performed at the very limits of his abilities to eventually topple Hamilton from the title. It was a bitter, acrimonious year with battle lines drawn between both sides of the garage – their fighting spilling over into occasional on-track contact as Toto Wolff had to turn on his 'Totonator' side in order to try keeping order.
The year took so much out of Rosberg that the German promptly quit, perhaps in the knowledge that he had had to perform at his ultimate level in order to beat Hamilton – a level he knew he couldn't sustain for another season.
It led Mercedes to hire a very different character for 2017 in Valtteri Bottas, putting the likable and calm Finn into a position of subservience by offering one-year deals while Hamilton took title after title.
Is Sergio Perez a Valtteri Bottas or a Nico Rosberg?
The question mark for Perez is which mentality has he got? Having secured a longer-term future with a two-year deal at Red Bull, he should be in no threat of losing his seat for next season – so why not go hell for leather and see if he can wriggle his way into a full-on title tilt?
Even if that means upsetting the powers-that-be and the Team Verstappen side of the garage…
All the signs indicate that Perez is no Bottas, leading to the escalating tensions at Red Bull. Whatever was the trigger for Verstappen's anger in Brazil last year, it led him to reveal that anger over a meager sixth-place finish – will he be able to hold his tongue once the stakes are higher?
For instance, how will Verstappen react if Perez refuses to cede position to him at a race soon? Or if a mechanical problem hands Perez a 26-point lead in the standings?
What's particularly intriguing is the fact that the bubbling up of tensions would indicate the Verstappen camp truly does view Perez as a threat. If the softly-spoken Mexican wasn't a legitimate concern, it would be easy to laugh, joke, and congratulate Perez on a job well done – just look at how Hamilton treated Bottas during their years together.
Lukewarm congratulations and potshots such as Perez "not getting the chance to win that often" only serve to showcase the uneasiness the Verstappen camp feel about the even-handed treatment Perez was given in Saudi Arabia.
Of course, while Perez may have a Rosberg-like mentality, the big question mark is whether or not he has the ability to bring the fight to Verstappen.
While Perez, once he got into an advantageous position, was able to keep Verstappen at arm's length, all the signs pointed to a Verstappen walkover up to that point. Jeddah was also a particularly strong showing for Perez last year, only undone by a badly timed Safety Car. Once the momentum of the season picked up, it was Verstappen who showed up weekend after weekend with Perez rarely a concern.
It's perhaps for this reason that Red Bull opted against reigning Perez in for Verstappen in Saudi Arabia.
While unnecessary to point out for the sake of sporting niceness, perhaps Jos Verstappen's observation of Perez not being in the lead fight that often is the sentiment shared by Red Bull – let Sergio take the win when the circumstances allow and keep him perked up, safe in the knowledge Verstappen will be there weekend after weekend.
As a driver, Perez is undoubtedly very quick, mentally strong, and capable of being a consistent results-getter. But he's paired up with a generational talent, whose mental resilience comes from belligerence, and extreme world-class consistency.
Against any other driver, perhaps Perez could secure the 2023 title by harnessing some of that same belligerence. Against Verstappen? Without reliability coming into play, it's a step too far.