Italian Grand Prix 2020: Time, TV channel, live stream, grid
Not for 38 years has a country staged three F1 races in a single season – and Italy's trio of 2020 grands prix begins at the iconic venue of Monza.
In 1982, the USA landed a hat-trick of F1 weekends at different venues. This is the first time it has happened in Europe, however, with Mugello hosting the Tuscan Grand Prix a week later and Imola staging the Emilia Romagna Grand Prix on November 1.
Monza is. of course, synonymous with Ferrari, but the hordes of red-clad tifosi will be absent this time – which is just as well considering the dreadful form the Scuderia have been producing this season.
Charles Leclerc gave Ferrari a home victory in 2019 to a rapturous reception but this time it would be a shock if Mercedes were denied – Lewis Hamilton has won five races out of seven this term and is the overwhelming favourite to continue his relentless march towards a record-equalling seventh World Championship title.
Here's everything you need to know ahead of the Italian Grand Prix…
When is the 2020 Italian Grand Prix?
The start times for the Italian Grand Prix are as follows:
Practice 1: Friday September 4, 1100 local time (1000 BST)
Practice 2: Friday September 4, 1500 local time (1400 BST)
Practice 3: Saturday September 5, 1200 local time (1100 BST)
Qualifying: Saturday September 5, 1500 local time (1400 BST)
Race: Sunday September 6, 1510 local time (1410 BST)
Where does the Italian Grand Prix take place?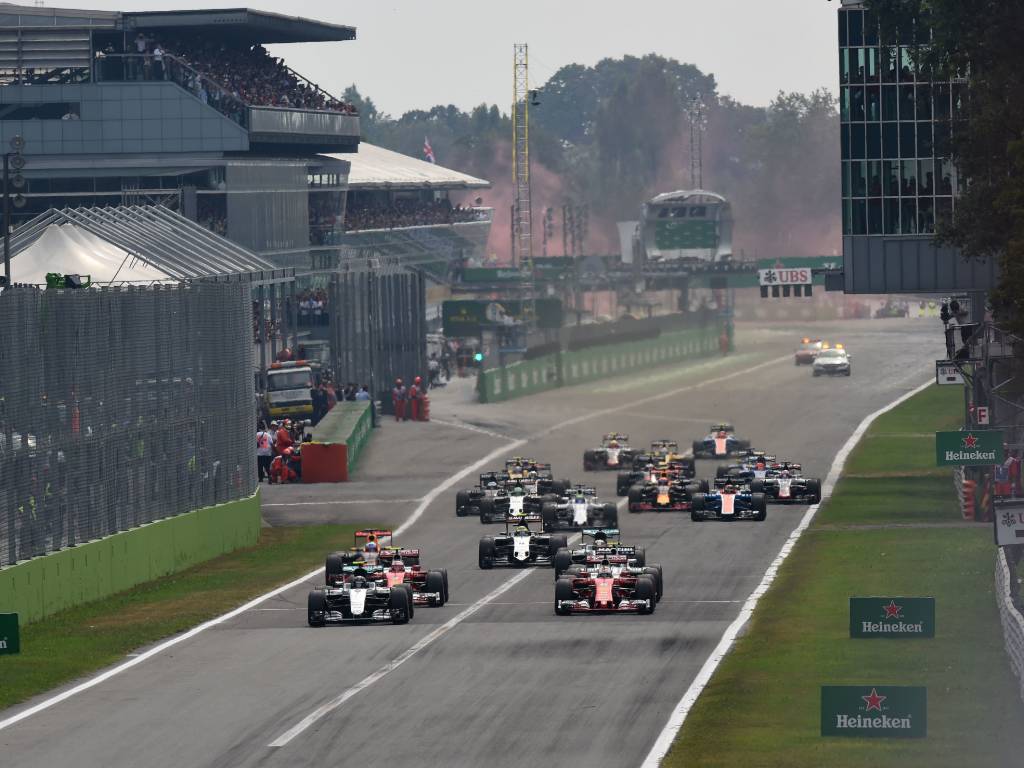 Known as Italy's 'Temple of Speed', Monza originally had a banked track built in 1922 which has long since been abandoned, and the modern circuit in the Royal Villa park boasts fast, sweeping corners and long straights.
Some of the corners have been tightened a little in the interests of safety in recent years and chicanes brought into play.
It has some of the most famous parts of circuits on the whole F1 calendar, most notably the double Lesmo turns, the Ascari chicane and the Curva Parabolica that leads back into the pits straight which is 1,120 metres long.
Monza has been the home of the Italian Grand Prix every year but once since 1950, but it will be a completely different spectacle this time without the tifosi creating their unique atmosphere.
Sunday's race will be run over 53 laps of the 5.793km track.
Where can I watch the Italian Grand Prix on TV?
Pay-TV broadcaster Sky Sports will show the entire race weekend on its dedicated Sky Sports F1 channel. You can also access a live stream of the coverage via Now TV.
Free-to-air broadcaster Channel 4 will show extended highlights from qualifying and the race.
Subscribers to F1's own app can hear radio commentary on the race proper from the BBC and access live data throughout every session.
PlanetF1 will carry live timing and expert commentary on every session of the race weekend, from FP1 on Friday morning to the race on Sunday afternoon.
The Italian Grand Prix will be shown live on TV on the following outlets in other key markets:
United States: ESPN
Canada: RDS (French), TSN (English)
Australia: Fox Sports, One (Network Ten)
France: Canal + (pay TV) and TF1 (free-to-air)
Italy: Sky Italia, TV8
Germany: RTL and Sky Deutschland
Spain: Movistar F1
What are the odds for the Italian Grand Prix?
Latest bookmaker information shows that Lewis Hamilton is again a red-hot favourite for a victory that would build an even bigger lead in the World Championship standings which already stands at 47 points. Only his Mercedes team-mate Valtteri Bottas and Red Bull's Max Verstappen, who regularly share the podium with Hamilton, are regarded as having any chance of halting the Briton's winning streak.
Here are the leading odds from bet365:
2/7 Lewis Hamilton (Mercedes)
3/1 Valtteri Bottas (Mercedes)
14/1 Max Verstappen (Red Bull)
33/1 Carlos Sainz (McLaren)
33/1 Sergio Perez (Racing Point)
(Last updated Saturday September 5)
What is the weather forecast for the Italian Grand Prix?
Friday, September 4: 26c, sunny
Saturday, September 5: 27c, sunny
Sunday, September 6: 27c, sunny
Which drivers have won the Italian Grand Prix?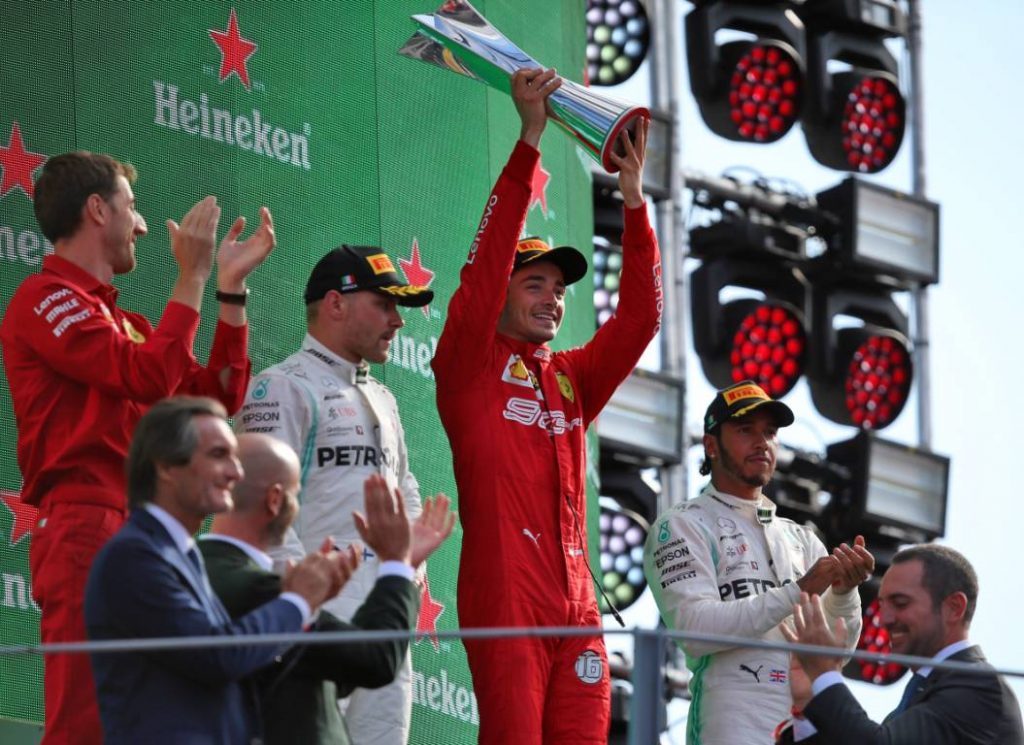 Although he finished only third to Charles Leclerc last year, Lewis Hamilton would have the most Italian Grand Prix wins of any driver in history (six) if victorious this time.
The Briton currently shares that record with Michael Schumacher, whose mark of seven World Championship titles he is well on course to equal before the end of this season.
The only other drivers who will be taking part in Sunday's race that have won at Monza before are Ferrari duo Leclerc and Sebastian Vettel – although both look highly unlikely to repeat their successes.
Vettel's triumph in 2008 was his first in F1 – he became the sport's youngest race winner at the time, aged 21 – on a wet weekend when the podium was filled out by Heikki Kovalainen and Robert Kubica.
The last 10 winners of the Italian Grand Prix are as follows:
2019 Charles Leclerc (Monaco, Ferrari)
2018 Lewis Hamilton (Great Britain, Mercedes)
2017 Lewis Hamilton (Great Britain, Mercedes)
2016 Nico Rosberg (Germany, Mercedes)
2015 Lewis Hamilton (Great Britain, Mercedes)
2014 Lewis Hamilton (Great Britain, Mercedes)
2013 Sebastian Vettel (Germany, Red Bull)
2012 Lewis Hamilton (Great Britain, McLaren)
2011 Sebastian Vettel (Germany, Red Bull)
2010 Lewis Hamilton (Great Britain, McLaren)
Race lap record: 1:21.046 by Rubens Barrichello (Ferrari, 2004)
What is the starting grid for the Italian Grand Prix?
There may be no party mode available to Mercedes any more but it didn't make a blind bit of difference at Monza as the Silver Arrows cruised to another 1-2 on the starting grid.
Carlos Sainz and Sergio Perez have at least freshened up the second row with Max Verstappen only able to clinch P5.
1 Lewis Hamilton Mercedes 1:18.887
2 Valtteri Bottas Mercedes 0.069s
3 Carlos Sainz McLaren 0.808s
4 Sergio Perez Racing Point 0.833s
5 Max Verstappen Red Bull 0.908s
6 Lando Norris McLaren 0.933s
7 Daniel Ricciardo Renault 0.977s
8 Lance Stroll Racing Point 1.162s
9 Alex Albon Red Bull 1.203s
10 Pierre Gasly AlphaTauri 1.290s
11 Daniil Kvyat AlphaTauri 1:20.169
12 Esteban Ocon Renault 1:20.234
13 Charles Leclerc Ferrari 1:20.273
14 Kimi Raikkonen Alfa Romeo Racing 1:20.926
15 Kevin Magnussen Haas 1:21.573
16 Romain Grosjean Haas 1:21.139
17 Sebastian Vettel Ferrari 1:21.151
18 Antonio Giovinazzi Alfa Romeo Racing 1:21.206
19 George Russell Williams 1:21.587
20 Nicholas Latifi Williams 1:21.717
What are the latest F1 Championship standings?
Seven races into the season, here is how both of the 2020 Championships look at the top end:
Drivers' Championship
Lewis Hamilton – 157 points
Max Verstappen – 110 points
Valtteri Bottas – 107 points
Alex Albon – 48 points
Charles Leclerc – 45 points
Lando Norris – 45 points
Constructors' Championship
Mercedes – 264 points
Red Bull – 158 points
McLaren – 68 points
Full F1 championship standings are here
Tyre choices for the Italian Grand Prix
We're back and soon to be on track. 🏎️🏁
Here are the first eight #Fit4F1 compound choices.
More #F1 info: https://t.co/HeqduDevpD pic.twitter.com/WyvfhU8FUI

— Pirelli Motorsport (@pirellisport) June 11, 2020
It's familiar territory for the teams at Monza because for the sixth race out of eight this season, Pirelli are providing the C2, C3 and C4 as the hard, medium and soft compounds respectively.
With direct comparisons being made between Monza and Spa, which hosted the Belgian Grand Prix, in terms of downforce settings, tyre wear could be similar to how it was last week.
The main difference, however, may be track temperature, which could be around 10c higher than in Belgium with hot, sunny conditions expected for northern Italy.
Follow us on Twitter @Planet_F1, like our Facebook page and join us on Instagram!