Race: Max Verstappen proves too strong for Ferrari at the Italian Grand Prix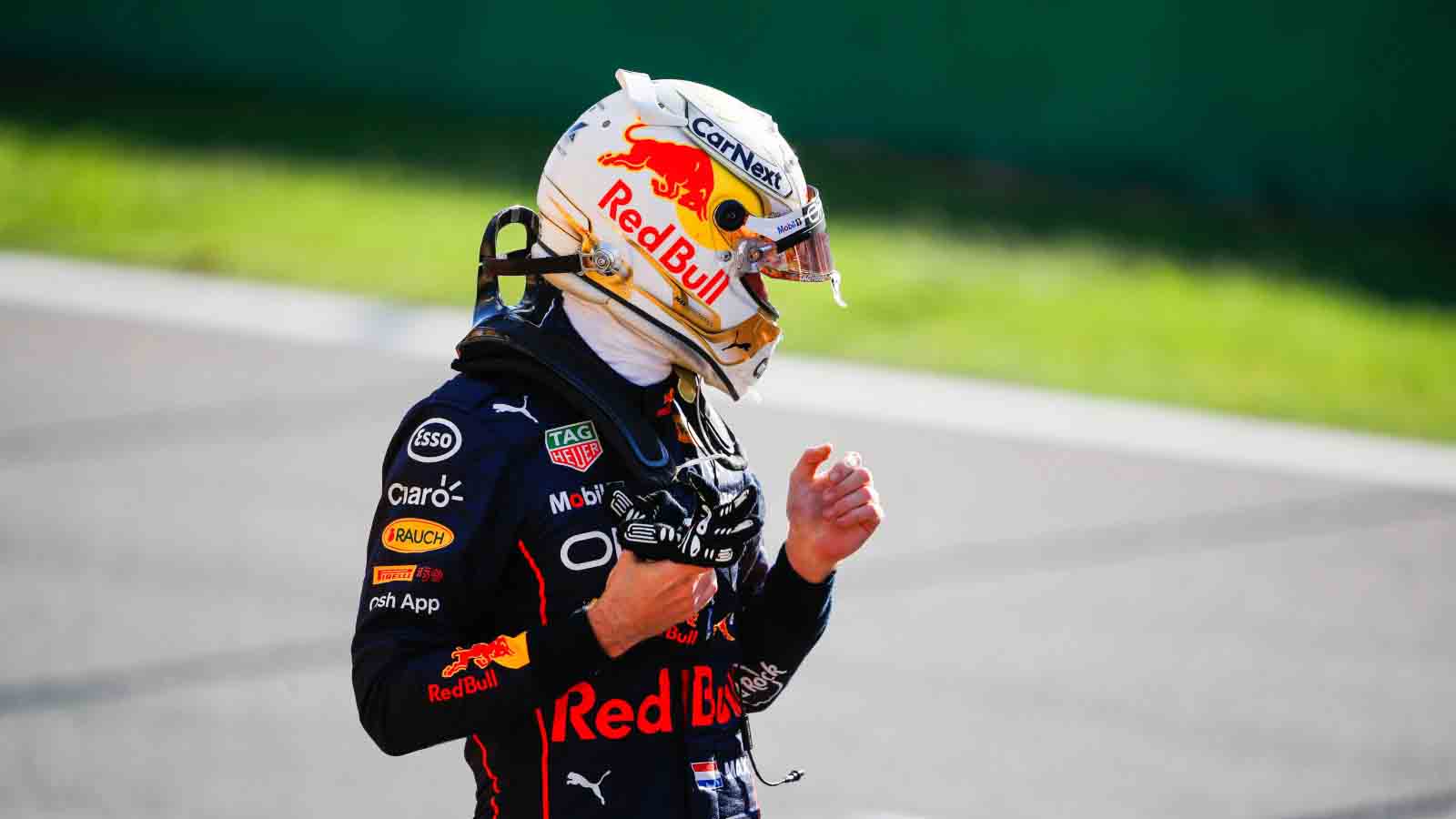 Max Verstappen cruised to his fifth consecutive victory after overhauling Charles Leclerc's Ferrari at the Italian Grand Prix.
Leclerc had been leading from Verstappen on older tyres than his Red Bull rival mid-race, but Ferrari opted to move to a two-stop strategy in the hope of being able to reel in the Dutchman on soft tyres.
But the World Championship leader was hardly affected by Leclerc's push in the final stint at Monza, losing a mere few seconds from a 20-second gap as he led the way into the final laps.
The race finished under Safety Car conditions, however, after Daniel Ricciardo's late retirement took too long to clear away and lapped cars did not have time to unlap themselves under the Safety Car procedures, leaving the cars to cross the line after restarting fully in the final corner.
George Russell rounded off the podium after another solid drive in his Mercedes, with Carlos Sainz coming from the back to take a well-earned P4 finish and Lewis Hamilton rounding out the top five.
After an almost four-hour wait after qualifying for the grid to be confirmed, anticipation was high at Monza as the jumbled-up order got under way.
Leclerc, Russell and Daniel Ricciardo all got away well but Lando Norris was the big loser at the start, bogging down and losing several positions.
Russell had said after qualifying Verstappen would be leading after 15 laps around Monza, and the World Championship leader had already glided his way up to third place by the end of lap one.
And by lap five, Verstappen had made a simple move on Russell to take second place off him, outbraking him into Turn 1 – without the Mercedes driver putting up too much of a fight.
Of the back-of-the-grid starters, Hamilton remained stuck in the lower reaches of the field after his former team-mate Valtteri Bottas appeared to have damage and sparks flew straight into Hamilton behind, potentially having a knock-on effect to his W13.
Sainz, meanwhile, had got back into the top 10 after only six laps, with Sergio Perez also making his way through the field, albeit at a lower rate of knots – pitting first of anyone on lap eight to find clear air.
He re-emerged from the pit lane with smoking brakes, however, but was able to keep himself going while making adjustments to try and cool his right front brake disc.
It was a sad end to Sebastian Vettel's appearances in Italy, losing power on lap 12 and being forced to pull over at the exit of the second Lesmo, with the Virtual Safety Car required.
Leclerc and Ferrari pulled the trigger first on strategy, coming in with VSC conditions just about in play. He swapped to medium tyres and crucially managed to come out in front of the lengthy DRS train fronted by Ricciardo.
Sebastian Vettel's final #ItalianGP ends in a DNF. That hurts!#F1 pic.twitter.com/dCtTbTj6cR

— PlanetF1 (@Planet_F1) September 11, 2022
Verstappen and Russell opted to stay out, while Sainz swept past Ricciardo's McLaren to go P4, making up 14 places in as many laps.
But Sainz gradually fell further and further behind Leclerc as he was losing around a second per lap to his team-mate, voicing his displeasure at extending his strategy on tyres which had been put to use as he rose up the standings.
The race settled down for a while as strategies began to play out, with Verstappen taking his soft tyres to lap 26 of 53. While he appeared worse off compared to Leclerc after the VSC period, his medium tyres being 13 laps younger than the Ferrari driver's would have been something of a tonic as he looked to make up a 10-second deficit.
Elsewhere, Hamilton had kept his first stint going and passed Fernando Alonso for P6 halfway through the race, his move into Turn 1 altogether cleaner than when the pair came together at Spa a fortnight ago.
It took until lap 31 for Sainz to pit and he got his wish on tyres – coming out on soft rubber with 22 laps remaining, in eighth place and time to make his way up as far as he could.
Alonso had been worrying about the power deployment in his Alpine earlier in the race, but it eventually turned into a terminal issue as he became the race's second retiree, the team later confirming a water pressure problem was the root of his disappointment on his record-equalling 349th grand prix start.
But there was a twist in the tale as Leclerc pulled in as 'Plan C' took effect, opting to switch to a two-stop strategy and close down a 20-second gap to Verstappen, Ferrari looking to turn the tables on Red Bull.
That left Leclerc needing to pull in a second per lap to the leader but, on the contrary, Verstappen managed to keep the gap constant to the Ferrari behind on his used mediums, leaving the pathway clear for him to take yet another win in 2022.
But a potential spanner in the works came as Ricciardo retired on lap 47, stopping with engine problems between the two Lesmos, requiring a full Safety Car intervention.
That prompted almost the entire field to stop for newer soft tyres, but given Ricciardo's McLaren had stopped in gear it took longer than expected for marshals to clear his car away and with the slowness of the field closing up to the Safety Car, there was no time for the race get back under way again, leaving Verstappen victorious once more.
Plaudits should also be given to Nyck de Vries, who had an excellent showing on his Formula 1 debut and took home two points for his troubles, having been called into action at short notice in place of unwell Alex Albon and winning the fan-voted Driver of the Day award.
But in all, it was another day of celebration for Red Bull and Verstappen, whose victory was the 30th in his Formula 1 career.
Italian Grand Prix race classification
1 Max Verstappen Red Bull 1:20:27.511
2 Charles Leclerc Ferrari + 2.446
3 George Russell Mercedes + 3.405
4 Carlos Sainz Ferrari + 5.061
5 Lewis Hamilton Mercedes + 5.380
6 Sergio Perez Red Bull + 6.091
7 Lando Norris McLaren + 6.207
8 Pierre Gasly AlphaTauri + 6.396
9 Nyck de Vries Williams + 7.122
10 Guanyu Zhou Alfa Romeo Racing + 7.910
11 Esteban Ocon Alpine + 8.323
12 Mick Schumacher Haas + 8.549
13 Valtteri Bottas Alfa Romeo Racing + 1 LAP
14 Yuki Tsunoda AlphaTauri + 1 LAP
15 Nicholas Latifi Williams + 1 LAP
16 Kevin Magnussen Haas + 1 LAP
R Daniel Ricciardo McLaren
R Fernando Alonso Alpine
R Sebastian Vettel Aston Martin
R Lance Stroll Aston Martin