Ferrari fans expect – but Max Verstappen is ready to make history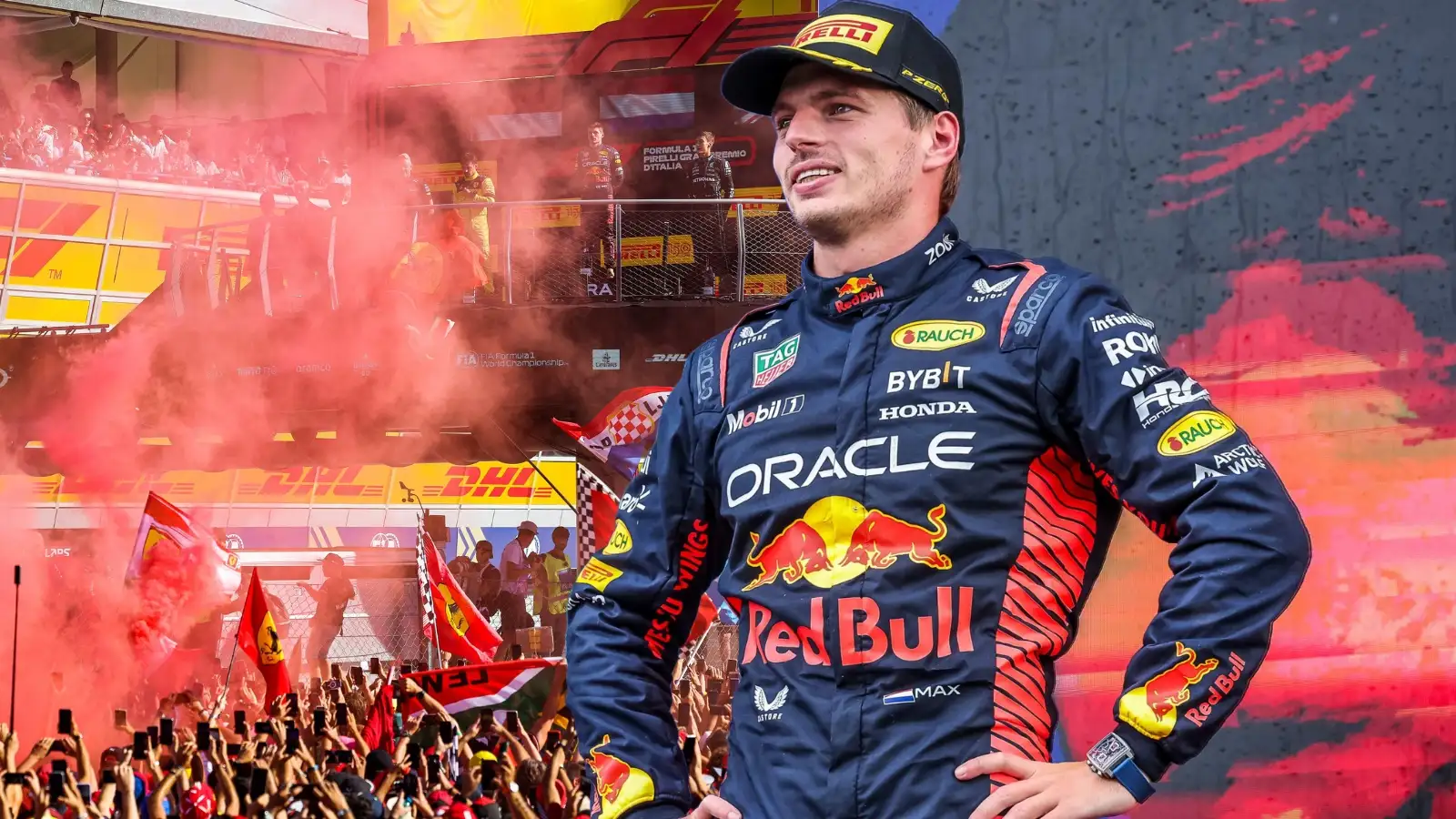 Formula 1 arrives at the Temple of Speed and Monza but Max Verstappen looks likely to rain on the Tifosi's parade.
For Ferrari fans, there is one race they keep an eye out for more than most. Monza is actually the home race of two of the current teams and yet, the seas of red on display give a clear indication of who the home crowd is rooting for.
But it has been three years since the Tifosi were last treated to a Ferrari win and odds are, they will be kept waiting come Sunday.
Max Verstappen stands on the edge of history
The headlines of Italian newspapers on Monday will most likely have not the name of Charles Leclerc or Carlos Sainz printed on them but instead Max Verstappen for the Dutchman is one race away from history.
In Zandvoort, Verstappen equalled the record of Sebastian Vettel and Alberto Ascari for most consecutive race wins at nine and form would suggest he will go one better this weekend.
Ever since the Miami Grand Prix, the Dutchman has been at his brilliant best. At his home race, he battled the elements but even amongst the chaos, the result was the same as the previous eight grands prix had been.
But Monza is not a track Verstappen has been overly successful at. He has just the one win there, secured in 2022, and the venue was also the site of the memorable crash with Lewis Hamilton that ended with the Red Bull car on top of the Brit's head.
As for the circuit, its nickname is a reminder of what kind of performance is on offer – speed. With that in mind, Red Bull do not have the quickest car on the straights – that title appears to belong to Williams – but it is the all-round package of the RB19 that has made it such a dominant race car.
The Monza circuit is most like Spa in terms of setup so Verstappen's rivals will not take any solace in the Dutchman's ability to finish 22 seconds ahead of any other driver in Belgium.
History awaits for Verstappen.
Ferrari seek to channel Le Mans success
The Ferrari duo will arrive into the Italian circuit in a different uniform than usual as the team celebrate their recent Le Mans success. As such, Leclerc and Sainz have seen some yellow thrown onto their race suit which, as Lando Norris pointed out, does give them the look of a McDonald's employee.
Regardless, Ferrari will be hoping to channel some of the success enjoyed by the hypercar team but it will be a tough ask.
Sainz described the SF-23 as the sixth-fastest car in Zandvoort and while the two tracks do not share many characteristics, it is unlikely Ferrari will find the pace they have been lacking all season.
A podium in Spa has been the sole high in a rather poor run of form of late and if you offered Ferrari P3 for this weekend right now, they would bite your hand off.
Mercedes looking to overcome Zandvoort difficulties while Aston Martin want to keep momentum going
Another team to have a poor race in Zandvoort was Mercedes whose rare indecision caused them to miss out. With most teams choosing to either stick or twist when it came to pitting for slicks, Mercedes did neither – opting to stay out for extra laps but ultimately coming in anyway.
It led to a P6 finish for Lewis Hamilton while George Russell went from a P3 starting spot to retiring late on with a puncture.
Mercedes will be keen to put that result behind them especially as Fernando Alonso was back on the podium.
Alonso's P2 was a welcome return for the Silverstone outfit who, having finished in the top three in six of the opening eight races, would go the next four without a podium.
The Aston Martin team were confident they had corrected the mistakes that led them down the wrong development path but it will still take time to regain their advantage over their competitors.
Alpine join elusive club with Pierre Gasly success
Red Bull, Mercedes, Alpine. Know what they have in common? That's right, they are the only teams to have had both drivers on the podium this year. The French outfit's place amongst this list has seemed unlikely all year but never more so then when they made the decision to fire team boss Otmar Szafnauer ahead of the summer break.
But lo and behold, Gasly ended the Zandvoort race in P3 thanks to Sergio Perez's pit lane speeding penalty.
For a man who has suffered what he described as the worst luck of his career, Gasly will be hoping the Dutch podium allows him to kick on for the rest of 2023.
The next test comes in Monza, a place where Gasly enjoyed the best race of his life in 2020, so it could be a happy hunting ground for him and Alpine.
McLaren stumble after mid-season recovery
Having made an incredible turnaround during the season, McLaren have seen their momentum halted a little bit.
They have amassed just 14 points in the last two races, meaning their unlikely catching of Ferrari was made all the more harder, so they will want to get back on track in Monza.
And it could well happen considering the upgraded MCL60 has proven effective in the high-speed circuits. Pre-summer break, team boss Andrea Stella warned they needed urgent work to be ready for this weekend but speaking during the Dutch Grand Prix, Stella was more confident they had achieved their targets.
Aside perhaps a win, anything is possible for McLaren in Monza.
PlanetF1.com recommends
F1 2024 driver line-up: Who is confirmed for next season's grid?
F1 2024 cars: What name has each team given their chassis for the 2024 season?
Backmarkers continue close pursuit for Constructors' standings places
While the top of the table may not be as tight as many fans would hope for, the bottom is a different story with one good race capable of significantly improving your points tally.
Williams, Haas, Alfa Romeo and AlphaTauri are all separated by just 12 points and it is the former who will have been most disappointed following the Netherlands race.
Although Alex Albon secured eighth, his P4 starting spot and the Williams speed suggested more was on offer.
They can take heart though that the next race is one that theoretically should suit many of their car's strengths.
For AlphaTauri, they again have the relatively unknown quantity of Liam Lawson to manage but given he put in a respectable performance off the back of one practice session and changeable conditions, the New Zealander proved he is not entirely out of his depth.
The Haas pair celebrated their new deals by binning the car into the wall on a couple of occasions and neither driver was able to trouble the points-paying places in Zandvoort.
Alfa Romeo had a better performance with Zhou Gunayu amongst the top places early on but he fell away and ultimately crashed out late on as the rain began to fall. The result, as well as Valtteri Bottas' P15, mean the Swiss team have not scored a point in the last five races.
Read more: Exclusive – Pierre Gasly clarifies Alpine team principal situation as search continues