Italian Grand Prix: Carlos Sainz takes stunning pole for Ferrari at Monza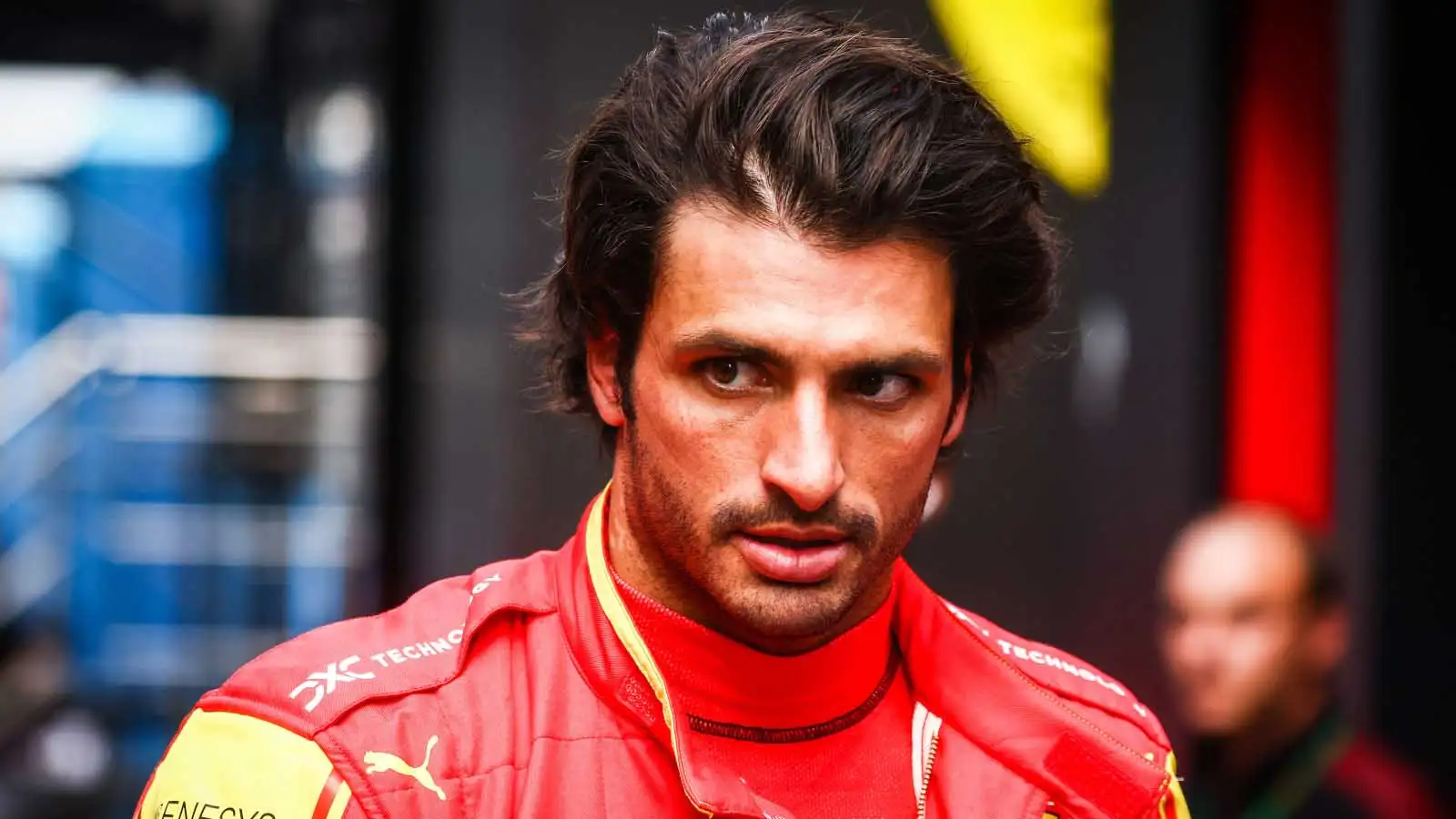 Carlos Sainz pipped Max Verstappen to pole position for the Italian Grand Prix to send the tifosi into raptures at Monza, with a stunning lap on Saturday in qualifying.
Charles Leclerc will line up third for the Scuderia, with George Russell and Sergio Perez rounding off the top five at Monza – but it was Ferrari's day on Saturday.
There was a scare as both Ferrari drivers were investigated for allegedly driving too slowly on a lap in Q1, but they will have breathed a sigh of relief when they were not punished by the stewards.
Both Alpines and Lance Stroll drop out in Q1
The use of the alternative tyre allocation, as seen in Hungary in July, made for a new-look qualifying session at Monza, with hard tyres mandatory in Q1, mediums in Q2 and softs in Q3 as F1 trials a system that reduces the overall number of sets available to each driver over a weekend.
And given that Carlos Sainz topped two of the three free practice sessions at Monza, the thousands of Ferrari fans in attendance had hopes raised of a potential pole challenge against the dominant Red Bull of Max Verstappen.
But while it was Verstappen who went fastest after the first runs, he had his lap time deleted for going beyond track limits at the second Lesmo corner – leaving the World Championship leader needing to do another run, along with Fernando Alonso going wide at the same turn.
Alex Albon has looked fast all weekend for Williams, and he took top spot narrowly ahead of George Russell's Mercedes after the first Q1 runs, with Williams seemingly backing up their pace from Zandvoort at the Italian Grand Prix this time around.
By the time Verstappen clocked a legal time, however, a 1:21.573 was half a second clear of Albon's best and enough to put him comfortably clear at the top midway through Q1.
Esteban Ocon had a tricky session as he almost came to blows with Lando Norris, the McLaren driver believing he had to swerve out of the way of the Alpine heading into Parabolica, before Ocon ran wide on the exit of the Ascari Chicane.
This saw him graze the gravel and he then asked his team to check the floor, but he was wheeled back into his garage with only one more attempt to get him out of the drop zone in Q1.
But just as the drivers had feared, the traffic for the final laps in Q1 looked stacked at Monza – with 18 of the 20 drivers wanting to clock a lap while not wanting to be interfered with on track.
Once the final flurry of laps played out, the unlucky five to drop out were Zhou Guanyu, Kevin Magnussen, Lance Stroll, and the Alpine duo of Ocon and Pierre Gasly.
His P20 start compounds an already frustrating weekend for Stroll, who suffered a lap time deletion earlier in the session after missing both Friday practice sessions.
But Ferrari were not in the clear either, with their drivers being placed under investigation after Q1 for allegedly failing to comply with the maximum lap time put in place by the FIA on Saturday morning to avoid traffic build-up at Monza.
AlphaTauri lock out row six in Q2
With the potential of a penalty, then, that made any Ferrari performance even more critical in the remainder of qualifying as medium tyres were bolted on the cars for Q2.
Sainz was the first driver to dip into the 1:20s as he pipped Verstappen to top spot after the first runs of the session, prompting loud applause from the tifosi in attendance at Monza.
Lewis Hamilton admitted after FP2 that his hopes were not high heading into qualifying for the Italian Grand Prix, his first target being getting into Q3 and seeing how Mercedes would do from there – and he would need to pull out a strong lap time towards the end of the session, sitting P12 after the first runs and "I've got no grip" his response over team radio.
But once the final runs came in, Hamilton was able to put himself up into P5, with Lando Norris scraping through to Q3 just 0.013s ahead of the unlucky Yuki Tsunoda in 11th.
Liam Lawson joins his AlphaTauri team-mate on the sixth row in an impressive performance on only his second Formula 1 weekend, with Nico Hulkenberg, Valtteri Bottas and Logan Sargeant also falling at the Q2 stage, with the American letting out a frustrated roar on team radio while chasing a better lap time.
PlanetF1.com recommends
The F1 records held by Max Verstappen…and ones he can still break in 2023
Revealed: How much does a Formula 1 car cost?
Carlos Sainz storms to Italian Grand Prix pole at Monza
But when Q3 arrived, it was back to 'normal' qualifying territory as the drivers were able to put the soft tyres on again, and the first laps saw Sainz pip Leclerc to make it a Ferrari 1-2 after the initial Q3 runs at Monza.
The legions of Ferrari fans roared at that point, but with an investigation and a mistake from Verstappen on the exit of the Variante della Roggia, they knew there was still a threat to that provisional pole position held by the Spaniard.
With the top three separated by less than a tenth, a circuit – and a nation – waited with bated breath about what would unfold for the final laps of qualifying for the Italian Grand Prix.
And only three hundredths separated Sainz, Verstappen and Leclerc through the first sector on their final runs, and there was hardly anything between them on their second sectors either.
Leclerc was first over the line on a 1:20.361, Verstappen then took it by five hundredths – but Sainz would go 0.013s faster to send the grandstands into raptures at Monza.
He punched the air as he took pole for Ferrari at Monza, and despite the threat of the investigation into them looming large, news came through moments later that they would not be punished for the supposed infringement from Q1.
Whether or not Sainz will be able to convert that pole into victory on Sunday remains to be seen, but he will now be experiencing one of the most special feelings in Formula 1: Italian Grand Prix pole, driving a Ferrari, at Monza.
Qualifying classification: 2023 Italian Grand Prix
1 Carlos SAINZ Ferrari 1:20.294
2 Max VERSTAPPEN Red Bull +0.013
3 Charles LECLERC Ferrari +0.067
4 George RUSSELL Mercedes +0.377
5 Sergio PEREZ Red Bull +0.394
6 Alexander ALBON Williams +0.466
7 Oscar PIASTRI McLaren +0.491
8 Lewis HAMILTON Mercedes +0.526
9 Lando NORRIS McLaren +0.685
10 Fernando ALONSO Aston Martin +1.123
11 Yuki TSUNODA AlphaTauri 1:21.594
12 Liam LAWSON AlphaTauri +0.164
13 Nico HULKENBERG Haas +0.182
14 Valtteri BOTTAS Alfa Romeo +0.346
15 Logan SARGEANT Williams +0.350
16 ZHOU Guanyu Alfa Romeo 1:22.390
17 Pierre GASLY Alpine +0.155
18 Esteban OCON Alpine +0.158
19 Kevin MAGNUSSEN Haas +0.202
20 Lance STROLL Aston Martin +0.470
Read next: Exclusive: Jacques Villeneuve weighs in on Lewis Hamilton's F1 contract extension