Stewart criticises Verstappen for not checking on Hamilton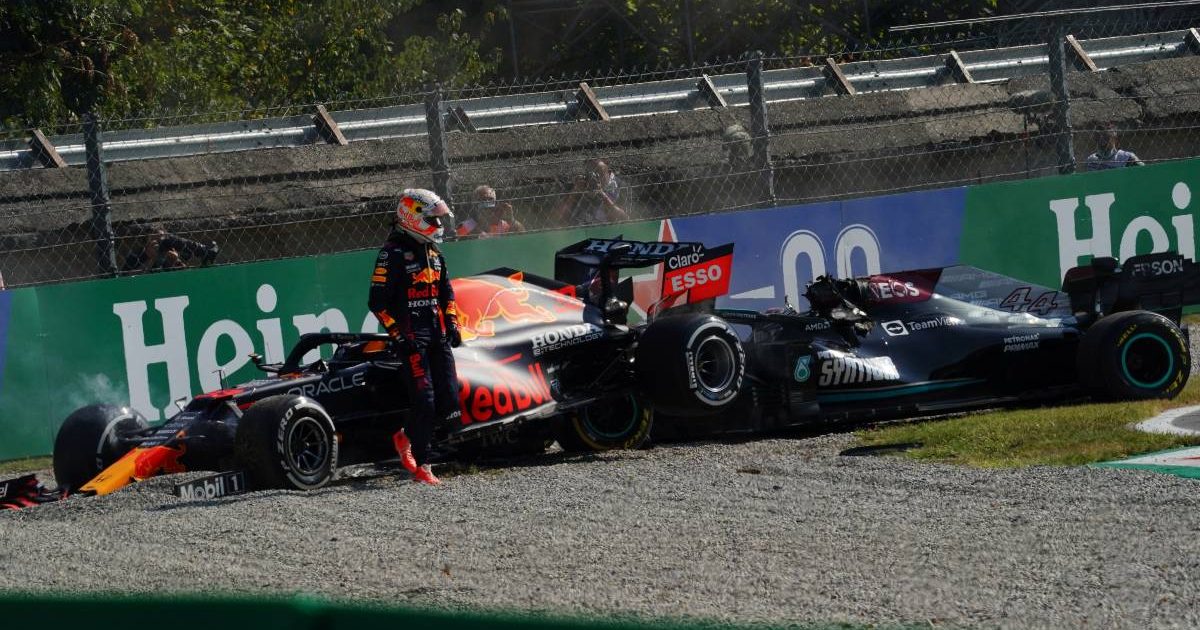 Jackie Stewart has slammed Max Verstappen after his Monza crash with Lewis Hamilton, appalled that the driver – "who is taking longer than expected to mature" – didn't check on his rival.
Verstappen and Hamilton had their second big crash of this season at the Italian Grand Prix, the Red Bull driver trying to pass up the inside in the second part of the Rettifilo chicane.
Mounting the kerbs, his back tyre hit Hamilton's, lifting the RB16B into the air where it came down heavily on Hamilton's rollbar before sliding across his Halo, the Brit's head taking a whack from Verstappen's tyre.
Coming to a rest partially on Hamilton's car, Verstappen climbed out of his and walked away without even going over to Hamilton to check if he was okay.
Stewart was appalled by that.
The triple World Champion told Sportsmail: "Verstappen is taking longer than expected to mature.
"Not even to go to see Hamilton after a serious accident when you have just driven over the top of the guy is something I don't really understand. Especially when he is still in his car and remained there for a long time before getting out."
Hamilton was "surprised" that Verstappen didn't come over to check on him but the championship leader says he knew he was "fine" as he was "still trying to drive backwards when I was already out of the car. So if you're not doing well, you don't do that."
Stewart feels it is time that Red Bull boss Christian Horner gave his driver a serious talking to.
"Max has quite a lot to learn," he said. "But who will he listen to?
"He's very, very good. He's probably the fastest driver on the grid now, but to be a proper champion you cannot be entangling yourself in crashes all the time.
"If I were their team principals, I'd tell them, "For Christ's sake, don't do it again". Just because you are leading the World Championship, it doesn't mean you are bulletproof."
A dramatic new angle on the Hamilton/Verstappen collision#ItalianGP 🇮🇹 #F1 pic.twitter.com/PvN2KGUbbi

— Formula 1 (@F1) September 14, 2021
Red Bull merchandise is available to purchase now via the official Formula 1 store
The Scot also cannot understand how, if the stewards believed Verstappen was predominantly to blame for the crash, he only got a three-place grid penalty for the Russian Grand Prix.
"The stewards have more information," he said, "but if they were so certain Verstappen was entirely to blame then why does he only get a three-place penalty?
"If it weren't for the Halo, Lewis could have died, and the supposed culprit only gets a slap on the wrist!"
The protagonists left the Monza circuit with Verstappen five points up on Hamilton having extended his advantage in the Saturday's sprint qualifying, scoring two points with his P2 finish while Hamilton in fourth didn't score.
Planet F1 verdict
Will Hamilton and Verstappen learn from their crashes?
Will the crashes between Lewis Hamilton and Max Verstappen have a greater impact on future races?