Ickx: Hamilton 'dazzling', but Fangio still 'icon'
Ex-F1 driver Jacky Ickx says Lewis Hamilton's work on and off the track is "dazzling", but Juan Manuel Fangio remains his "icon".
When the turbo-hybrid era began in Formula 1 back in 2014, as time has shown with it also came the start of the Mercedes era.
In the seven seasons under these engine regulations Mercedes have won all seven Drivers' and Constructors' titles on offer, and six of the seven World Championships have gone to Hamilton.
The one exception though is 2016, when Rosberg beat Mercedes team-mate Hamilton to the title.
Shortly after doing so, he retired from Formula 1.
His replacement was Valtteri Bottas, and in four years the Finn hasn't come close to beating Hamilton who is now a seven-time World Champion, putting him level with Michael Schumacher.
And Ickx, who won eight races and scored 25 podiums in Formula 1, believes Hamilton's dominance shows it was right for Rosberg to retire after beating the Briton in 2016.
"In every decade, there is a driver that just stands out. Lewis Hamilton's performance is spectacular," he told the Monaco Tribune.
"Obviously, the better your car, the easier your race, but I don't think we can challenge Hamilton's talent.
"Hamilton was able to beat everyone, apart from Nico Rosberg in 2016, which is a testament to Rosberg's talent.
"Nico did something exceptional. And being capable of saying "that's it, I quit," when you're at the top of your game as he did….I can only respect him for that. He was a leader in his discipline but felt it was time for him to retire in his prime. I cannot think of a more memorable choice."
As for the common question of where Hamilton ranks among the greats of Formula 1's past, Ickx was not prepared to be drawn on an answer.
But he made it clear that the late, great five-time World Champion Juan Manuel Fangio remains his "icon".
"I don't think one can say that for sure. Circumstances have changed, the equipment has changed, and so has the risk factor," he explained.
"Juan Manuel Fangio, five times Formula 1 World Champion, is still an icon for me. His time more akin to chivalry. At the time, Formula 1 was like being on the battlefield.
"To me, what Hamilton achieves both on and off the track is dazzling."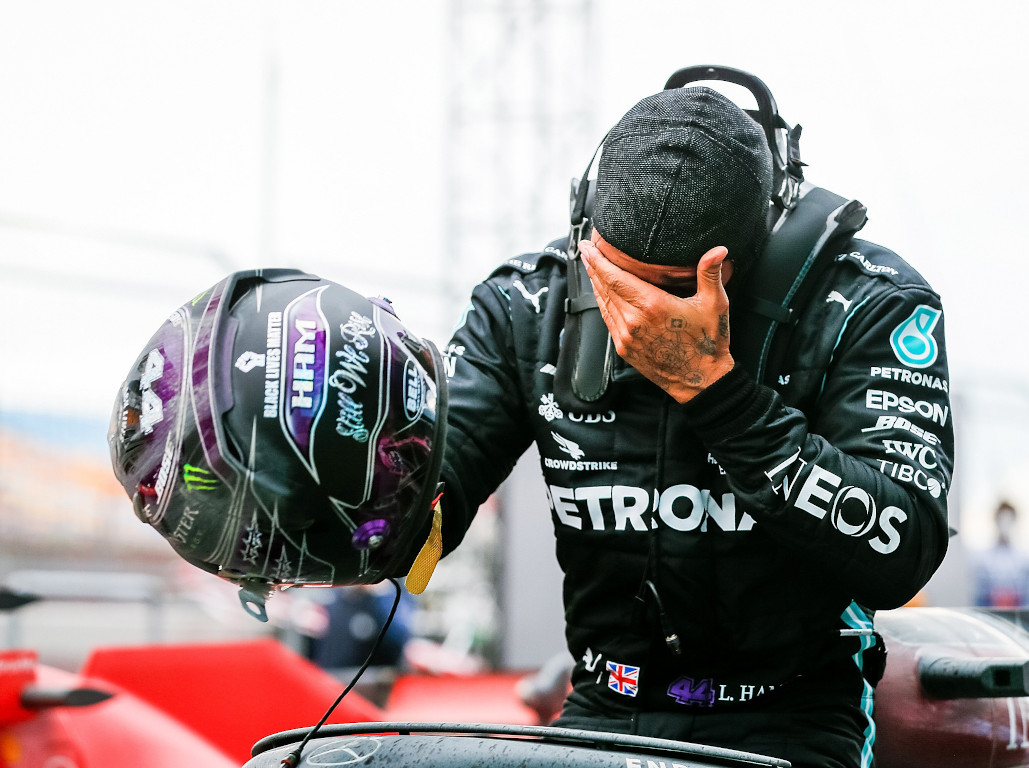 Get your hands on the official Mercedes 2020 collection via the Formula 1 store
In the current era of Formula 1 only Ferrari have ever come close to mounting a serious title challenge against Mercedes, that being courtesy of Sebastian Vettel in 2017.
But in 2020 Ferrari have found themselves well off the pace of their rivals, leaving their new star prospect Charles Leclerc with no chance of getting involved in the title fight.
However, Ickx, who drove for Ferrari in 1968 and then again from 1970-73, certainly sees huge potential in Leclerc, though Ferrari's lack of form means he doesn't have the "means to achieve" his goals of being World Champion currently.
"Charles Leclerc is God's gift to Monaco," he said.
"All they think about is Charles Leclerc, even if Hamilton is winning the Championship.
"It's true, they say he has the potential to be World Champion. Yet you also need to have the means to achieve your goals, which is not the case at the moment. But when you see all that he can manage… his talent is immense.
"Compare him to Vettel, who won the World Championship four times. When Charles Leclerc finishes fourth and Vettel is in 11th place – such big gaps say a lot about his talent."
Follow us on Twitter @Planet_F1, like our Facebook page and join us on Instagram!