JV: Fan reaction to Hamilton crash 'embarrassing'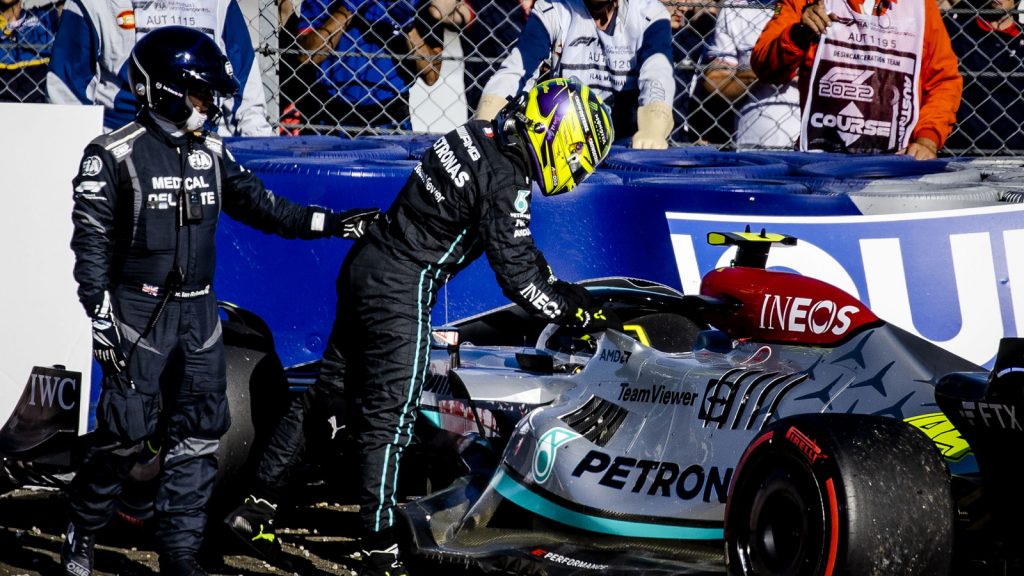 Jacques Villeneuve is baffled as to why so called F1 fans would cheer when a driver crashes as some did for Lewis Hamilton's accident at the Red Bull Ring.
Vying for a top spot on the sprint race grid, Hamilton lost the rear end of his W13 through Turn Seven during Friday's qualifying.
The Mercedes driver hit the barrier side-on, such was the impact that he had to swap to Mercedes' spare chassis as the side impact crash structure had been damaged.
While Hamilton climbed from his car, the medical doctor on hand to ensure he was okay, some of the crowd cheered.
Villeneuve cannot fathom why they feel that's okay to do.
Hamilton's qualifying ends in the barriers 💥😖#AustrianGP #F1 pic.twitter.com/vue7GDQYJm

— Formula 1 (@F1) July 8, 2022
Writing in his latest Formule1.nl column, the 1997 World Champion said: "Let me start with the most embarrassing thing: the screaming fans when Lewis Hamilton crashed. No one knows how he is and yet they are clapping.
"Lewis isn't even fighting Max this year, it was really embarrassing.
"You should never be cheering after a crash. I just don't understand the misbehaviour. The people who come in are supposed to be fans of racing.
"Whatever you think inside, keep it to yourself. It's bad enough if you think like that."
Last season Hamilton had a fierce battle with Max Verstappen for the World title, tensions from both camps boiling over at times.
The Dutchman was quick to condemn Friday's behaviour.
"Those people are not really F1 fans," Verstappen told The Guardian.
"They cannot really enjoy what is actually happening right now, a lot of great drivers actually fighting against each other. They cannot appreciate that and it's a bit of a shame.
"How many times do you get to experience stuff like that? Such an intense rivalry or fights. These people are not lovers of the sport."
The Red Bull Ring cheering came one week after Silverstone fans jeered Verstappen at the British Grand Prix.
Hamilton says both sets of fans are in the wrong.
"I don't agree with any of that, no matter what," he said in the wake of his qualifying crash. "A driver could have been in hospital and you are going to cheer that?
"It's mind-blowing that people would do that, knowing how dangerous our sport is. I was grateful I didn't end up in hospital and I wasn't heavily injured.
"You should never cheer someone's downfall or someone's injury.
"It shouldn't have happened at Silverstone, even though it wasn't a crash, and it shouldn't have happened here."
F1 drivers and officials condemn abusive behaviour
Multiple reports of racism, homophobia and sexual harassment plagued the Austrian Grand Prix weekend.