JV: Max/Hamilton in Saudi was 'rental karting', not F1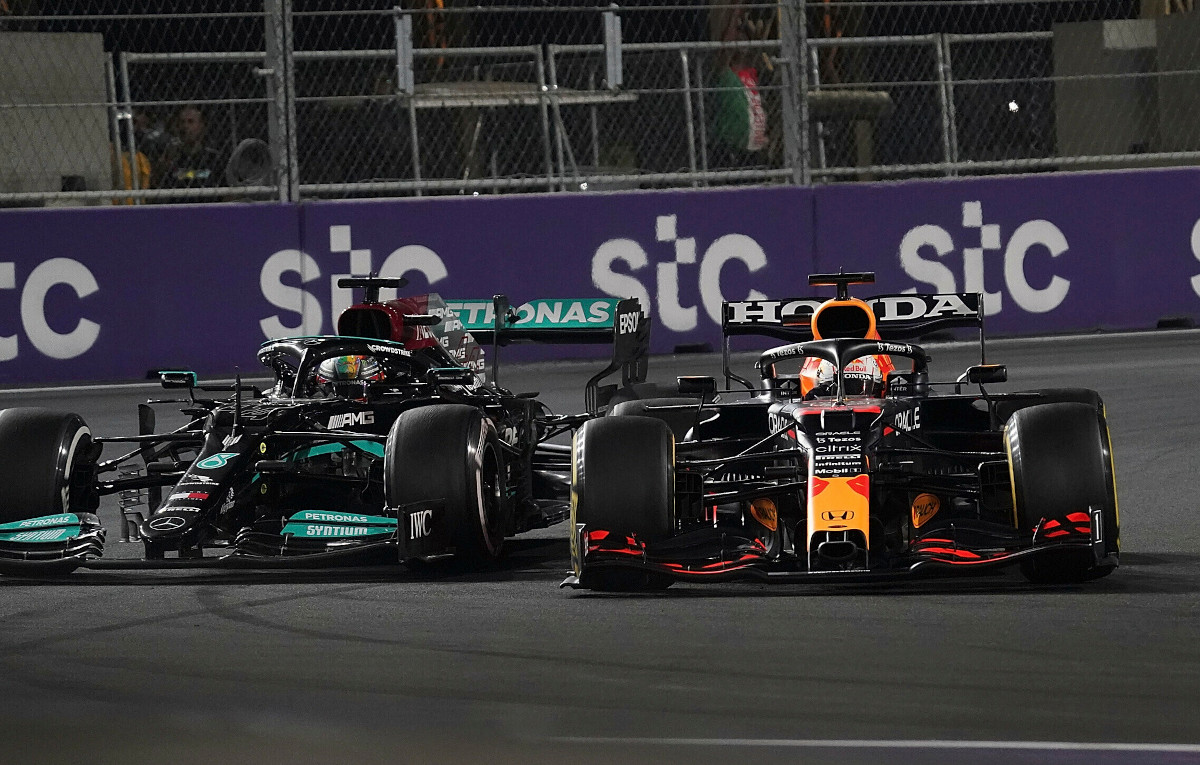 Jacques Villeneuve has given a damning assessment of Lewis Hamilton and Max Verstappen after their controversial Saudi Arabia battle.
As the title hopefuls contested the penultimate round of the season, the action on track became rather messy with several incidents occurring.
Verstappen was demoted down the grid for the second of two race restarts and also incurred a five-second time penalty, for leaving the track and gaining an advantage in defence against Hamilton.
However, the biggest talking point came when Verstappen was told by Red Bull to slow and yield his lead to Hamilton, at which point the Briton braked too, did not pass Verstappen and ultimately went into the back of his rival, sustaining front wing damage.
And 1997 World Champion Villeneuve was not impressed by what he saw at the Jeddah Corniche Circuit.
"It wasn't F1, it was rental karting, everything was wrong. So I'm not sure what to say," he told Motorsport.com.
But on top of the antics on track between Hamilton and Verstappen, Villeneuve was also critical of the way the teams conducted themselves.
The FIA-team radio line became very heated on multiple occasions, the height of that coming courtesy of Mercedes' sporting director Ron Meadows, who fumed at race director Michael Masi as the team claimed to not have been made aware Verstappen would slow to let Hamilton through.
"It's hard to stay neutral, it's hard to give a comment on what happened every time and be perceived as being neutral. You will always be perceived as taking sides and that's when it becomes a bit too much," Villeneuve continued.
"Do we want sport and good F1? Or do we just want a Hollywood show? If you want a Hollywood show, Sunday was amazing. But is that what F1 is all about?
"And then when you see the team principals, everyone is shouting and putting pressure even on the marshals and so on. That becomes ridiculous. It really has become ridiculous.
"It was great for the fans, so that probably will increase the viewership which is great for F1. But we are starting to get away from the sport, that's all. So ultimately, it depends if you are a purist or not."
This video arises new doubts.

Max Verstappen gave Lewis Hamilton enough room to pass by.
How is this Max's fault?#SaudiArabianGP #F1 pic.twitter.com/WE5OTHJgOi

— Akki (@Akkiakki1137) December 5, 2021
Red Bull boss Christian Horner said Hamilton was "messing about for DRS" when he refrained from passing Verstappen and hit him, a claim which Hamilton later admitted to.
Hamilton wanted to remain behind at the point of reaching the DRS line, to ensure he got it and not Verstappen – lines which Villeneuve called "stupid" as he criticised both drivers.
"Someone slows down in front of you, you overtake. The problem is those stupid DRS lines. And Lewis didn't want to cross the DRS ahead of Max," he said.
"He knew Max was letting him by. He just didn't then want Max to have the DRS for the next straight line because Max would have overtaken him, so they both played dumb there."
Ultimately, Hamilton went on to win the race while Verstappen cruised home P2 on worn-out tyres, which means the drivers head to the final round in Abu Dhabi tied on 369.5 points.
Verstappen remains P1 due to having more race wins this season, so that has heightened fears of another collision between the pair as Verstappen can secure the title without scoring a point as long as Hamilton also does not.
And so Villeneuve is just hoping for a clean race, not another "Hollywood" show.
"It's a Red Bull track, but with the engine Lewis has every track is a Lewis track now. I just hope we have a nice clean race," he said of the upcoming Abu Dhabi Grand Prix.
"And may the best man win, and not anything like Saudi Arabia, not Hollywood, at least not in the last race. We already got our Hollywood hits this year."
Verstappen taking all the risks
Ralf Schumacher claims he likes the risks that Max Verstappen takes.