Jaime Alguersuari: 'I don't think me or Carlos Sainz ever liked Red Bull'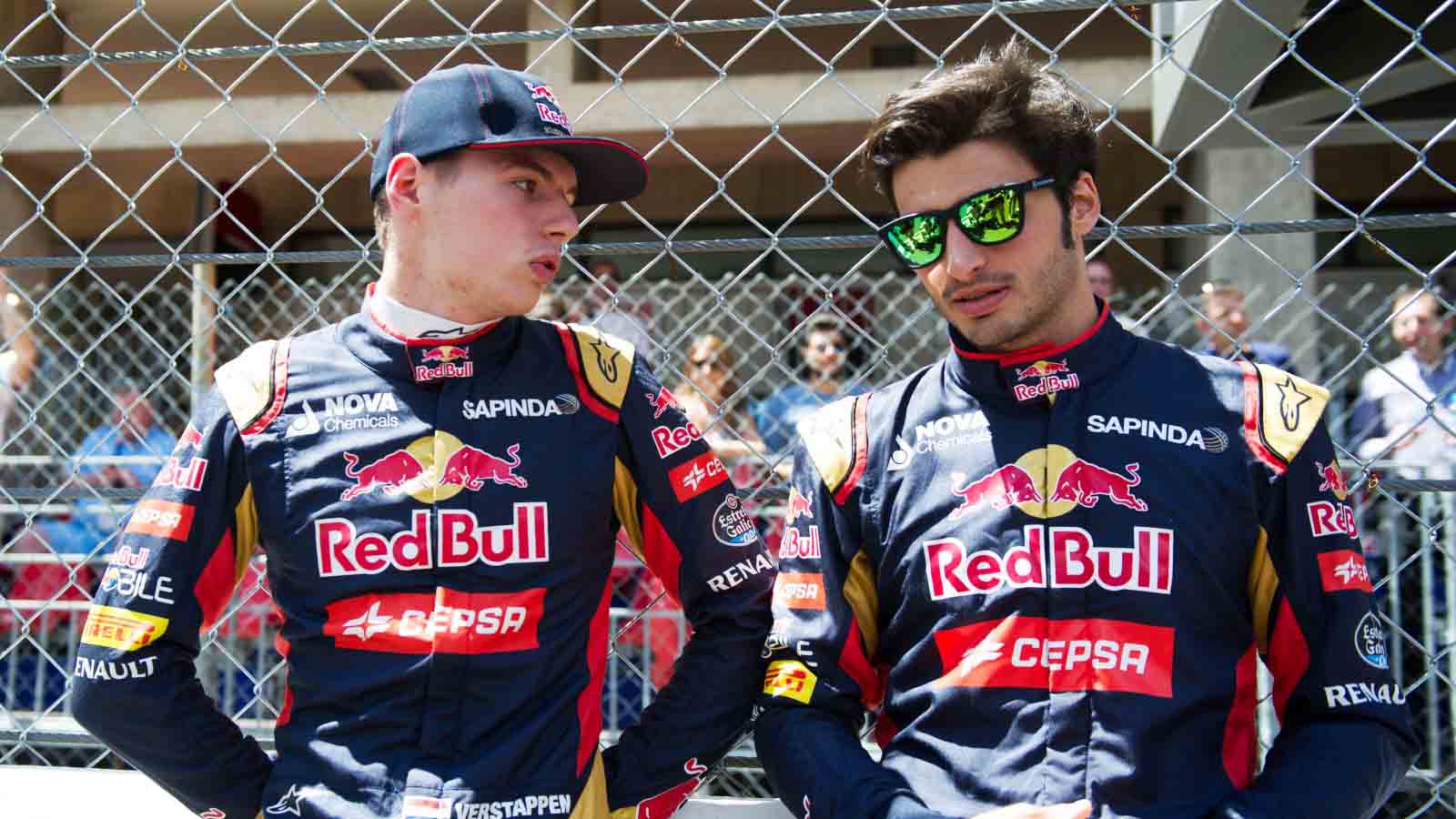 Jaime Alguersuari said that he believes neither he nor fellow Spaniard Carlos Sainz enjoyed their time at Red Bull.
Alguersuari began racing full-time for Toro Rosso in 2009 and a year later Sainz joined the Red Bull group as part of their junior team.
The two would have been working together through to when Alguersuari left the team in 2011 with another Red Bull junior driver, Daniel Ricciardo, taking his place despite his run of good results.
That would prove to be Alguersuari's last season in Formula 1 and while Sainz went onto bigger and better things with stints at Renault, McLaren and now Ferrari, the former suspects that Red Bull were always searching for "another driver profile".
He highlighted his father, a former grand prix motorcyclist, and Sainz Sr, a rally driver, as reasons why the pair were not what Red Bull were looking for.
"I think neither I nor Carlos ever liked Red Bull," the 32-year-old told El Confidencial.
"They helped us because there was talent and we were worth it. But deep down they are looking for another driver profile.
"I say it with my hand on my heart. Red Bull wants to find drivers in the middle of a lake, who are not known, not their family, not their friends, and who only depend on Red Bull.
"It was not the case of a driver whose father was a promoter of the categories before Formula 1 and who had a position and a vote in the industry. And in the case of Carlos, more of the same.
"In my case, the favourite was my team-mate, Brendon Hartley, but I won Formula 3 and they had no choice.
"At Toro Rosso I was beating [Sebastien] Buemi, but he continued to be helped. In my case, [Adrian] Newey said that I had rejected the option of third driver, and it was not true, nobody had said anything to me."
Alguersuari was informed of the team's decision to let him go late in 2011 and was asked if Helmut Marko, who oversees Red Bull's junior programme, explained the reasoning behind their decision.
"I never saw him again," the Spaniard revealed. "And I would like to."
"The only thing I know about all that is that when Franz Tost called me the day after the Cepsa event at eight o'clock in the morning to tell us that Red Bull couldn't help us anymore and that he had bad news… And he hung up on me.
I have not enough words of gratitude to RB and Helmut Marko because they have showed me a way of discipline, of dedication and hard f****ng work that is helping me out reach other goals in my life, in my music and Im 100% sure I wouldnt be who I am today without being inside RB.

— Jaime Alguersuari (@SquireMusic) September 23, 2022
"Because I guess he didn't want to talk to me. I pick up the phone, and I call Helmut Marko directly. 'Is this a joke?' 'You've already heard, haven't you?' 'What's this about, Helmut?' And he says to me, 'I couldn't do anything.'
Alguersuari went on to spend a single season in Formula E in 2014/15 before retiring from all forms of motorsport in October 2015. Despite the monumental decision from Red Bull that no doubt had serious ramifications on his future, Alguersuari said "it's done, years have passed."
"He [Marko] led me to understand that in Red Bull it's not just one, but a 'board' behind, with different interests, that decides.
"But it was clear to me that Marko doesn't decide, from what he told me. And that was the last time I spoke to him. When I was a commentator with the BBC I greeted him in the paddock, nothing else."
Alguersuari later went on to tweet that he did not have "enough words of gratitude to RB and Helmut Marko" and that he was "100% sure I wouldn't be who I am today without being inside RB."
"I want to clarify something reg. Helmut Marko," he said in a tweet. "I am deeply thankful to have met him when I was 15, Helmut was my teacher and someone who always asked me to deliver to push and boost myself forward and beyond. This is the junior team system and it works.
"I have not enough words of gratitude to RB and Helmut Marko because they have showed me a way of discipline, of dedication and hard f****ng work that is helping me out reach other goals in my life, in my music and I'm 100% sure I wouldn't be who I am today without being inside RB."
Read more: Max Verstappen 'believed in the people in the team and it's paying off'