James Vowles explains thinking behind Mercedes' Mexico strategy amid criticism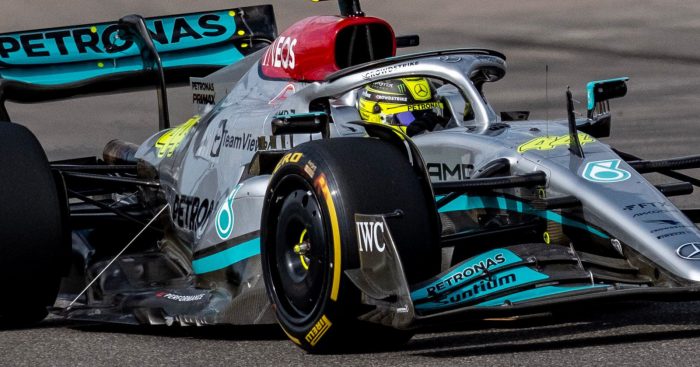 Mercedes' James Vowles admits the soft tyre was the right compound to start on in hindsight in Mexico, but justified their strategy.
As the tyre blankets came off on the Mexico grid, it was revealed pole-sitter Max Verstappen had the red-marked soft tyres on his Red Bull, but Mercedes pair George Russell, starting P2, and Lewis Hamilton, in P3, both had the medium tyres.
Hamilton improved to P2 at the start and was keeping Verstappen just about in reach to make a one-stop strategy and switch to the hard tyres feasible, although it did not work out for Mercedes as Hamilton and Russell struggled on that compound.
Verstappen, meanwhile, stretched out his soft stint to pit on lap 26, taking on the medium rubber and powering on to victory, 15 seconds clear of Hamilton at the line.
Red Bull team principal Christian Horner expressed surprise at Mercedes' strategy, while Ferrari boss Mattia Binotto and ex-F1 driver Jolyon Palmer were also critical of the eight-time former Constructors' champions.
Mercedes' chief strategist Vowles explained his team highly doubted the validity of a soft-medium strategy, believing at the time their route would give them the best shot at catching Red Bull if degradation set in, Vowles saying the Red Bull RB18 was superior to the W13 for outright pace.
"We started on the mediums and the theory was this," Vowles began as he spoke on the F1 Nation podcast. "We knew today we didn't quite have the faster car beneath us. But we believed being on a nailed-on one-stop was probably our best way of winning.
"And in the race, it's probably worth speaking to other teams, but we certainly had the belief the soft-medium may just in the best of circumstances be possible, but it would be right on the limit in terms of where you're taking the tyres, mainly from a degradation perspective, not from a wear perspective, whereas a medium-hard could be a nailed-on one-stop.
"And if they drop off the curve at the end, if the degradation is too high, it could provide us with an opportunity that wasn't open to them.
"It also means at the beginning of the race, the soft tyre – you saw it after 16 laps – started to drop away. I honestly thought it might be more than that. And if it was more than that, it may come back towards us and the medium suffers like it did with George after 34 laps. Actually, we would be sitting here pretty.
"But the other thought we had is starting on the mediums doesn't stop you two-stopping, doesn't stop you fitting the softs later like Daniel [Ricciardo] did, so it doesn't close your options off.
"So now the question comes 'do you lose out at the start of the race?' And you will, a couple of metres I would say. But our thought process was with the tow, we're probably going to have to make up for it, probably wouldn't lose anything as a result and it gives us opportunities later."
Last time out in Austin, Mercedes were presented with an opportunity to win after Red Bull had fluffed their lines with Verstappen in the pits, dropping him behind Charles Leclerc and Hamilton.
Verstappen though caught and passed Leclerc, then doing the same to Hamilton to rescue the win.
Asked if Mercedes had been looking at the one-stop because of Red Bull's error under pressure in Austin, Vowles replied: "No, it certainly wasn't based on what happened there.
"Red Bull are probably, within the pit lane, the best at pit-stops and it's rare for them to make a mistake like they did in Austin, and you wouldn't really factor it in.
"What I can tell you is if we can pressure them, we'll try to – because humans don't like that, you do suffer, but I wouldn't go in there with expectation of that.
"No, it was just more formally based on the fact I just didn't quite think we had the pace they had, so you've got to do something different.
"Start on the softs, probably finish exactly where you end up. Start on the mediums, it may provide other opportunities – it didn't. We did the wrong thing, we should have started on the softs, but I'm not too upset with where we ended up."
So, knowing everything they do now post-race, if Mercedes had started on the soft tyres, could they have claimed a first victory of 2022 in Mexico?
"The only way would be ahead of him (Verstappen) at Turn 1," Vowles said. "That's the only way of doing it.
"You had a car that had just a little bit more pace – not a lot, just a little bit more pace than us. And it's super-hard at a track like this when you go to the next tyre, the medium tyre, there isn't a big undercut, that's the problem.
"So at other tracks like Austin, you can get a two, two-and-a-half second undercut. Here it's a matter of tenths, probably four tenths by going from the softs to the mediums.
"And the gap between the cars, as you saw, was about 1.1 seconds because in this air, with the brake cooling, with the amount of lift and coast we are doing, you just simply can't be up the gearbox of another car."
Read more – Jolyon Palmer: Mercedes' sub-optimal strategy calls becoming 'a recurring theme'