'Double agent' and 'mini-Mercedes' concerns addressed by Wolff and Vowles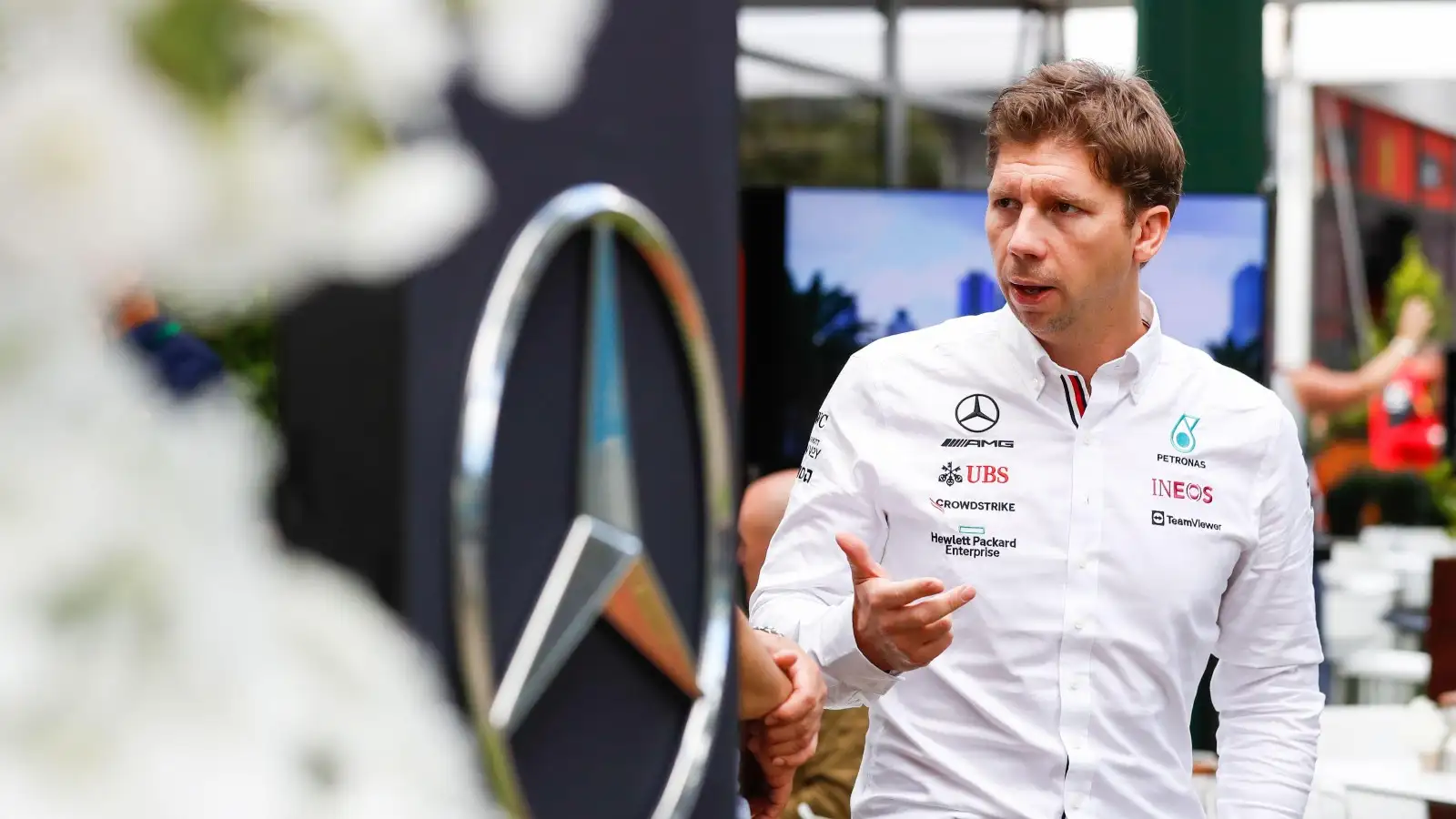 As James Vowles swaps Mercedes for Williams, both he and Toto Wolff have knocked back suggestions of strengthening ties.
Williams have in recent years grown closer to the Mercedes outfit, as in addition to being a long-standing power unit customer, Williams have also beefed up their technical partnership with the Silver Arrows.
And so with Vowles now set to leave his post as Mercedes' chief strategist to become Williams team principal, that naturally has led to speculation that this represents further influence gained by Mercedes.
However, Vowles made it clear that he has no intention of morphing Williams into a "mini-Mercedes".
"I wouldn't consider it a mini-Mercedes," said Vowles. "Williams is an incredibly independent team in its own right, which has formed its own history, its own heritage.
"Williams is an entirely independent organisation, and furthermore, it's one that my success is subject and dependent on me doing a good job there, and that has to be independent of Mercedes.
"It doesn't mean that Mercedes and ourselves won't have collaboration in some form or another, there was collaboration before I joined, but I have to do what is best for Williams from here onwards.
"An interesting analogy I bring to the party is that I met with MI6 about 10 years ago, and we described all the techniques that we do within Formula 1, and many of them mirror, but the one that doesn't mirror is this one, the concept of double agents.
"The second, just now fundamentally, that you put a crisp Williams shirt on, that's where you are, that's where your loyalty is, and that's where my success and the team's success will come from.
"There's no mini-Mercedes or B-team, or any of that notion. This is about me standing on my own two legs and making a success with an organisation around me."
PlanetF1.com recommends
'Big meeting' looming in January with new PU regulations being 'tidied up'
Red Bull explain how cost cap has changed F1 development 'discipline'
F1 team principals: How long has each team boss been in charge?
Mercedes team boss Wolff backed up Vowles' claim that Williams are a team very much independent from Mercedes, clarifying that the Silver Arrows do not, as Williams' power unit supplier, have a say in their driver line-up.
Such talk was brought up by Williams' pursuit of Alex Albon, with Mercedes concerned about the Red Bull reserve driver moving to a team that used the Mercedes power unit. Mercedes reserve driver Nyck de Vries was also in the running for that 2022 Williams seat.
And Wolff suspects that if he were to try to interfere with any Williams business, the team that he formerly co-owned, then Vowles would tell him to "get lost".
"One thing we all have in common is that we are in this position to defend our standpoint and our teams, to do everything that's in our power to prosper," Wolff stated.
"If I were ever to get involved with James and asked him to become mini-Mercedes, he would tell me to get lost.
"There was always the speculation that Williams, because of the Mercedes engine, was a subordinate but none of that was obviously true and we never interfered into some kind of driver situation.
"We always understood the authority of the team management in their own way and that's why James is going to do what's good for the team. He's going to do what's going to be good for James in order to bring that forward.
"He's going to be judged on the team's success and if Mercedes is helpful he will talk about it, and if he feels he needs a different position, then he will stand for that position."
James Vowles' Mercedes experience will be an asset though
Even if this move does not form a bridge for Williams to become the Mercedes B-team, which is difficult anyway due to the parameters that mean teams must operate independently, it does nonetheless give Williams access to one of Formula 1's most successful strategic minds.
Going back before the days of Mercedes, Vowles was there playing a key role in Brawn GP's shock title double in 2009, and as the team morphed into Mercedes, Vowles again was an important piece of the puzzle as chief strategist when Mercedes won eight Constructors' Championships in a row, plus seven Drivers' titles in that time.
So, while Vowles cannot take the Mercedes data with him to Williams, he can take the knowledge of what a wildly successful Formula 1 team looks like, as Williams try to rediscover their glory days having finished bottom of the Constructors' standings in 2022, for the fourth time in the last five seasons.