FP1 report: Fernando Alonso tops a wet opening practice at Suzuka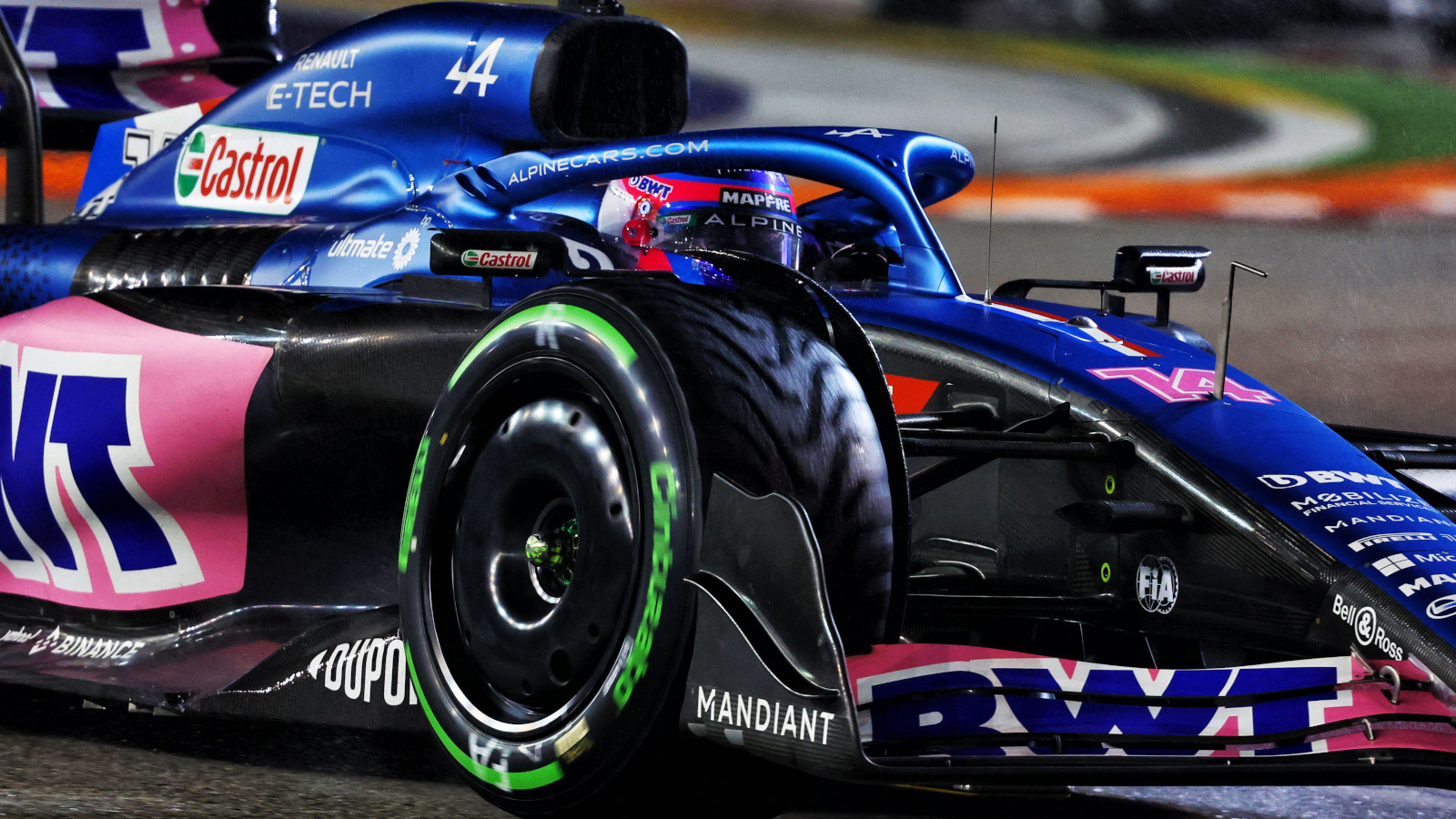 Formula 1 returned to Japan on Friday with a wet start to the race weekend, Fernando Alonso setting the pace in the opening practice hour ahead of Carlos Sainz.
Although the rain bucketed down on Friday morning, it had calmed to a drizzle in the hour before FP1.
That did little to help with the standing water, the drivers tentative about venturing out when the pit lane light went green.
Kevin Magnussen broke the silence after five minutes as he braved the rivers with Yuki Tsunoda putting in his first F1 lap on his home circuit followed by Nicholas Latifi.
But after 15 minutes there were still no times on the board such was the standing water, Mick Schumacher the first to record a timed lap.
As more of the field ventured out George Russell was stuck in his garage with his W13 being fitted with his race power unit already after the one Mercedes planned to run in practice sprung a leak.
Ferrari joined the action with Carlos Sainz going quickest ahead of Charles Leclerc. The Spaniard was soon on the radio, though, asking Ferrari to check his power unit as he heard a "noise" and suspected it could be the "turbo".
He continued lapping, overhauled by Leclerc before bouncing back with a 1:47.758, 0.346s ahead of Leclerc with Daniel Ricciardo P3 at the halfway point. Only 11 drivers, though, had set times with Max Verstappen still in the garage.
You can just see him… 👀

Sainz has reported that the conditions are not far away from intermediate conditions #JapaneseGP #F1 pic.twitter.com/WnlWy8VjBd

— Formula 1 (@F1) October 7, 2022
Surprisingly it took 34 minutes before the drivers had an off track excursion, unsurprisingly it was Latifi who had a moment at the hairpin.
Red Bull joined the party with Verstappen and Sergio Perez straight onto the intermediate tyres, and the championship leader straight up into P1 – a 1:44.059.
Sergio Perez made it a Red Bull 1-2 and then Esteban Ocon put an end to that as he went P1 as the drivers swapped the full wets for inters… and the rain returned.
Fernando Alonso replaced his team-mate up in P1 with a 1:42.248, Sainz up to second and Leclerc third after the Monégasque driver had a moment on the kerbs at the inside of Degner.
With heavier rain falling the drivers returned to the pits one by one, the session pretty much over 10 minutes early barring a handful of laps from the Alfa Romeo and AlphaTauri team-mates before a few more ventured out to do a practice start.
For Lance Stroll it was one lap too many, his Aston Martin entering limp home mode with the team explaining how to resolve it.
It was a good session for Alpine with Alonso P1 and Ocon P4 and also Haas at least until Schumacher crashed on his way back into the pits.
He lost it on the wet track at Turn 8, his Haas taking a hard hit to the front. The driver was okay.
Oh no Mick ☹️#JapaneseGP pic.twitter.com/tJTWnhCpRd

— tami. (@Vetteleclerc) October 7, 2022
Times
1 Fernando ALONSO Alpine 1:42.248
2 Carlos SAINZ Ferrari +0.315
3 Charles LECLERC Ferrari +0.386
4 Esteban OCON Alpine +0.774
5 Kevin MAGNUSSEN Haas F1 Team +1.010
6 Max VERSTAPPEN Red Bull Racing +1.114
7 Mick SCHUMACHER Haas F1 Team +1.513
8 Lando NORRIS McLaren +1.641
9 Valtteri BOTTAS Alfa Romeo +1.721
10 Sergio PEREZ Red Bull Racing +1.986
11 Guanyu ZHOU Alfa Romeo +2.181
12 Daniel RICCIARDO McLaren +2.238
13 Lewis HAMILTON Mercedes +2.310
14 Lance STROLL Aston Martin +2.322
15 Alexander ALBON Williams +2.543
16 Pierre GASLY AlphaTauri +2.630
17 Nicholas LATIFI Williams +3.176
18 George RUSSELL Mercedes +3.855
19 Yuki TSUNODA AlphaTauri +3.944
20 Sebastian VETTEL Aston Martin +5.842
Read more: F1 2022 title permutations: How can Max Verstappen win the title in Japan?