Qualy: Max Verstappen keeps pole position after stewards' investigation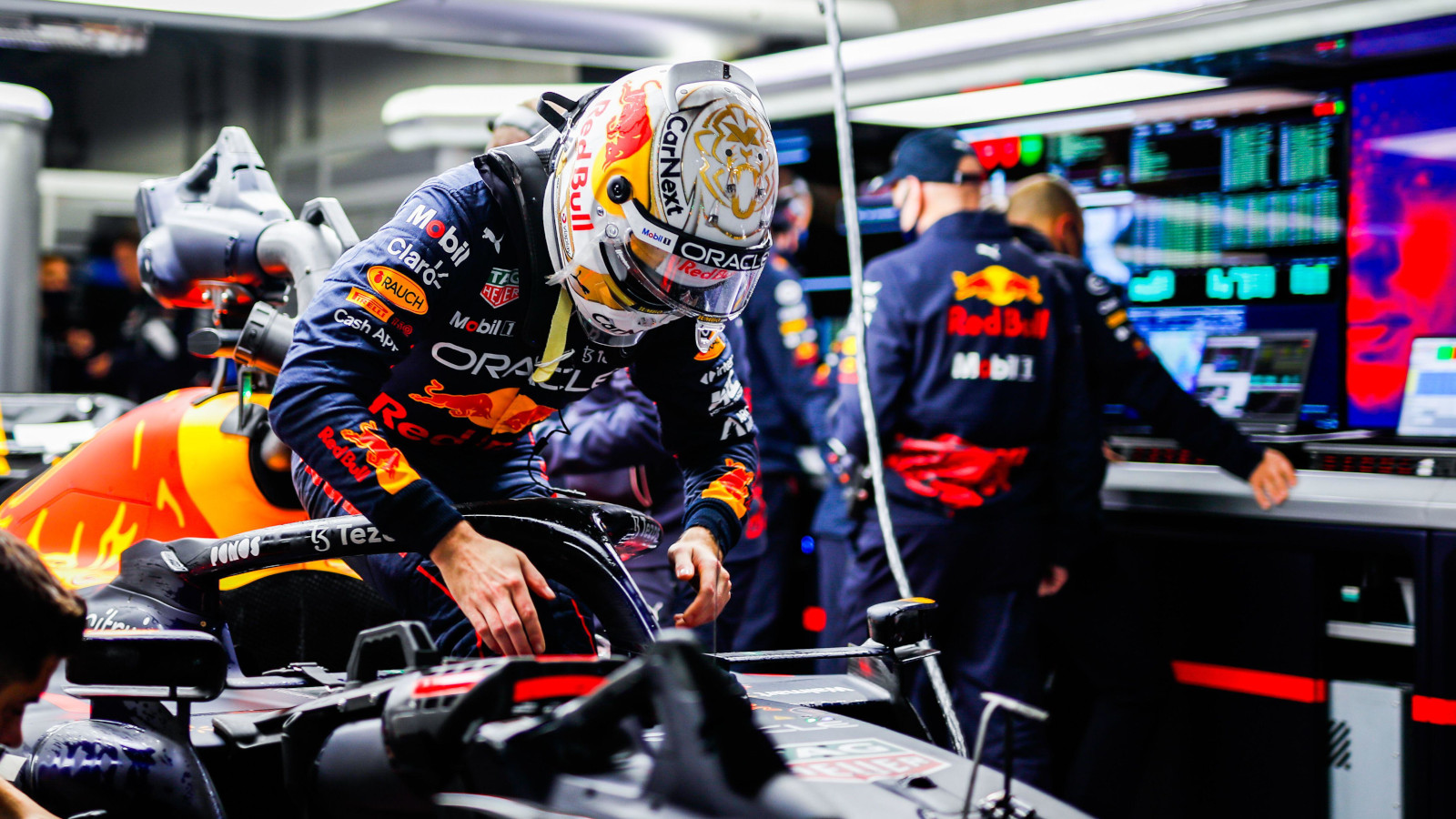 Max Verstappen clinched pole position for what could be his title coronation grand prix, the Red Bull driver beating the Ferraris in qualifying for the Japanese GP.
On a weekend in which all he needs is the race win plus the fastest-lap point to secure title number two, the Dutchman set the pace to put his RB18 on pole position.
Charles Leclerc will line up P2 ahead of Carlos Sainz P3.
Verstappen survived an investigation for an incident with Lando Norris at 130R.
As one by one the drivers ventured out at the start of Q1, Charles Leclerc carefully climbed into his Ferrari which was still up on jacks as his mechanics continued to work on the car. Not an ideal start for this year's leading pole-sitter.
His main rival Verstappen was not messing around as he immediately went P1 ahead of Carlos Sainz, with Leclerc out of the pits and up to third. George Russell and Lewis Hamilton were the only two to opt for the medium tyres over the softs, Russell P16 and Hamilton 19th, both in need of a second run.
Pierre Gasly, off to Alpine next season, had a "problem with the brakes, what the f*ck is going on?" His team-mate Yuki Tsunoda was also raging about his brakes, screaming at his team that he was "doing it".
GAS 📻: "Problem with the brakes… what is going on?"

Both AlphaTauri drivers are struggling with brakes, but they're both inside the top 15 as things stand#JapaneseGP #F1 pic.twitter.com/dVyoT3FHCj

— Formula 1 (@F1) October 8, 2022
Russell and Hamilton swapped to the softs and made it out of Q1, P7 and P11, while out went Alex Albon, Gasly, Kevin Magnussen, Lance Stroll and Nicholas Latifi. Gasly raged some more.
Into Q2 none of the drivers gambled on the mediums, the 15 all running the Pirelli softs. Again it was P1 for Verstappen, a 1:30.346 ahead of Sainz and Leclerc with Esteban Ocon P4 after the first run.
Lando Norris was surprisingly the first driver in the drop zone with Tsunoda P15 and still unhappy with his brakes.
While Verstappen stayed in the garage, his team-mate Perez went out for a second run and grabbed P1 with Alonso up to second and Verstappen down to third. Leclerc also stayed in the pits and played a dangerous game as he fell all the way to P9.
Out went Daniel Ricciardo, Valtteri Bottas, Tsunoda, Zhou Guanyu and Mick Schumacher.
Ricciardo misses out on Q3 by just 0.003s 🙃

📻 Tom: "P11. Three milliseconds behind Vettel"
Ric: "Fuuuuck, yep"#F1 #JapaneseGP pic.twitter.com/Whgvc31Aud

— Motorsport.com (@Motorsport) October 8, 2022
Q3 saw a very different approach to the out-lap between Ferrari pushing and Red Bull cruising. Verstappen almost cruised into Leclerc as he exited the pits, the Ferrari driver having to break although perhaps more exaggerated than necessary.
Verstappen went onto provisional pole with a 1:29.304, 0.253s up on Leclerc with Sainz third and Perez P4. A quarter of a second was a lot for Ferrari to try make up on their final run…
Verstappen was involved in a moment of drama, slow on a lap with Norris screaming up behind him at 130R. Verstappen for some reason ducked left, with Norris onto the grass to avoid him. "Unbelievable," said Verstappen. The FIA announced the incident would be investigated after the session and he escaped with a reprimand.
JEEEEEEZ THAT WAS CLOSE 🫣 #JapaneseGP pic.twitter.com/IonqVAETqw

— WTF1 (@wtf1official) October 8, 2022
Verstappen was unable to improve his time on his final hot lap but Leclerc did. He, however, fell 0.010s short of pole. Sainz was third fastest ahead of Perez, Ocon and Hamilton.
Sebastian Vettel qualified P9 in his final qualifying session at his favourite track. "OK boys, good session. Oh, I really enjoyed it. This track is just so much better than all the other ones. Thank you."
Times
1 Max VERSTAPPEN Red Bull Racing 1:29.304
2 Charles LECLERC Ferrari +0.010
3 Carlos SAINZ Ferrari +0.057
4 Sergio PEREZ Red Bull Racing +0.405
5 Esteban OCON Alpine +0.861
6 Lewis HAMILTON Mercedes +0.957
7 Fernando ALONSO Alpine +1.018
8 George RUSSELL Mercedes +1.085
9 Sebastian VETTEL Aston Martin +1.250
10 Lando NORRIS McLaren +1.699
11 Daniel RICCIARDO McLaren 1:30.659
12 Valtteri BOTTAS Alfa Romeo 1:30.709
13 Yuki TSUNODA AlphaTauri 1:30.808
14 Guanyu ZHOU Alfa Romeo 1:30.953
15 Mick SCHUMACHER Haas F1 Team 1:31.439
16 Alexander ALBON Williams 1:31.311
17 Pierre GASLY AlphaTauri 1:31.322
18 Kevin MAGNUSSEN Haas F1 Team 1:31.352
19 Lance STROLL Aston Martin 1:31.419
20 Nicholas LATIFI Williams 1:31.511
Read more: F1 2022 title permutations: How can Max Verstappen win the title in Japan?