Vergne 'suffered with Ricciardo comparison' at Red Bull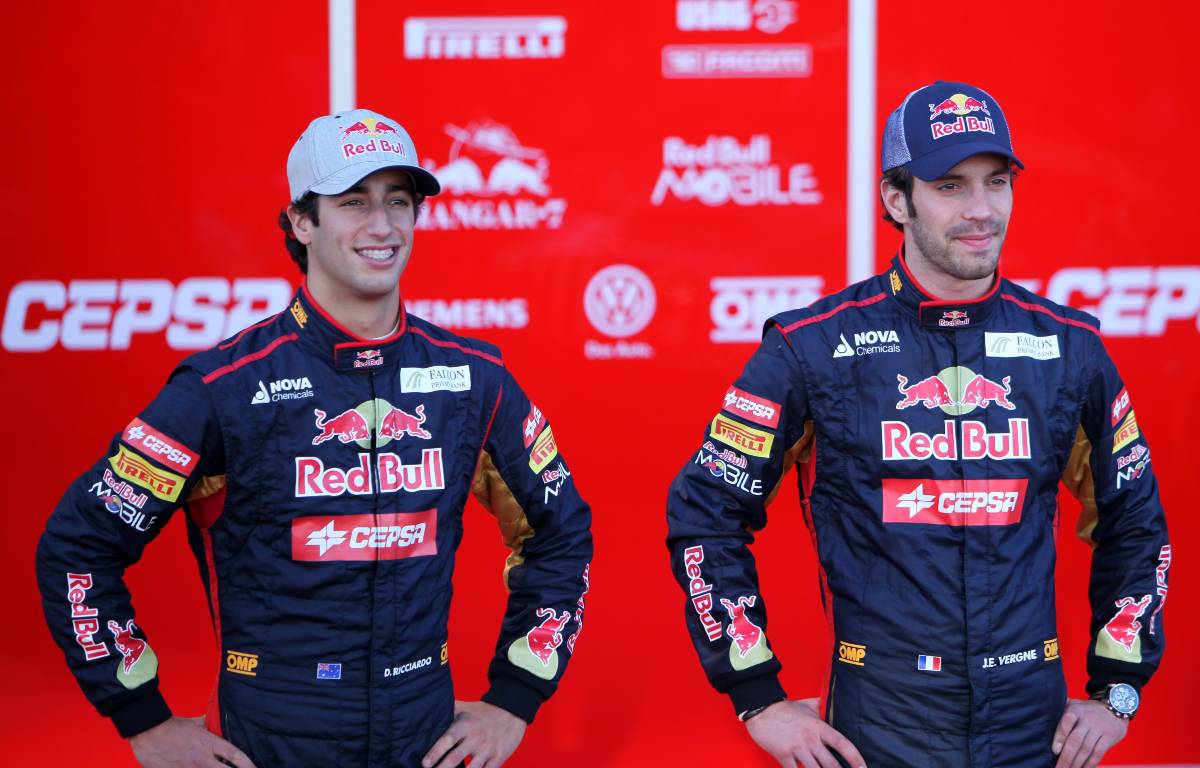 Jean-Eric Vergne believes he suffered in the Red Bull "family" from being perceived as the "moody French driver".
That persona was in direct contrast to his Toro Rosso team-mate, Daniel Ricciardo, who to this day remains the cheerful Aussie.
Vergne had three seasons with Toro Rosso from 2012-14 and although his position in the Drivers' Championship improved each year, he was dropped for the 2015 campaign in favour of a 17-year-old Max Verstappen.
Now 31 and set to drive for Peugeot in the 2022 World Endurance Championship, London-based Vergne says dissatisfaction at his own results early in his Formula 1 career perhaps gave off the wrong vibe to his colleagues.
Look who's ready to turn some laps in the sim 👀 pic.twitter.com/z4Yh6ilHnl

— Peugeot Sport (@peugeotsport) October 28, 2021
"I think my biggest problem was coming from the junior categories I was used to winning, not every weekend, but win all the championships I would do, or always fight for wins in all the races in Formula 3 or Formula Renault 3.5, always there," said Vergne during his 'Beyond the Grid' podcast appearance.
"Before I came to F1, when I finished second I would be very p***ed off. So I had this winning mentality and when I came to F1, I remember the first race I was in the points and I lost the point on the last lap, a stupid rookie mistake. The team was not really angry at myself.
"The second race in Malaysia, I finished in the points in eighth. I crossed the line and I wouldn't say I was happy, I was like 'okay, it's eighth, it's not bad'. And when I came in the garage, everybody was kind of celebrating like if I had won a race, congratulating me.
"I was like 'okay, that's nice', but it put me kind of off. 'Why is this team celebrating eighth position? I'm not happy with eighth, I'm not here to finish eighth, I want to fight for podiums'.
"I think I had the complete wrong mentality back then. I should have enjoyed more eighth position and ninth position and I should have known better knowing it would have been a good result for a team like Toro Rosso.
"So I had this image within Red Bull of a French, moody driver and I suffered from the comparison of Ricciardo.
"Regardless if he was behind me or in front of me or last or 10th or sixth, he always had the same smile. People liked that about him and I was a little bit the opposite."
In the subsequent years, which have seen him win back-to-back Formula E titles, Vergne has clearly matured.
"If I were to go back, I would enjoy it a lot more," he said. "I would enjoy a lot more eighth or sixth position. I think I would also be a little bit stronger politically-speaking within the Red Bull family. I think I was a bit too nice.
"But you know, that comes with experience. That's the way it was. I had very good results in F1. I scored more points than Daniel [in] one of the two seasons we were team-mates and the last year I think was a lot better."
Planet F1 verdict
Vergne's attitude issues at Toro Rosso
Jean-Eric Vergne says he didn't want to celebrate when he finished just inside the top 10 when he was at Toro Rosso. When driving for a team like that, that's not the right attitude.