Button thought career was over twice before 2009 title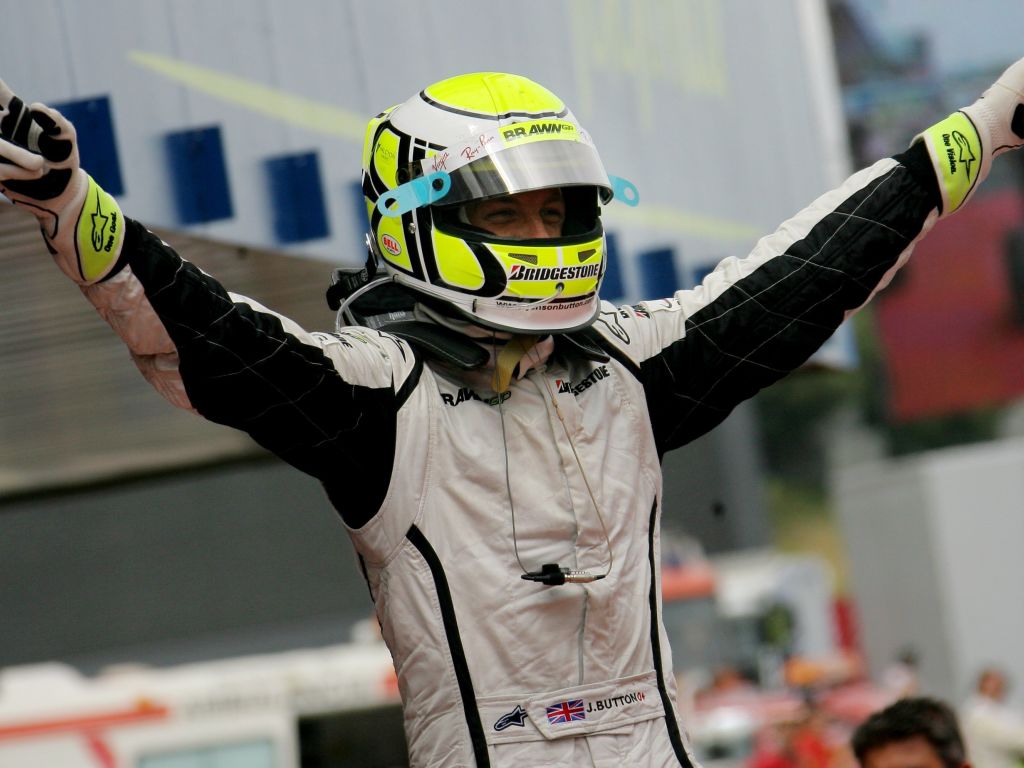 For Jenson Button the emotions when winning the Championship in 2009 were so strong because twice before he thought his career was over.
The Briton's only World Championship arrived in 2009 with Brawn, but Button has already revealed that his lack of knowledge when it came to developing a Formula 1 car almost cost him his career in 2002.
And again in 2008 when Honda pulled the plug on their Formula 1 operations it was left to Brawn to pick up the pieces, and Button's Formula 1 career.
"I kind of knew [I was World Champion] before anyone said anything on the radio," he said when speaking on the Collecting Cars podcast.
"That last lap, some people say they just want to get it done when they win a World Championship, for me I wanted that last lap to last forever.
"You never know if it's going to happen again, and it didn't happen again, so I really enjoyed that last lap and I crossed the finish line and Andrew Shovlin was my engineer, he's now the chief engineer at Mercedes and has been ever since Mercedes started, so he's won multiple World Championships since.
"But when his soft voice came on the radio 'Jenson, you are the World Champion', it was very emotional, tears in my eyes, and then I went on to sing We Are the Champions, beautifully, but I had to wait 20 to 30 seconds before I started signing because it was just so much emotion.
"Because I went through so much in my career of thinking it was over after one year in F1, to 2008 when Honda pulled out thinking it was over again, and even that year with Brawn there were so many highs and lows.
"I won six of the first seven races, and then it went pretty bad from there, and I don't mind saying it, I felt the pressure.
"It came to Brazil, I qualified 14th, my two competitors were Rubens (Barrichello) who qualified on pole and my other competitor qualified 18th, Sebastian Vettel.
"It was mixed feelings but I remember getting out of the car and I was so angry with myself and angry with the team because we went out on the wrong tyres and made a mistake there.
"Travelled back to the hotel, sat at a bar with my dad, and over a beer I said to him 'this isn't going to go on any longer, I'm going to win the Championship tomorrow, I have to win the Championship tomorrow'.
"He just looked at me and said 'go on son'.
"Then the next day I woke up just so determined, and I walked into the engineers office and remember Ross Brawn looking at me and giving a little wink because he knew what I was going to do, I was so focused. And the rest is history."
That bum 😍 #BrawnGP #22 pic.twitter.com/PjGd6RE37g

— Jenson Button (@JensonButton) November 1, 2020
The Brawn story is a Formula 1 classic, the team spent only the 2009 season in Formula 1 before being bought by Mercedes, winning the Drivers' and Constructors' Championship.
So at what stage did Button realise that he had a double title-winning car underneath him?
"The first time we drove the car was around the Stowe circuit, and the first thought then was not 'oh this is going to be a race winner', it was 'nothing's gone wrong'," he explained.
"We drove it out of the tent, drove it around for a few laps, installed it, then pushed it for a few laps, and I thought 'nothing feels wrong with it'.
"And that was the thing it was so cold, you're never going to feel how a car works, but normally when you pull out a car all the electronics, something on it goes wrong, nothing went wrong, smooth, no issues whatsoever.
"Put it in the truck and that's when we headed down to Barcelona for the first test, pulled it out, did the first run and immediately I knew the car felt good.
"I came in and my engineer looked at me and smiled and I thought 'what's he smiling at?'
"'How was it' he said? I said 'it was alright, I think we can improve the car a lot' and he started giggling.
"I was like 'what you laughing at?' He said 'well you're like four tenths quicker than anyone, they've been testing all winter'.
"I was like 'okay, let's add a couple more turns of front wing'. And setup changes, we lowered the ride height to get it working and it came alive, we ended up seventh tenths quicker than the other cars.
"I actually remember that test Lewis [Hamilton] was driving and he'd just won the World Championship, I remember driving around the outside of him at Turn 3, I just passed the ex-World Champion waving at him.
"We probably spent more than any other team to get that car on the grid. The aerodynamic package, the work that went into not just the rear diffuser but the whole car itself.
"A lot of the work actually came from Honda in Japan."
Follow us on Twitter @Planet_F1, like our Facebook page and join us on Instagram!