Button explains Briatore-inspired playboy image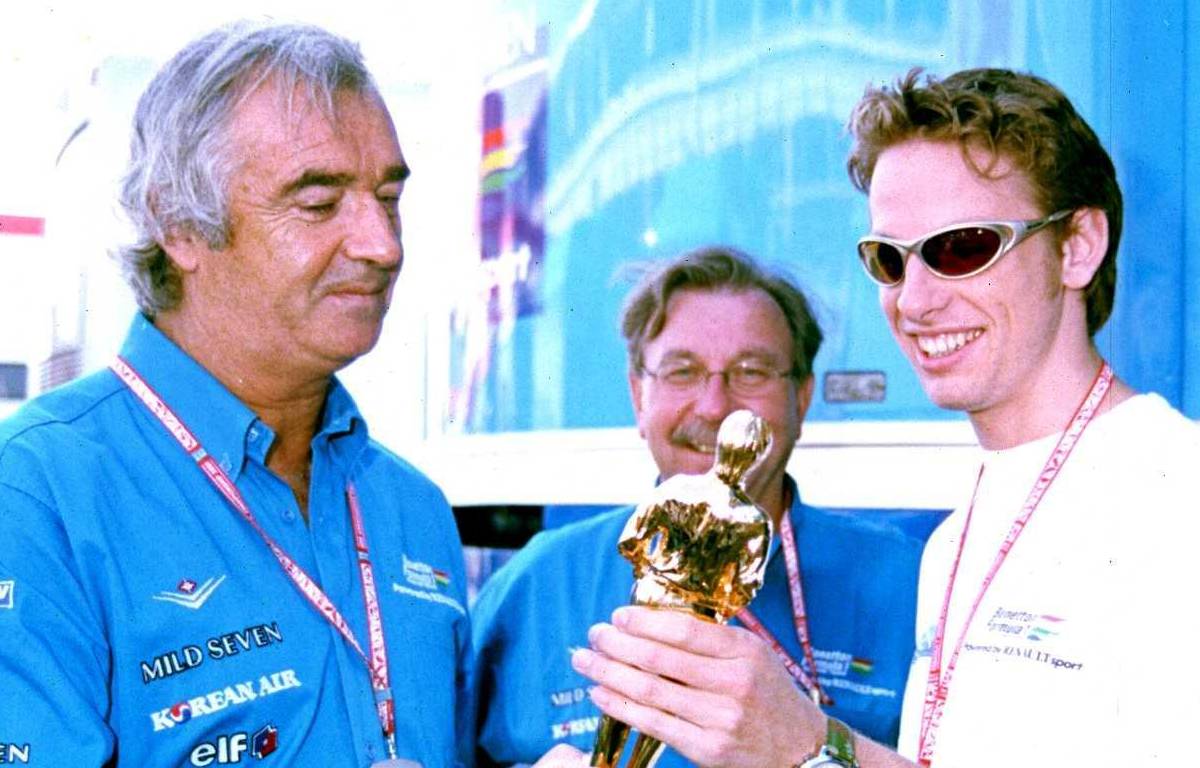 Jenson Button opened up on the 'playboy' image which Flavio Briatore generated of him, and how he struggled to shake that off.
After his rookie campaign with Williams, Button signed with the Benetton team for 2001, the outfit which would become Renault the following year.
There he worked under Italian team boss Flavio Briatore, and it is safe to say that the pair's relationship was not a smooth one.
After Button had finished P7 in the 2001 Monaco Grand Prix, Briatore questioned the Briton's commitment in an interview to the press, and from there this playboy perception of Button manifested.
"It started with Flavio [Briatore] basically saying it in Monaco," said Button on The High Performance Podcast when asked if this image frustrated him.
"I finished seventh, which then was not points scoring, now seventh is amazing in F1, but it was seventh and I was just outside the points.
"Our power steering failed at the start of the race, and F1 cars are pretty heavy without power steering and I had blisters all over my hands.
"I came in, and Flavio gave an interview without talking to me and said 'I think he was looking for a new apartment or a new yacht to buy, that's why he finished seventh'.
"And my hands were bleeding, so that really hurt, your own boss, the guy that is supposed to be nurturing you, saying that to the press.
"And then they obviously take that on board and they run with it forever."
The way it was 2001, Monaco GP, Monte Carlo.
Mr Jenson Button and Benetton B201 Renault V10. pic.twitter.com/csC1zaDqpm

— kaneko hiroshi (@kaneko928) February 17, 2020
Check all the latest 2021 teamwear via the official Formula 1 store
Asked if he tried to speak with Briatore after this controversial interview, Button said that Briatore "wasn't the sort of guy you could sit down with and have an honest conversation like that".
Also working against Button was the fact that Benetton "thought they were the best" having achieved great success with Michael Schumacher in the 1990s, and so the team had no interest in supporting the struggling youngster over Briatore.
"It was very tricky, I needed other people in the team to support me, and they didn't," said Button.
"This is a team that had achieved a lot in the past with Michael Schumacher and they thought they were the best.
"Then this young kid, who they think now is a playboy because Flavio said it, is coming in here trying to perform and he's not doing a good enough job.
"And I wasn't doing a good enough job, but it was because I wasn't being nurtured in the right way, I wasn't mentally strong enough to find a way out.
"It really did hurt, I'm quite an emotional character anyway, I'm not hard in any way when it comes to emotions, so I really struggled with that and it was one of the biggest issues for me.
"The best thing for me was to leave the team, and I was told to leave the team because Fernando [Alonso] was coming in anyway."