Capito reveals Button text after Russell's Q3 lap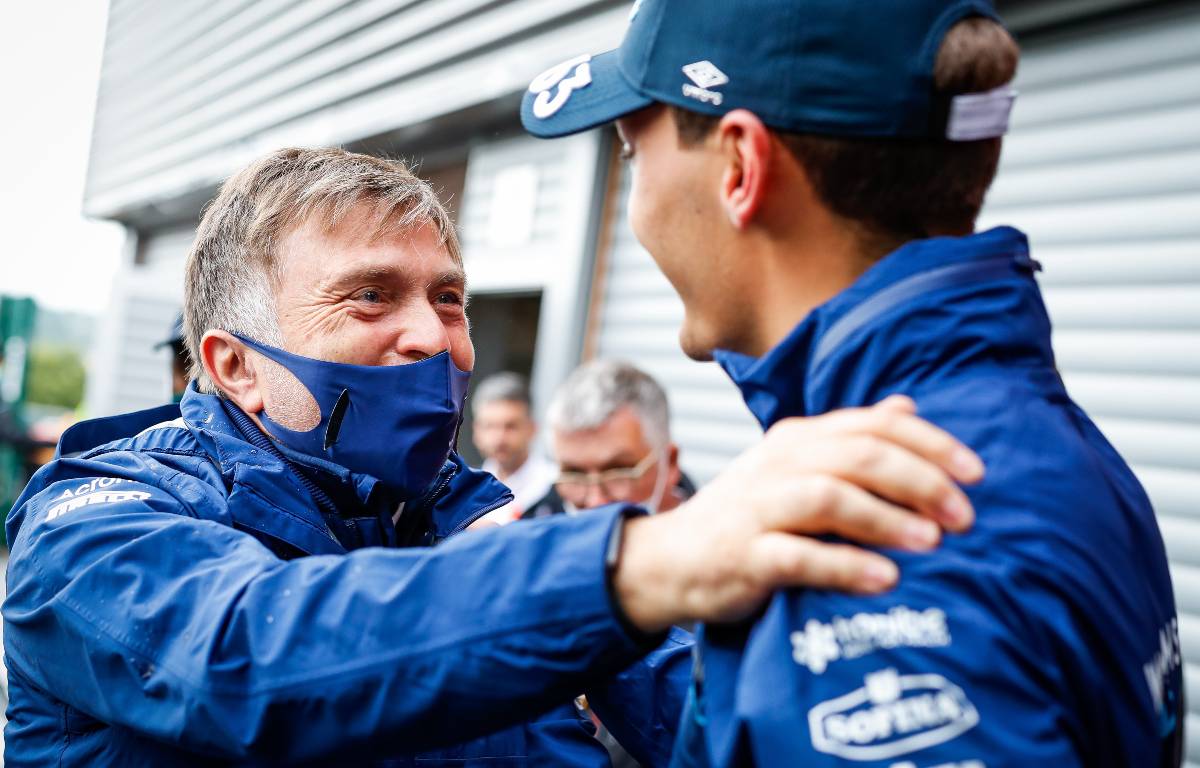 Jost Capito has revealed the high praise expressed by Jenson Button for George Russell's stunning qualifying lap in the wet at Spa.
In a tricky qualifying session which featured a horrifying high-speed crash from which Lando Norris fortunately escaped uninjured, Russell was the undoubted star of the show.
Nicknamed 'Mr Saturday' for a series of superb qualifying displays during his time at Williams, the Briton excelled at the Belgian Grand Prix even by his own lofty standards.
Starting races in the lower reaches of the top 10 has been quite some achievement for Russell this year, but to be outpaced by only Max Verstappen's Red Bull on a slippery Spa circuit was beyond his wildest dreams – splitting the two World Championship contenders with Lewis Hamilton just behind him.
As it transpired, there was a big reward for Russell the following day because he and his team were among the main beneficiaries of the race never actually beginning in earnest. He was granted his first F1 podium finish by being classified second as only a couple of short runs behind the Safety Car were possible due to the incessant rain.
Russell is up to 13 World Championship points and Williams are on 20, with half-points having been controversially awarded for the 'race that wasn't'.
Another boost for Russell came in the form of a text message sent by Williams senior adviser Button to team principal Capito about a driver who looks likely to be installed as Hamilton's team-mate at Mercedes next year.
"Immediately after the lap I got a text message from Jenson, who wrote 'that was one of the best laps I have ever seen in my life'," Capito revealed to Formula 1.
"That sums it up. If that comes from Jenson, just after he's finished the lap…he knows what he's talking about. It was an absolutely stunning performance from George."
It's been a crazy 24hrs. The support we've had as a team has been unbelievable and, now the excitement has all settled down, it feels a bit surreal. A big thank you to everyone who has sent us so many messages. It really does mean a lot to us. [1/2] pic.twitter.com/rhjzWodK6e

— George Russell (@GeorgeRussell63) August 30, 2021
Show your support for Williams with their latest official merchandise collection
Capito knows his own working relationship with Russell may only comprise one season, with the German having arrived at Williams at the start of this year.
"I think we've had a couple of really great moments together that we enjoyed," said Capito.
"When he came for the [post-qualifying] press conference I said 'look George, these moments, nobody will take these moments away from you and me, they will be with us forever'.
"He deserves to get the seat at Mercedes. We will not be in the position next year to win the championship, that is for sure. I think he enjoys the season with us and for sure if he won't get the offer from Mercedes…[he would be] happy to stay with us because I think we bond so well together now as a team.
"I think we have a great confidence in each other and a belief in each other, and that is shown by the results."