Jenson Button hails Sebastian Vettel's pass on K-Mag: One of the best seen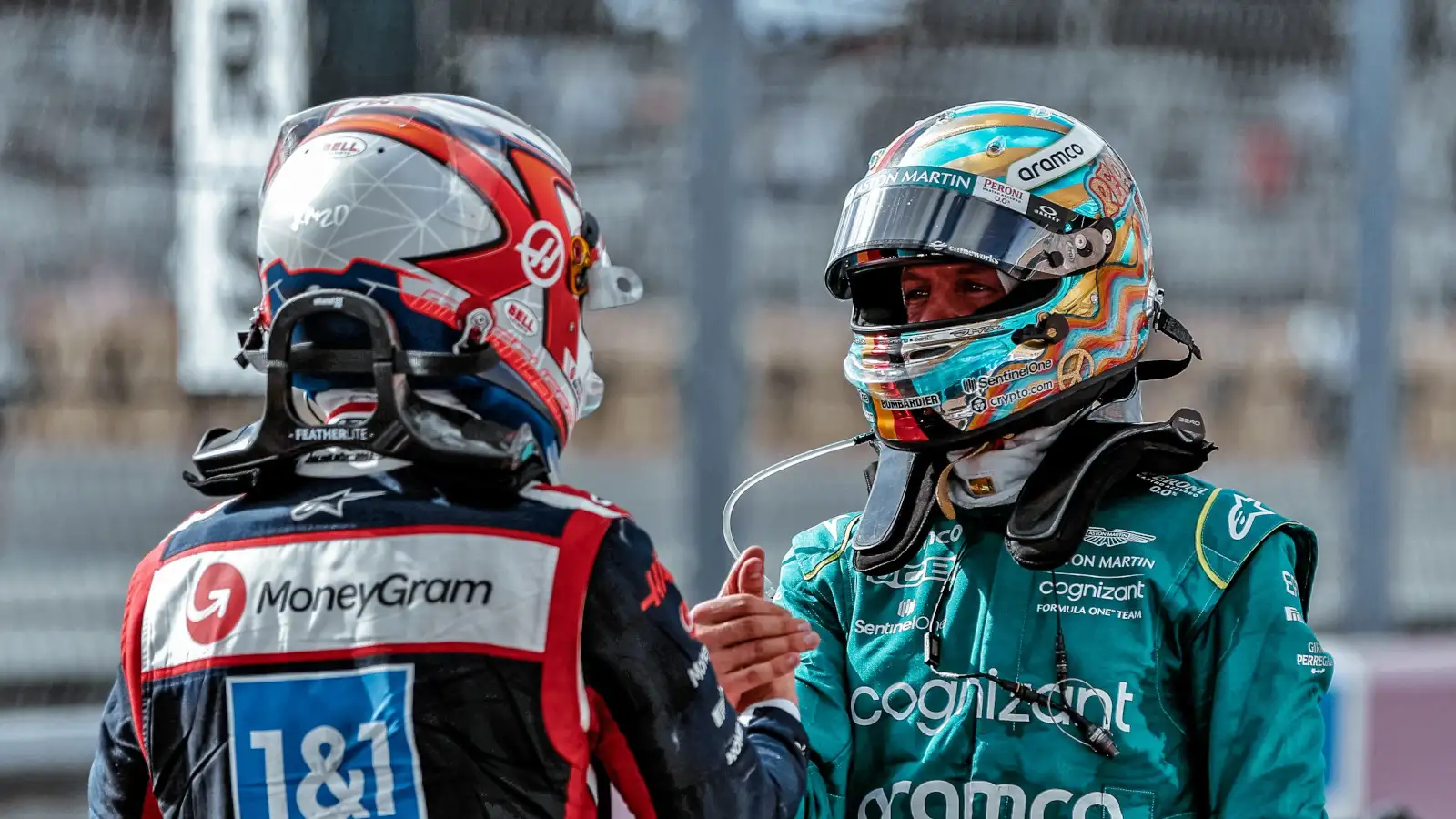 Jenson Button rates Sebastian Vettel's "brave" attack on Kevin Magnussen in the final lap of the United States Grand Prix, the 2009 World Champ applauding the risks his former rival was willing to take.
Fighting back from a poor pit stop, Aston Martin struggling with Vettel's front left tyre which meant he was stationary for almost 17 seconds, the German put in a great recovery drive.
Passing Yuki Tsunoda, Guanyu Zhou and Alex Albon, Vettel's next target was Magnussen with the four-time World Champion attacking him on the final lap.
The two went wheel-to-wheel with Vettel around the outside through Turns 16, 17 and 18, neither giving an inch.
He eventually made the pass stick into the penultimate corner, taking seventh place on the day and the 'Driver of the Day' award.
Button says he deserved it.
"If he's in the right place and he has a car under him that he likes, he's still a great racer," the former F1 driver told Sky Sports F1.
"That last move against Kevin was one of the best moves I've ever seen. And by that I don't just mean in this grand prix.
"It's such a brave place, to go around the outside of an F1 car anywhere on a high speed corner is scary.
"If the guy on the inside makes a tiny little error, pushes you off the circuit and you are heading towards the barriers at a very high speed.
"So really, really impressive move and that's why the excitement it was like he won a race. There's so much adrenaline in making a move like that stick."
Overtake #124:

Sebastian Vettel on Kevin Magnussen (2022 United States Grand Prix) pic.twitter.com/5rUA06HMff

— OvertakeCentral (@OvertakeCentral) October 24, 2022
'It doesn't feel like it's at the end of his career'
While Vettel said he knew taking on Magnussen wouldn't be easy, calling the Haas driver a "tough nut", the Dane says was impressed with Vettel's driving during their tussle.
Neither driver went over the limit and kept it clean despite refusing to give an inch.
"It was a good battle," Magnussen told Speed City Broadcasting. "Of course I'm pissed off to lose out, but I have to say that was some of the best racing I've ever been involved in.
"The way he drove was just, yeah, incredible. It's almost like I feel privileged to be able to race against someone like that. It's great, and I'm going to take that lesson and treasure it."
The 32-year-old says Vettel wasn't racing like a man who'll be retiring in a month's time.
"Racing against him it doesn't feel like it's at the end of his career," he added. "It feels like… yeah just great driving from him, but of course pissed off with myself that I just lost it on that last lap."
Sebastian Vettel and Kevin Magnussen after the race 🤝🏻🥰#USGP #SV5 #F1 #AustinGP pic.twitter.com/zkKO1qcIv0

— out of context Sebastian Vettel (@ocsebvettel) October 23, 2022
Sebastian Vettel is not thinking about throwing a U-Turn
The United States Grand Prix was the fourth last race on Vettel's farewell tour, the German having announced back in August that this season would be his last in Formula 1.
But scoring points in the last three races some are wondering if he has any regrets about his decision to quit.
He says no.
"Obviously, I will miss these moments. That's not a secret," he said.
"But I did think long and hard making the decision and I also thought about these moments that I will miss the adrenaline and so on.
"Obviously, parts of me will miss those a lot; other parts are looking forward to what's coming."
Read more: Winners and losers from the United States Grand Prix