Aston Martin hand debut Formula 1 test to Jessica Hawkins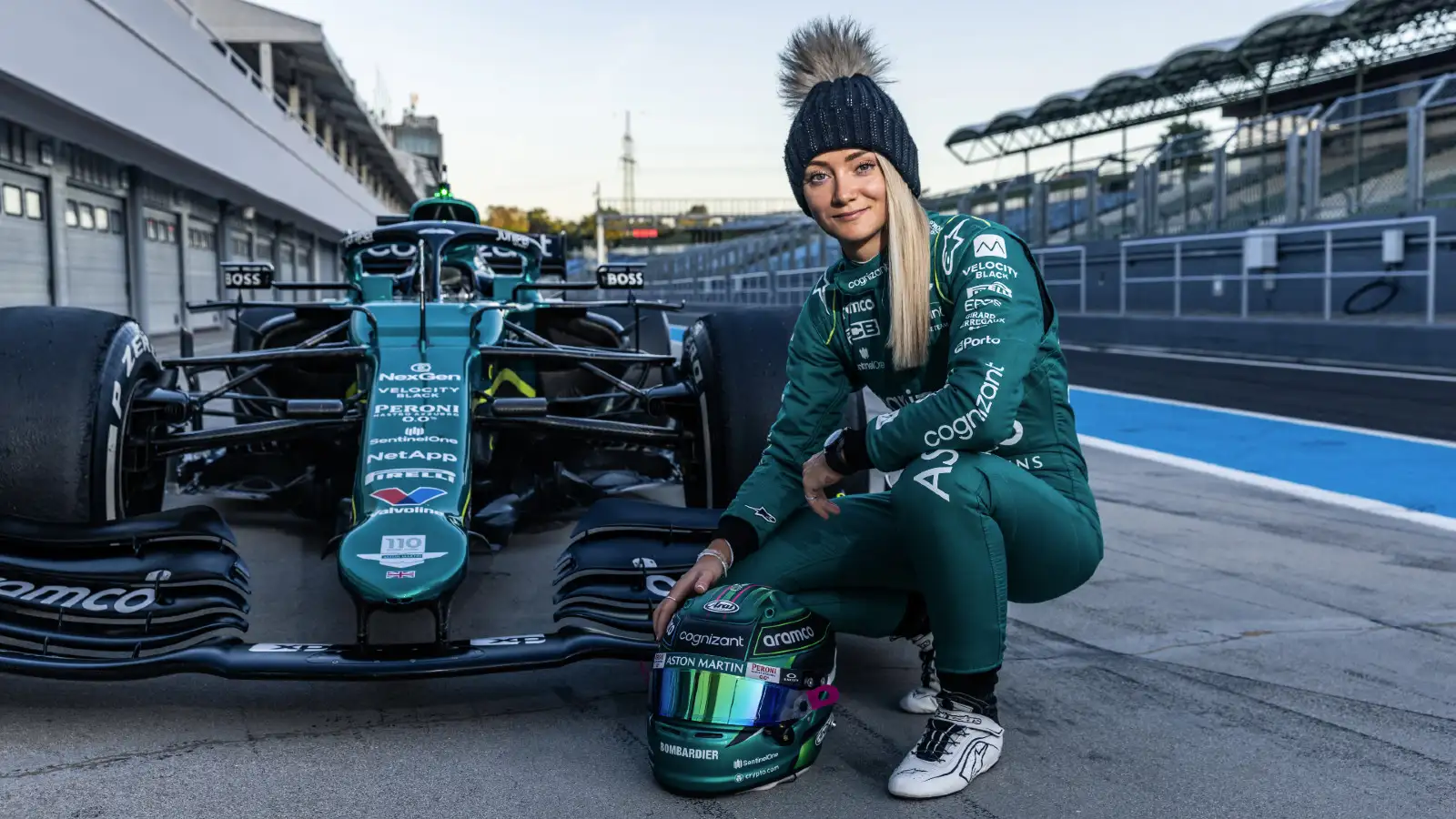 Aston Martin's driver ambassador Jessica Hawkins has succeeded Tatiana Calderon as the most recent female driver of a contemporary Formula 1 car.
28-year-old Jessica Hawkins shared testing duties with reserve driver Felipe Drugovich for a private test of Aston Martin's AMR21 at the Hungaroring last week, becoming the first female driver since Tatiana Calderon's tests with Alfa Romeo at the end of 2018 to take the wheel of a contemporary Formula 1 car.
Having competed in W Series, Hawkins was signed by Aston Martin in 2021 as a driver ambassador, and has completed plenty of preparatory sim work ahead of being given the chance to take the wheel of an ex-Sebastian Vettel and Lance Stroll AMR21 for the test in Budapest.
Jessica Hawkins completes Formula 1 test
Details about the test are sparse, with Aston Martin only confirming that Hawkins had completed "several runs" over the course of the day and matched the reference lap times she had been set.
"I want to say a big thank you to everyone at AMF1 Team for having the trust in me, believing in me, and for giving me this opportunity," Hawkins said of her day at the wheel.
"It's taken me every bit of blood, sweat, and tears to get here. When I first heard it might be a possibility, I could hardly believe it.
"I've had to keep it secret for months now – which was pretty hard! It's been absolutely worth it and it's given me really valuable insight.
"Nothing will compare to the acceleration and braking of a Formula 1 car and, having looked at the data, I'm really proud of my performance. Getting to drive the AMR21 has been a dream come true for me and one I've been ready to fulfil for a long time.
"I'll keep pushing for more and, in the process, I want to inspire other women and let them know they should follow their dream no matter what it is."
PlanetF1.com recommends
F1 2024 driver line-up: Who is confirmed for next season's grid?
Revealed: Top 10 most expensive F1 cars ever to be sold at auction
Robert Sattler, director of Aston Martin's 'evolution' programme, was full of praise for Hawkin's debut behind the wheel of an F1 car, saying that she had "excelled".
"After the installation lap, we had a small delay as the circuit was hit by heavy rain," he said.
"That resulted in a green track and on her first proper run there were still some damp patches in a few corners. 
"Jessica progressively built up speed on a tricky track while managing flawlessly the complexity of the AMR21 car.
"Her feedback was precise and correlated with our data. After three runs, the track had dried and she was already matching the reference lap speeds.
"Overall, Jessica executed an excellent test programme with a very professional attitude and we hope to see her in the car again soon."
Aston Martin gave Jessica Hawkins the chance to impress behind the wheel of an #F1 car at the Hungaroring last week.

She drove a two-year-old AMR21 in a private test, alongside Felipe Drugovich. No details of laptimes, however. pic.twitter.com/ChN3nXN6yn

— Thomas Maher (@thomasmaheronf1) September 26, 2023
Mike Krack: This is a huge moment for Jessica Hawkins and Aston Martin
Team boss Mike Krack was similarly effusive, revealing that Hawkin's professionalism in the sim made it a very easy decision to allow her the chance to impress in the real thing.
"Jessica approached the opportunity with great maturity; she was up to speed quickly and found a nice rhythm," he said.
"This has been a hugely significant moment in Jessica's journey with Aston Martin and I am pleased we could give her this next step in her development journey by testing a modern Formula 1 car."
In late 2018, Alfa Romeo/Sauber gave Tatiana Calderon a filming day in Mexico in their C37, where she completed 100 kilometres of track time, as well as two full days of testing at Fiorano with their 2013 C32. She became the first female driver since Susie Wolff's outings with Williams in 2015 – her appearance in practice for the 2014 British Grand Prix was the first time a female driver had taken part in a Grand Prix weekend since Giovanna Amati in 1992.
Other recent female racers to make it to the peripheries of F1 include Lotus' sim driver Carmen Jorda, as well as the late Marussia test driver Maria de Villota.
Read Next: Karun Chandhok: Mercedes drivers' 'bit of needle' proving 'fun to watch'