Clear 'surprised' Schumacher has outpaced Mazepin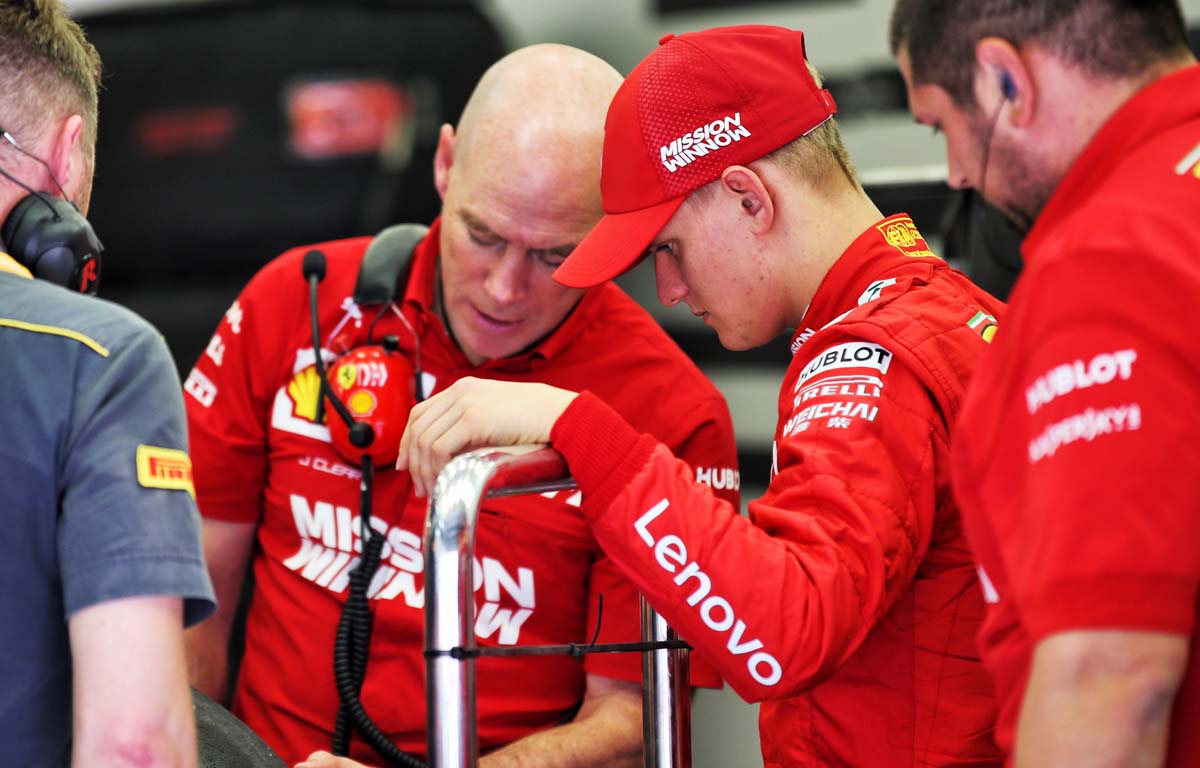 Jock Clear has expressed a degree of shock at how fast Mick Schumacher has been while up against Nikita Mazepin at Haas this season.
Experienced engineer Clear, who is now driver coach for Charles Leclerc as well as holding a key role in developing drivers in the Ferrari Academy, has been watching the Haas racer's progress throughout his junior career.
Schumacher is still a Ferrari junior driver and Clear, who was performance engineer for father Michael and Lewis Hamilton at Mercedes before rejoining the Scuderia, said he had expected Mazepin to be on the pace quicker than his team-mate – but has been proven wrong.
"Yes. And somewhat surprised," Clear admitted on Formula 1's Beyond The Grid podcast when asked about if he was pleased by the young Schumacher's progress.
"Obviously we've worked with him for quite a while now for Ferrari in the young drivers' academy or the Ferrari Driver Academy…and we know him quite well.
"I'm quite impressed with his out-and-out speed this year, to be honest. People said to me at the beginning of the year 'yes, but how will he get on against Mazepin?' and I said I wouldn't be surprised if Mazepin starts off outqualifying him a few times because Mick takes a while to get up to speed – but actually, not the case."
He's one proud son 😍@SchumacherMick naming the F1 world champions in the latest Grill The Grid challenge 👀#F1 pic.twitter.com/gJZFfZ4Z0h

— Formula 1 (@F1) August 10, 2021
Check out the Haas collection via the official Formula 1 store
Mick himself was less enthusiastic about how the start of his Formula 1 career has been so far – branding it as "average" heading into the summer break.
But Clear says he has been a delight to work with in his role with the FDA, saying Schumi Jnr bears a striking resemblance to his seven-time World Champion father – in more ways than one.
"He's so much like his dad in his mannerisms and his accent and that's quite enjoyable in itself," Clear said. "That reminds me of good days. I thoroughly enjoyed working with Michael, [and] Mick is similarly such a pleasant young man to deal with.
"That's not a given. There's a lot of racing drivers, they are successful, they do what they do… Mick is just a very, very pleasant young man to deal with in every way.
"So whatever he does in life, he'll be very well served by just being a top bloke and getting on with people."