'Perfect storm led to very unsatisfactory finale'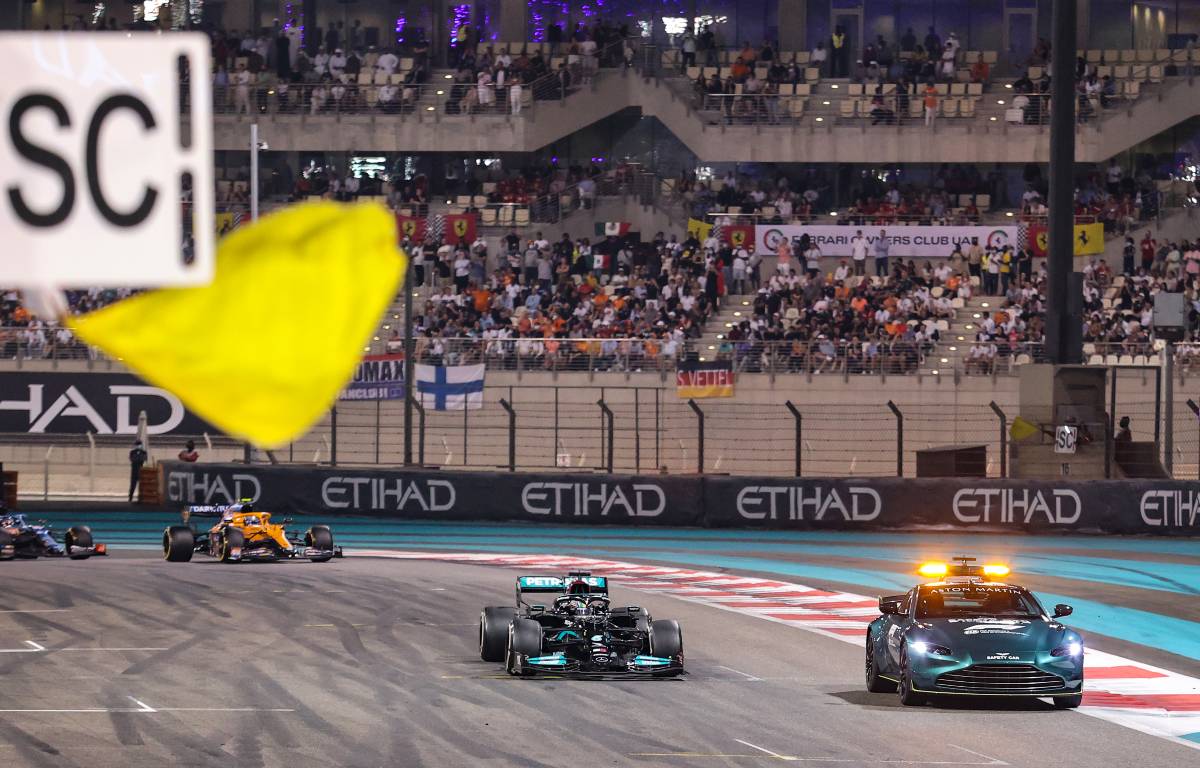 John Watson says Michael Masi was under a "great deal of pressure" in the season finale with two team bosses wanting the late-race drama to go their way, says John Watson.
Although FIA race director Masi had warned Max Verstappen and Lewis Hamilton not to court controversy in the season finale, in the end he was the one who did just that.
Heading into the final eight laps of the title-deciding Yas Marina race and with Lewis Hamilton leading by more than 10 seconds, Nicholas Latifi crashed his Williams, bringing out the Safety Car.
Masi initially stated that none of the lapped cars between Hamilton and Verstappen would be allowed to unlap themselves, a decision that Red Bull didn't agree with.
He then changed his mind, saying the five cars between the two title rivals could unlap themselves, but only those five. That was a decision Mercedes didn't agree with.
The race resumed with one lap to go with Verstappen storming through to take the win, and the World title.
Since then there have been headlines about Masi's decision making than there have been about Verstappen's first World title.
"First of all, it was a very unsatisfactory way to finish the finale of a wonderful season," the Belfast Telegraph reports former F1 driver Watson as having told Radio Ulster.
"Unfortunately, I've called it the imperfect storm because there were five laps remaining, there had been an incident, a Safety Car being deployed and there is a procedure for a Safety Car once it has been deployed and then when it's going to be returned to the pit lane.
"The problem was the race director didn't want to finish this grand prix, with the World Championship title up for grabs under a Safety Car.
"That would have handed it over directly to Lewis Hamilton. He tried to do the fair thing or the right thing and have, in effect, a last lap shoot-out.
Has one lap ever contained so much emotion? 🍿#AbuDhabiGP 🇦🇪 @redbullracing pic.twitter.com/SY4oWS5qML

— Formula 1 (@F1) December 13, 2021
"He also, remember, was under a great deal of pressure from the circumstances he had to deal with but not least because he has got the two respective team principals trying to talk to him at the same time.
"Whether he would have made the same decision as he made let's say mid-season, I don't know. We did have a race back in Baku earlier in the year where we had a one lap shoot-out and if you remember, Lewis Hamilton locked up and ran off the circuit.
"There is a precedent for stopping the race and then re-starting it with one lap to go. In this instance, and I don't know his rationale, he chose to do it this way."
Watson says Masi, and Formula 1, would have been better served as he thrown a red flag.
"One option he (Masi) could have done was to red flag the race and then have everybody restart," he said. "They could have all changed tyres, put on fresh tyres.
"Verstappen and Red Bull were very quick to bring Verstappen in and put him on to a set of the softer tyres available so that when the race got under way, Hamilton was still on the tyres he had been on for the major part of the race, Verstappen was on brand new tyres.
"In effect, it handed over almost a victory to Verstappen, on the assumption he could find a way past Hamilton, which he did very easily going into Turn Five."
But whether one agrees with the manner in which the title race was settled, 75-year-old believes this is only the beginning for Verstappen.
"For certain, Max Verstappen is going to be around for a considerably amount of time," he said.
"One does not know the length of time Lewis Hamilton is going to be around for but he has had a very long, successful career and he might decide after 22 or 23 times to go on and do other things.
"Verstappen is going to be the future and he will no doubt the multiple-time World Champion."