John Watson: Lewis Hamilton has got his hands full with George Russell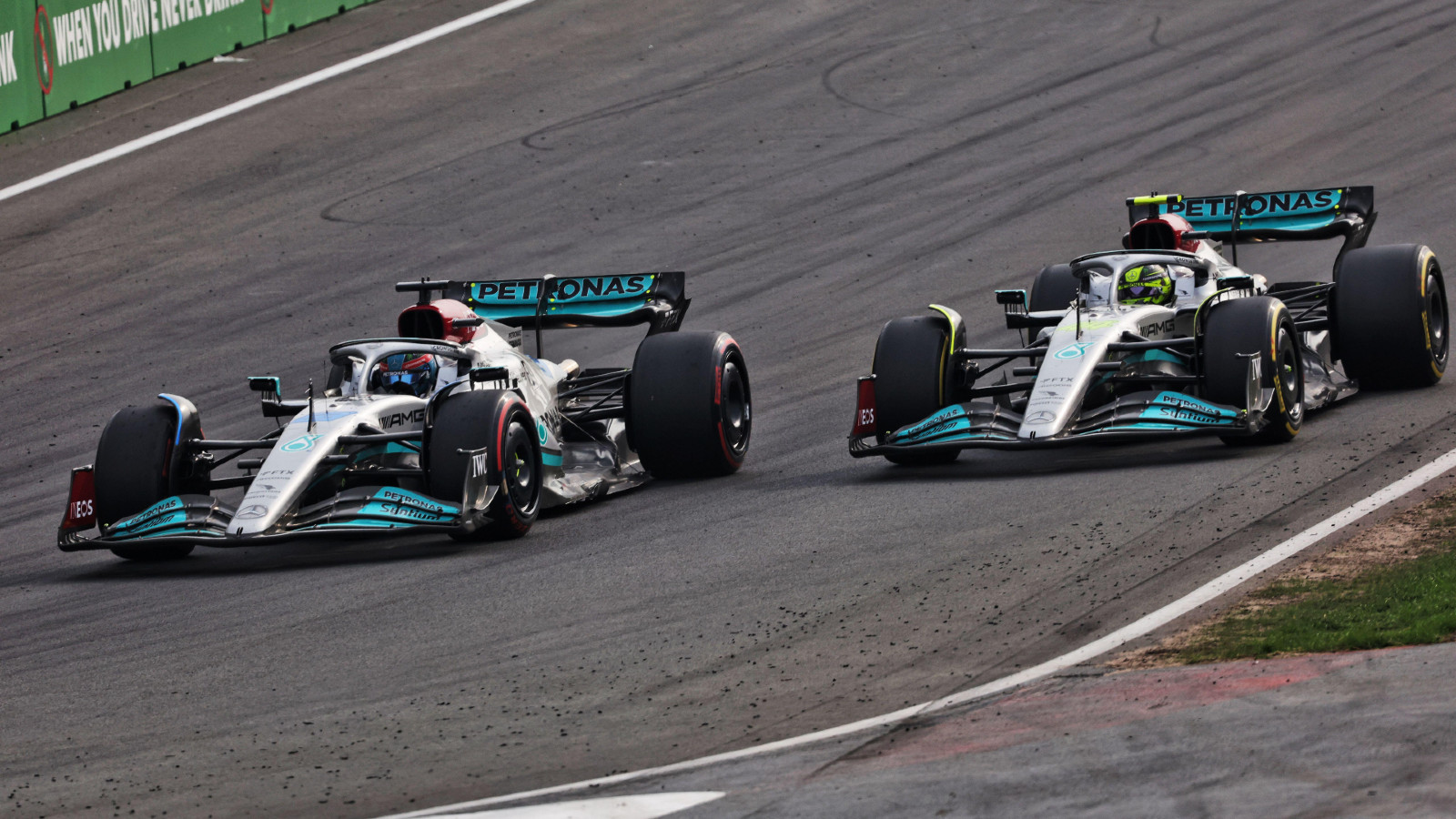 Five-time grand prix winner John Watson believes Lewis Hamilton is struggling to cope with the challenge thrown down by his new team-mate George Russell.
The former McLaren and Penske F1 race winner says Russell is throwing down a stern challenge to Hamilton during their first year as colleagues at Mercedes.
The seven-time former World Champion currently trails his team-mate by 27 points, with Russell not finishing outside of the top five in a completed race until the 17th grand prix of the season.
While Hamilton spent the early part of the season experimenting with set-ups for the troublesome W13, Watson believes the team are now on the verge of returning to the top step of the podium – but questioned which driver might achieve it.
"I believe Mercedes will, at some point, over the course of these [remaining] races win a grand prix," Watson told PlanetF1 in an exclusive interview.
"Whether it's one grand prix or more, I don't know. But I sense the team have the capacity. Albeit one of the problems the team have had to deal with is they have been losing people, key people, to other teams – some have gone to Red Bull, some have gone elsewhere.
"So, within their own structure, they are losing key people, and those people are very difficult to replace. There are people coming up through the company who will welcome those opportunities. So it's a transitional phase for Mercedes themselves.
"On top of which they have gone for a particularly, let's say, radical interpretation of the regulations. They have been badly hit by porpoising and other matters.
"So I believe Mercedes will win a race, although god knows whether it will be more than one or not, or whether it will be Lewis [Hamilton] or [George] Russell.
"I think Hamilton is fully aware Russell is his greatest challenge internally since, obviously, 2016 with Nico Rosberg."
John Watson: It's up to Lewis Hamilton to raise his game
An example of the different dynamic at Mercedes, in stark contrast to the years with Valtteri Bottas as Hamilton's team-mate, was evident at the Dutch Grand Prix. Under a late Safety Car, Russell decisively made the call to stop for fresh tyres while Hamilton stayed out on track.
That resulted in Russell being able to hunt down and pass Hamilton in the closing stages, after the win had already slipped away from Hamilton after being passed by Max Verstappen – Hamilton's angry reaction to his team resulted in him explaining his outburst once tempers had cooled.
With the veteran Hamilton facing off against a young and eager team-mate, who is himself hungry to prove himself at the top level of motorsport, Watson questioned whether Hamilton has the same ferocity in him that spurred him on during his title battle with Rosberg in 2016.
"The fact that can't be denied is Hamilton is five or six years older than he was in 2016," Watson said.
"He's now at a point in his life…does he really want to go out and hang it out on the very ragged edge? Or has he still got sufficient ability and maturity to know how to win without having to put himself into zones like maybe Charles Leclerc did at Paul Ricard?
"I believe Hamilton has still got that. But he has got a handful with Russell. And he needs to be able to win against Russell – he doesn't need Russell to win a grand prix this year before Lewis wins a grand prix this year.
"It's the dynamic of a younger guy against the mature incumbent. It's happened all the way through the history of motorsport. That's what drives on generations and generations. It's up to Lewis to lift his game and in my view, he's got the ability and the capacity to do so."
But with Hamilton turning 38 before the 2023 season rolls around, Watson said it is difficult to gauge whether Hamilton will want to keep up that level of fight for several more years.
"Whether Hamilton wants to continue doing it for another two, three or four years I don't know, that's up to him," he said.
"If he finds himself being overwhelmed by Russell – let's say Russell went on and won two or three grands prix this year and Lewis was unable to compete against Russell, that I would suspect would be the end of Lewis as a grand prix driver.
"Or maybe he'd like to roll the dice one more time and see if there's a seat for him at Ferrari or, very unlikely, at Red Bull.
"But I suspect that when you get to the age and the stage of our lives and career that Lewis is at…look, his ambition is to be an eight-time World Champion. It ain't going to happen this year. If he can see there's something Mercedes have that will be stronger again in 2023, that's the motivation he will require and will feed off for further continuation.
"But if he was to get hammered by Russell in the remaining races, I don't know what he would do. I think it would be very difficult to walk away in that context. But if Russell becomes the man at Mercedes, I don't think Lewis will hang around.
"George will get better as he integrates into the team. He's an ambitious young guy who's got natural speed and has a huge future ahead of him in the context of Mercedes getting on top of their issues and giving him a winning car."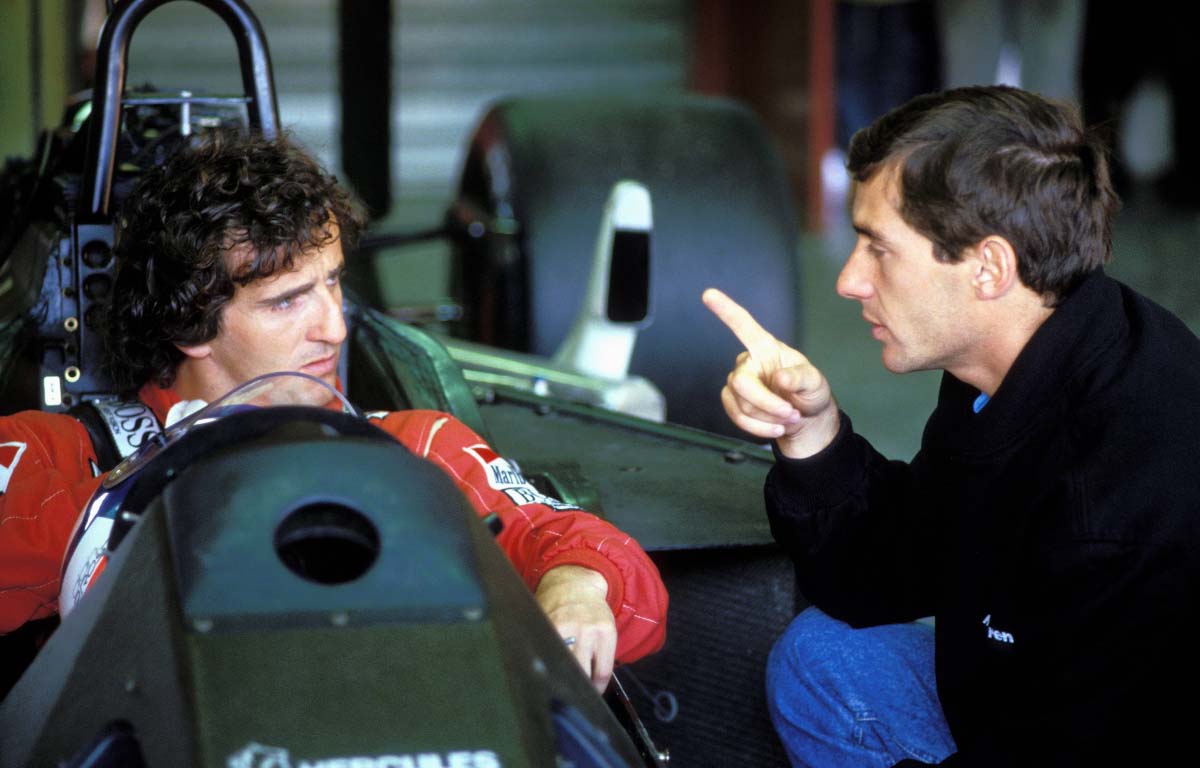 John Watson: It reminds me of when Alain Prost was faced with Ayrton Senna
The position Hamilton finds himself in alongside Russell is nothing new in F1, Watson explained, with many of the sport's biggest names having to contend with having a hot new talent come into their team and fight over the position of the alpha driver.
"It's like Michael Schumacher coming into Benetton with Nelson Piquet," Watson offered.
"I had Alain Prost for one year (in 1980) and I understood how difficult it is when you've got a talent like that coming into teams – when you get drivers who have that level of performance and quality against an incumbent driver, it's difficult for the older incumbent driver to retain his position within the team.
"One of the things teams do, and it's not a conscious thing, is they always respond to the guy who's essentially the quickest guy in the car."
Watson brought up the example of Prost and Senna during qualifying at Monaco in 1988, where a titanic battle in qualifying saw the advantage swing from one driver to the other – with Senna coming out on top.
"It was going one driver, then the other, backwards and forwards, and with a few minutes remaining Prost recorded a time – unbelievable, pole position," Watson recalled.
"Senna got back in the car, went back out and went almost a second quicker. Everyone who was hanging around Alain congratulating him…Senna came in and Alain was left standing there like an orphan as the team ran up to Senna. All of a sudden, the dynamic had gone from Prost to Senna and it was as quick as that.
"That's one of the issues that, for drivers, if you're in the Prost situation, is difficult because every driver is a human being. They have emotions, they are sensitive to something of that nature – Prost was devastated.
"Those are the kind of internal team dynamics that can have a bearing on a driver. And that requires a driver of great strength, and strength of character, to accept and understand why this may have occurred and to not dwell or let it dwell.
"So once the race is finished, move on and think about what you can do at the next round. But if you're getting hammered by your young up-and-coming team-mate, that for sure is a signal to yourself and a realisation that 'my team-mate is basically quicker than me consistently and what have I got to achieve? Where's my eighth World Championship?'"
Discuss and share all things Ferrari with PlanetF1's official Facebook group chat. Join here!