Herbert advises Hamilton, Max to 'pick your moments'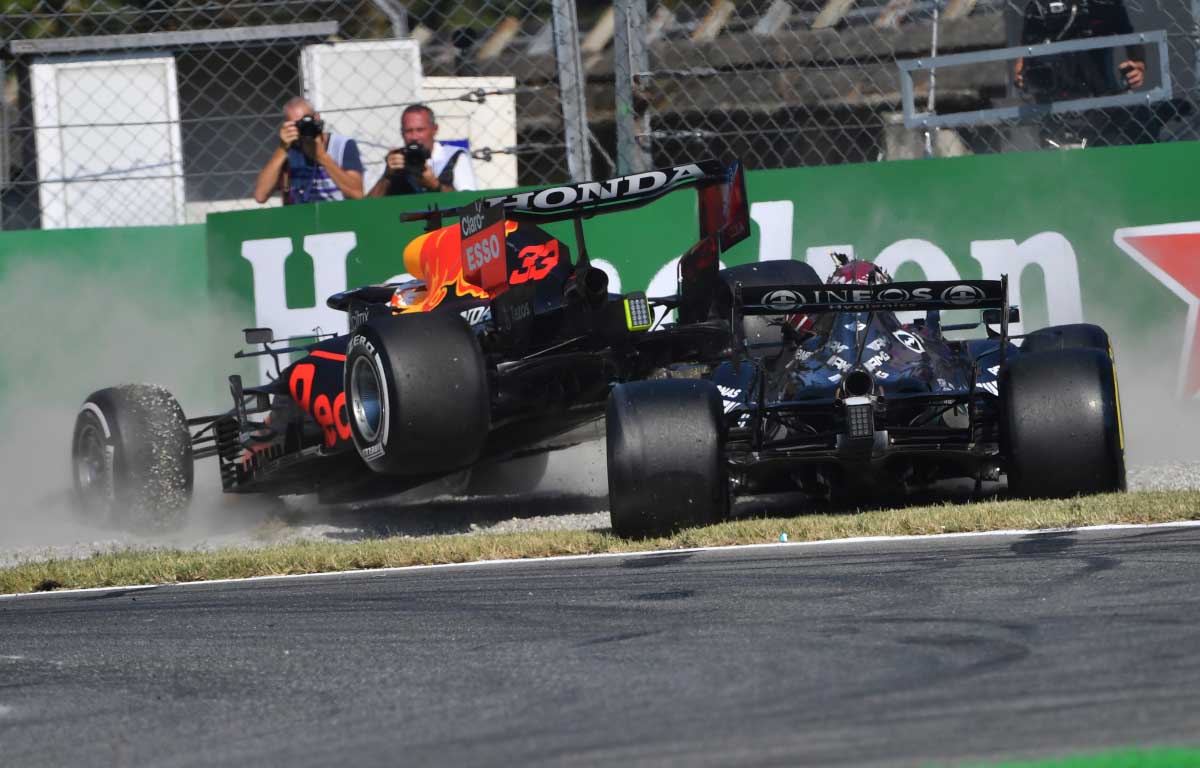 Johnny Herbert says Max Verstappen and Lewis Hamilton must learn to concede when it is "not worth the risk" as they fight for the World title.
This year Formula 1 is witnessing an intense championship fight, the pendulum swing between Verstappen and Hamilton.
The Mercedes driver had the initial advantage, up by 14 points after his Spanish Grand Prix win. One race later it was Verstappen who was in front, four points to the good after winning in Monaco. The Red Bull driver built up a 32-point buffer before arriving on the Silverstone grid.
But back-to-back first lap crashes put Hamilton into the lead again, only for Verstappen to reclaim it at the Dutch GP, and then extend it to five points at Monza.
It, however, could have been a very different outcome had the Dutchman not collided with Hamilton midway through the Italian Grand Prix.
The crash put both drivers out of the race with Toto Wolff claiming that Hamilton was on course for the win had Verstappen not committed an action to "prevent an opponent from winning".
But while the stewards put the blame for the collision "predominantly" on Verstappen's shoulders, Herbert feels both title protagonists need to learn when to back off.
A dramatic new angle on the Hamilton/Verstappen collision#ItalianGP 🇮🇹 #F1 pic.twitter.com/PvN2KGUbbi

— Formula 1 (@F1) September 14, 2021
Red Bull merchandise is available to purchase now via the official Formula 1 store
"I think there is an element that Lewis with that experience, that he knows when to pull out," Herbert, a former F1 driver, told Sky Sports.
"But I love Max, I love what he does on the racetrack, I love what he does behind the wheel.
"These situations are going to happen, you know sometimes you do make a mistake for example. Lewis has done it in the past as well.
"So it is really going to be down to… I suppose in a championship it is when you pick your moments to say it is not worth the risk."
But while Herbert feels the move was an unnecessary risk, his fellow Sky man Martin Brundle says it "had to be made".
He said: "This was a key moment for the race and championship, and both drivers knew that overtaking a similarly paced car was extremely difficult and they both needed to be in front.
"There was virtually no time for conscious thought, it was all about reflexes and instincts.
"Maybe it was an over-ambitious move but it had to be made. Max was fully committed, perhaps he should have braked or backed out of the throttle but I doubt there was time, and he wanted the pass."
Planet F1 verdict
Will Hamilton and Verstappen learn from their crashes?
Will the crashes between Lewis Hamilton and Max Verstappen have a greater impact on future races?