Jolyon Palmer: Kevin Magnussen and Nico Hulkenberg the 'best ever Haas line-up'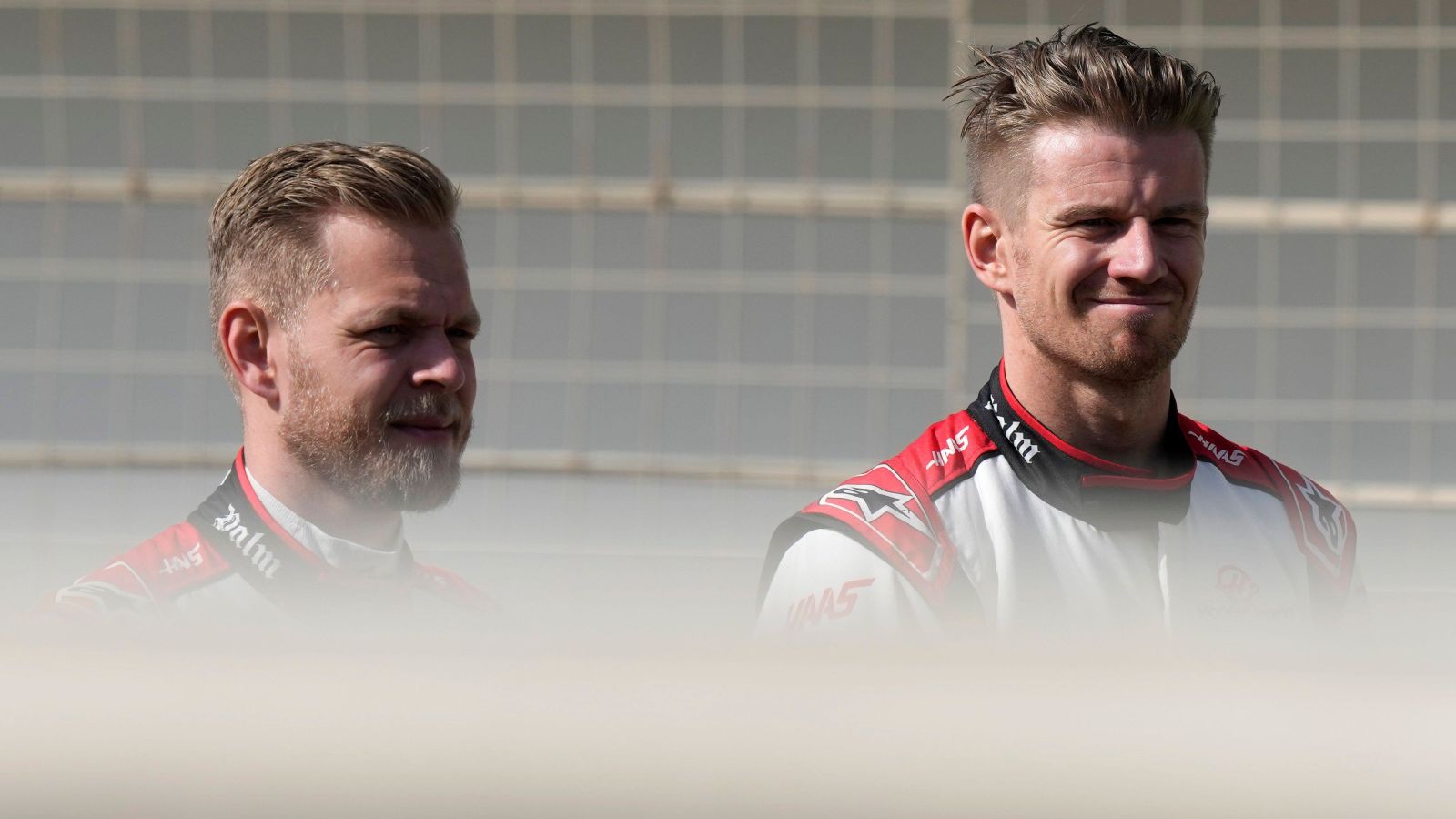 Ex-F1 driver Jolyon Palmer believes the Haas line-up has never looked stronger than with Kevin Magnussen and Nico Hulkenberg at the wheel.
After claiming a P8 finish in the 2022 Constructors' Championship, that being a marked improvement on their 2021 campaign where they lagged at the back and scored zero points, Haas are set on further progressing up the midfield pecking order.
Their best result to date in the Constructors' is P5 back in 2018, and to reach such heights again, Haas decided that experience was key for F1 2023 as they gave Mick Schumacher the boot and brought in his compatriot Hulkenberg, who has over 180 starts to his name, to partner Magnussen.
Hulkenberg though had not held a full-time F1 seat since 2019, having most recently contested the opening two rounds of the 2022 campaign with Aston Martin.
Nonetheless, the German racer pushed through the three-day Bahrain pre-season test with very few issues, and seemingly has settled into the Haas team extremely well.
And so, Palmer is struggling to recall a Haas driver pairing as solid as this one.
"It's their best ever driver line-up for Haas," he told Sky Sports F1 during Day Three of the Bahrain test. "In the history of Haas Formula 1 team, this is their best line-up I would say.
"I mean, K-Mag has been an integral part, really. Romain Grosjean and Kevin Magnussen, I guess the other competitor maybe Magnussen and Schumacher, but I think Hulkenberg is largely considered to be probably the more established option, if he can settle in properly having had those years out.
"And in my opinion it is their strongest line-up, and why they'll be smiling is because it does sound like Nico is hungry for it, he's settled in really well, and that was I guess the one slight question mark about bringing him back, he thought he was out of it, bringing back a driver that is moving into his mid thirties, and he's still got that and he's settling in well.
"I think that they're both great guys and fast drivers fundamentally, so they should work together well. And Haas, the car looks decent, and the fact that Hulkenberg is settling in well, it's very encouraging, sounds like the vibe check is positive."
PlanetF1.com recommends
Bernie Ecclestone claims Red Bull would have taken 'more care' of Mick Schumacher
Jacques Villeneuve questions Alpine line-up after exit of 'huge loss' Fernando Alonso
Andrea Stella paints bleak picture for McLaren: 'Not in range of top four'
Which driver line-ups have Haas had in the past?
The Haas team has been a part of the Formula 1 grid since 2016, and thanks to a stable period where Magnussen and Grosjean drove through the years, the American squad is actually not one which has torn through drivers over their years in the sport.
Nonetheless, there are a few names yet to be covered who have raced for Haas in Formula 1, so let's take a look at their full driver history, and then you can decide if you agree with Palmer's statement that Magnussen and Hulkenberg are Haas' best combo yet.
2016: Romain Grosjean + Esteban Gutiérrez [29 points]
2017: Romain Grosjean + Kevin Magnussen [47]
2018: Romain Grosjean + Kevin Magnussen [93]
2019: Romain Grosjean + Kevin Magnussen [28]
2020: Romain Grosjean + Kevin Magnussen [3]/Kevin Magnussen + Pietro Fittipaldi [0]
2021: Mick Schumacher + Nikita Mazepin [0]
2022: Kevin Magnussen + Mick Schumacher [37]
2023: Kevin Magnussen + Nico Hulkenberg ?
Fittipaldi, who remains Haas' reserve driver, predicted to Sky F1 that the Haas VF-23 is between P5 and P7 in the F1 2023 pecking order, which would represent a solid starting point for the team.
With plans for a more aggressive development programme this season, the team will hope to avoid a repeat of 2022 where they slipped back having initially been a leading midfield outfit.