Palmer: Ferrari wanted to also butcher Sainz's race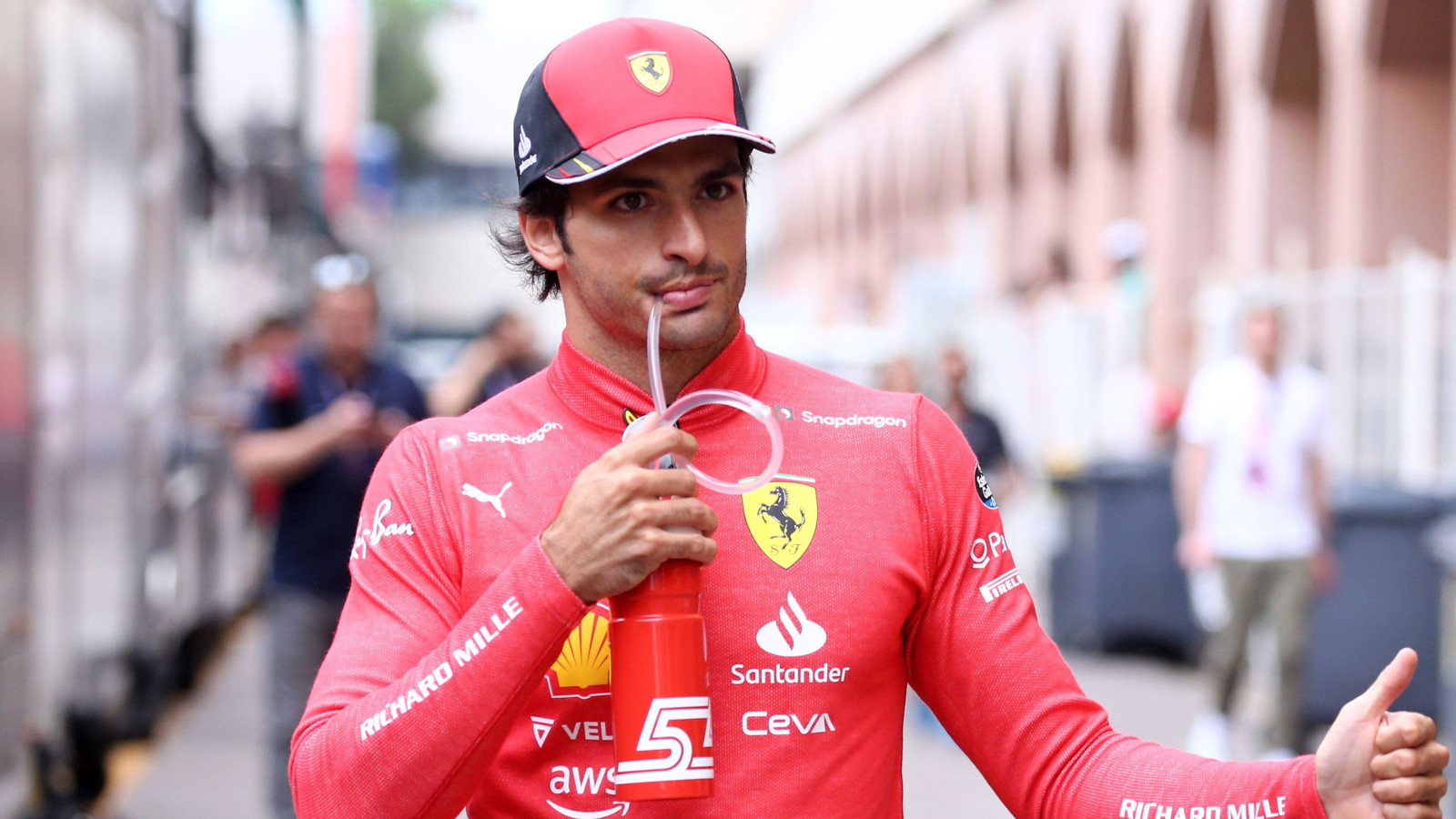 Carlos Sainz's refusal to stop for intermediates in Monaco was a "great strategy" made by the Spaniard himself with Jolyon Palmer saying had he listened to Ferrari it would have "butchered" his race.
Ferrari had the 1-2 early in a wet Monaco Grand Prix, Charles Leclerc leading the race ahead of Sainz and the chasing Red Bull drivers.
Red Bull were the first to blink, pitting Sergio Perez for intermediates, with Ferrari then calling Sainz to cover that move. He refused to, while two laps after Perez's stop Leclerc did pit from the lead only to pit again three laps later for slicks.
That cost him dearly, the Monégasque driver falling to fourth while Sainz with just one slick tyre stop could have taken the lead were it not for traffic on his out-lap.
🇲🇨 P2. We did the right call but a lapped car in my out-lap on slicks cost me too much time and we lost the lead. Tough one to digest because the win was there for the taking but I gave it all and we'll comeback stronger as a team!

–#Carlossainz pic.twitter.com/yDqmljoBLV

— Carlos Sainz (@Carlossainz55) May 29, 2022
Palmer says he deserved praise for his inspired strategy call.
"They don't call the first pit stop that was a brave one from Red Bull," he told the Chequered Flag podcast. "Okay, that made senses and it was good strategy from Red Bull.
"Then Sainz from the cockpit, this is the interesting thing to me, we really hear much chatter from Leclerc and in his engineer but I really rated Sainz, I thought it was brilliant.
"We heard the chatter from Sainz's car in second and Ferrari wanted to call them in and they were pretty persistent as well, 'come in for inters, come in inters, and he was like 'no guys'.
"And he flat out from second place didn't pit and he said 'no let's wait for slicks'.
"He could obviously feel the car and thought 'no, we got track position in Monaco. We're gonna wait for slicks'.
"He was robust in turning down Ferrari which is a bit cool, especially for driver that is low in confidence at the moment, or seemingly low in confidence, and is in a great position in the race around a track that you can't overtake."
Palmer was impressed with how adamant Sainz was about calling his own strategy on the day.
"It's a bit cool for him to be so adamant to not pit because most drivers just would assume kind of correctly that the pit wall can see what's going on and it's the right call," he said.
"Sainz did really great from the from the cockpit, whereas we don't know really how the communication worked with Leclerc but basically Sainz called his own great strategy."
The former driver turned pundit added: "Ferrari wanted to also butcher Sainz's race and get him behind Perez at that point. They wanted to, and that's what they would have done if Sainz had come in."
Sainz finished the grand prix in second place behind Perez with Leclerc P4.
Torquing Point: Carlos Sainz's intelligence and strength shines through - Monaco GP Conclusions
Carlos Sainz delivered a strong drive in Monaco to come home in second and make Ferrari think twice about calling him their second driver.