'Ferrari are not doing right by Leclerc at the moment'
BBC F1 broadcaster Jolyon Palmer has criticised Ferrari's approach to the British Grand Prix after Charles Leclerc missed out on a podium finish.
Leclerc finished in fourth place, having missed out on a likely victory after a late Safety Car halted his charge. He was leading a Ferrari 1-2 when the Safety Car came out with 15 laps to go, but the Scuderia opted only to bring in Carlos Sainz for fresh soft tyres.
This meant that when the race resumed with Leclerc leading, he was on aging hard tyres and was powerless to prevent Sainz, Red Bull's Sergio Perez and Mercedes' Lewis Hamilton from passing him to demote him from the podium – all of whom had pitted for fresh softs.
"That's the money question – why?" Palmer mused on the BBC's Chequered Flag podcast when asked about why Ferrari had pitted the car in second place and not the leader.
"Leclerc was the stronger driver at Ferrari today. I'm really chuffed for Carlos Sainz but it wasn't actually his best day today. He wasn't that quick. Leclerc was quicker with a damaged front wing.
"He should have had the race, but Ferrari pitted Sainz and didn't pit Leclerc – and he's the main guy in the championship. There were also question marks over whether they should have let Leclerc through past Sainz earlier on when Leclerc was so much quicker. He wasn't very happy about it from the cockpit."
Considering it was a day when his title rival Max Verstappen was out of victory contention due to damage on his Red Bull, Palmer believes Ferrari dropped the ball when it came to pitting Leclerc and ensuring maximum impact on the Drivers' Championship.
"I think Leclerc will be really unhappy with how this race unfolded," he said.
"The management have some questions to answer because Leclerc should have been taking big points out of Verstappen today. He's taken all of six points out of Verstappen when he's been scrapping with car problems. It's not good enough if you want to win a title."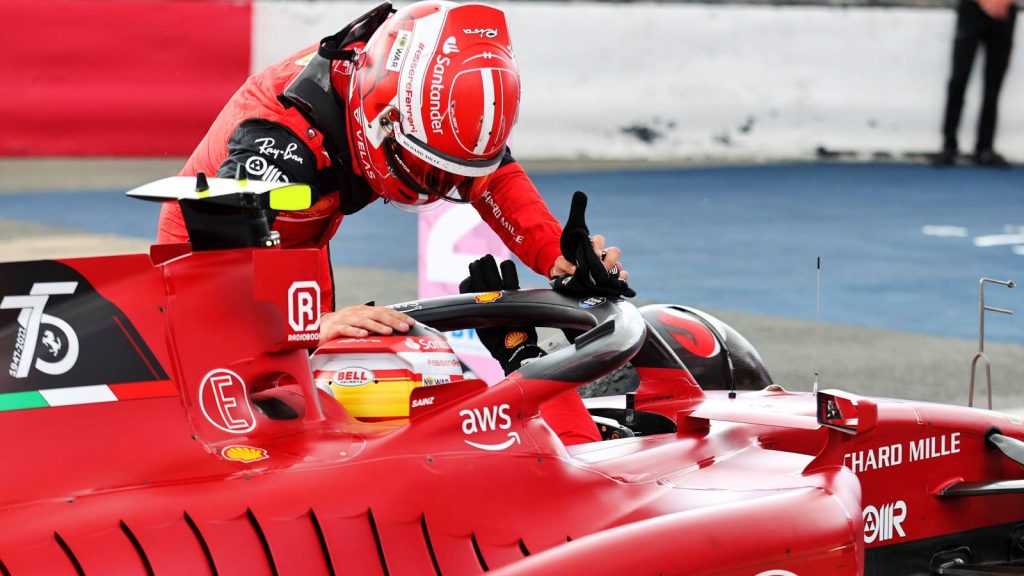 Binotto explained after the race why Ferrari had made the decisions they did and Palmer said a Sainz victory would likely have only added to Leclerc's disappointment with the final result.
"I think it's almost harder for Leclerc that Sainz won, because it's almost like 'that's the strategy I should have been on' and he took an easy win in the end," he said.
"They are good team-mates and he will be happy for his team-mate to take his first win. But if you just look through Charles' season – Barcelona [he] should have won, was leading – engine failure.
"Monaco – should have won. [He] was leading, horrible strategy. Baku – could have won, was leading, engine failure. Canada where he came from the back to fifth and then here, leading – horrible strategy.
"What a gutting run for the last five races he could have won. In all of them, he has had two retirements, two fourths and a fifth. He was so frustrated with the team as well. I think it's starting to wear thin a little bit now for him. He's got to back the team, but they are not doing right by him at the moment."
Fellow podcast guest Harry Benjamin agreed with Palmer that Ferrari appear to be indecisive about whether or not Leclerc is actually fighting for the title.
"Leclerc should have been let through sooner, he lost so much time behind him (Sainz)," he said.
"I loved the fact they were able to race but if you're Ferrari, you're trying to think of the long game.
"If we're still saying Ferrari are in this title fight, Sainz is now only 11 points behind Leclerc in the standings. I don't think you could actually confidently say Leclerc is the dominant championship contender in that team now.
"I don't think it's too harsh to say Leclerc was a title contender right from the very off and the fact he's becoming less and less so and ultimately losing the chance to fight for a title – it's not his fault, it's Ferrari's."