Palmer 'very surprised' Leclerc avoided FIA investigation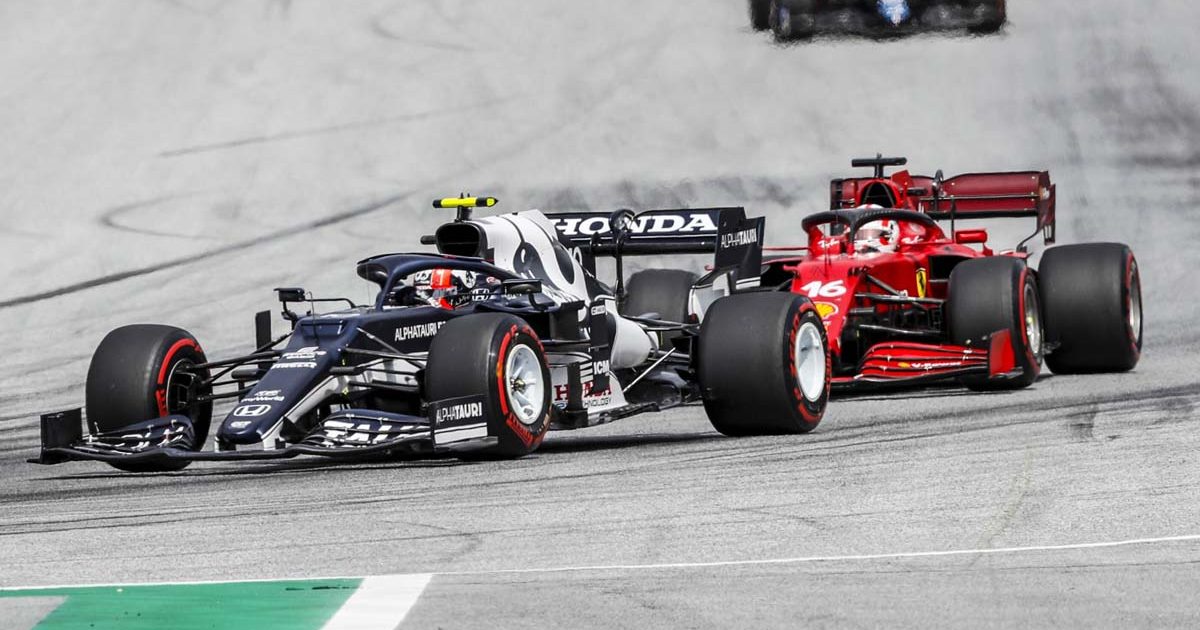 Jolyon Palmer spoke of his shock that Charles Leclerc avoided punishment for his clash with Pierre Gasly on the first lap of the Styrian Grand Prix.
The pair came out of Turn 1 and Leclerc moved to tuck in behind the AlphaTauri, but clipped his front wing off Gasly's left-rear tyre in doing so, which caused a puncture that ultimately ended the Frenchman's race.
With grid penalties having been dished out for Valtteri Bottas and Yuki Tsunoda earlier in the weekend, former Renault driver Palmer feels the FIA could have taken a dimmer view of Leclerc's action on the first lap.
"I'm also very surprised he didn't get investigated by the stewards for the incident as well, because in my view he was clearly at fault," Palmer wrote in his column for Formula1.com.
"Gasly couldn't really move to the right because [Fernando] Alonso was there, while Leclerc had plenty of space on his left to avoid the clash.
"Race director Michael Masi said after the race that because this was a first lap incident he noted it, but didn't feel it necessary to refer it to the stewards. In some instances this is a good way to go, because often on the first lap when tyres are cold and space is very limited tiny misjudgements can have significant consequences, and drivers are often squeezed from multiple angles.
"But in the Styrian Grand Prix, Leclerc's error was a more basic misjudgement that ended the race of another driver and it actually didn't really have anything to do with the fact that it was the start and they were all on cold tyres – he just moved over in a straight line and caused a collision."
Show your support for Charles Leclerc with his official merchandise collection on the Formula 1 store
Leclerc was able to claw his way back through the field, however. After pitting on the first lap with his wing damaged, he was able to fight through the pack and, despite taking an extra stop, managing to get back and earn a respectable P7 finish – the position in which he started the race.
While Palmer felt he deserved some kind of punishment for his clash with Gasly, that incident should not detract from the quality of the Monegasque's recovery.
"Either way Leclerc got away with it, and made the most of his free pass because his recovery drive was exemplary," Palmer said.
"When a driver is on the back foot, with the race seemingly gone, it can go one of two ways: either they wilt and feel all is lost, and lose that final bit of drive to push the car to its maximum for lap after lap; or they get red mist, the bit between their teeth and put in an aggressive, no second chances recovery charge. It was the latter we saw from Leclerc on Sunday.
"It completed a drive of two halves for Leclerc. A sloppy error which was made up for with a feisty recovery drive to score good points for his team. With the pace Ferrari had in the race in Styria, though, they will be hoping that next week's Grand Prix, at the same circuit, will be more straightforward."
Follow us on Twitter @Planet_F1, like our Facebook page and join us on Instagram!