Jolyon Palmer wouldn't bet against Fernando Alonso winning races this season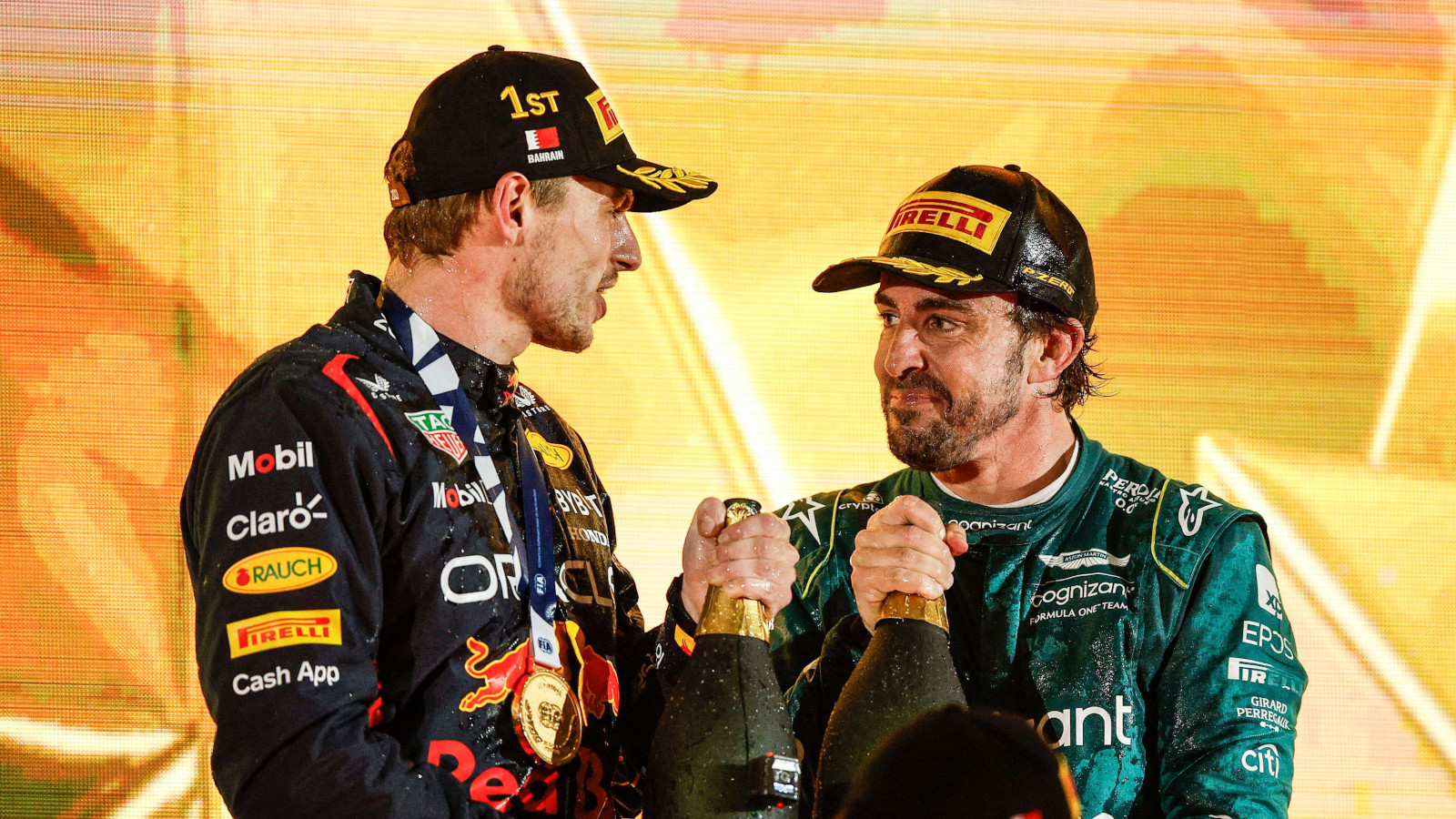 The star of the Bahrain Grand Prix, Jolyon Palmer says Fernando Alonso has "not lost any of his skill or appetite" and he's backing the Aston Martin driver to claim win number 33 this season.
Alonso's performance in Sunday night's Bahrain Grand Prix was the highlight of the race as the double World Champion raced his way onto the podium.
Lining up P5 on the grid, he lost places on the opening lap when he was hit by his Aston Martin team-mate Lance Stroll and had to set about recovering.
While Max Verstappen raced off into the distance to bag the first win of the season, Alonso had to fight others for position, first George Russell then Lewis Hamilton and finally Carlos Sainz.
That final pass put the Aston Martin driver on the podium but it was a case of what could have been had he not lost places on lap 1.
Palmer was impressed with what he saw.
"Fernando Alonso has been waiting a decade for a car that he can compete with at the sharp end of Formula 1, and finally in 2023 it seems he has one," he wrote in his post-Bahrain column for the official F1 website.
"The Aston Martin looked hooked up from the word go in pre-season. It took a while for Fernando to emerge in the car, but from the very first lap I saw, he looked comfortable and was hustling on, visibly more than most others out there.
"By the time we got to the race weekend, there was a palpable air of excitement for Aston Martin from the neutrals in the paddock, and a fear of them from their competitors, exaggerated by their practice-topping times.
"While qualifying still shows that there is an outright pace deficit to the Red Bulls and even the Ferraris, the race-pace is what had stood out more in testing, and we saw that come to fruition on Sunday.
"Had Fernando not been hit by his team-mate Lance Stroll on the opening lap, things might have played out more routinely for the Spaniard.
"As it was, it was fantastic for us that he did lose places to the Mercedes, because it was the catalyst for a spectacular charge towards a podium that surely would have been comfortable without the collision.
"Whenever I was racing with Alonso wheel-to-wheel, he was always a different competitor compared to others I was up against. He has an incredible ability to read racing situations, has immense peripheral vision, and he can think a few corners ahead when trying to plan out a clinical overtake.
"Even at 41, those are exactly the qualities he displayed on Sunday."
PlanetF1.com recommends
Bahrain 2023: When Lawrence and Lance Stroll finally won Formula 1's acceptance
Christian Horner expects more Red Bull-styled cars, 'one team adopted our theme and made gains'
Five reasons for everyone to still be excited about the F1 2023 season
However, the Former F1 driver turned pundit isn't entirely sure Alonso would have made it past Charles Leclerc had the Ferrari driver's SF-23 not died on him on lap 41 while Alonso chased down Carlos Sainz.
"Whether he would have been able to fight with Leclerc for a genuine podium, before the lead Ferrari stopped, is debatable," he said.
"He was 12 seconds behind Leclerc at the time, and managed to find at least that amount of time over Sainz in the remainder of the race, despite quite clearly relaxing into a measured third place, while Sainz was being forced to push to the end because of Hamilton's threat behind."
But, he added, "there's no doubt the Aston Martin was the faster car in race trim and without his team-mate's lap 1 intervention, it surely would have been comfortable, even though Leclerc started the race on new tyres."
Now the question is "where do they go from here?", asks Palmer. The answer to that, he reckons, is onto the top step of the podium.
"Aston Martin have given themselves a wonderful baseline for the year though, and with considerably more development time than their front-running rivals, you have to believe that this could be the year Alonso breaks his long win draught," he said.
"There's one thing for sure though: for all his years in the midfield doldrums, Fernando Alonso's not lost any of his skill – or appetite."