Palmer supports half-points, unsure about refunds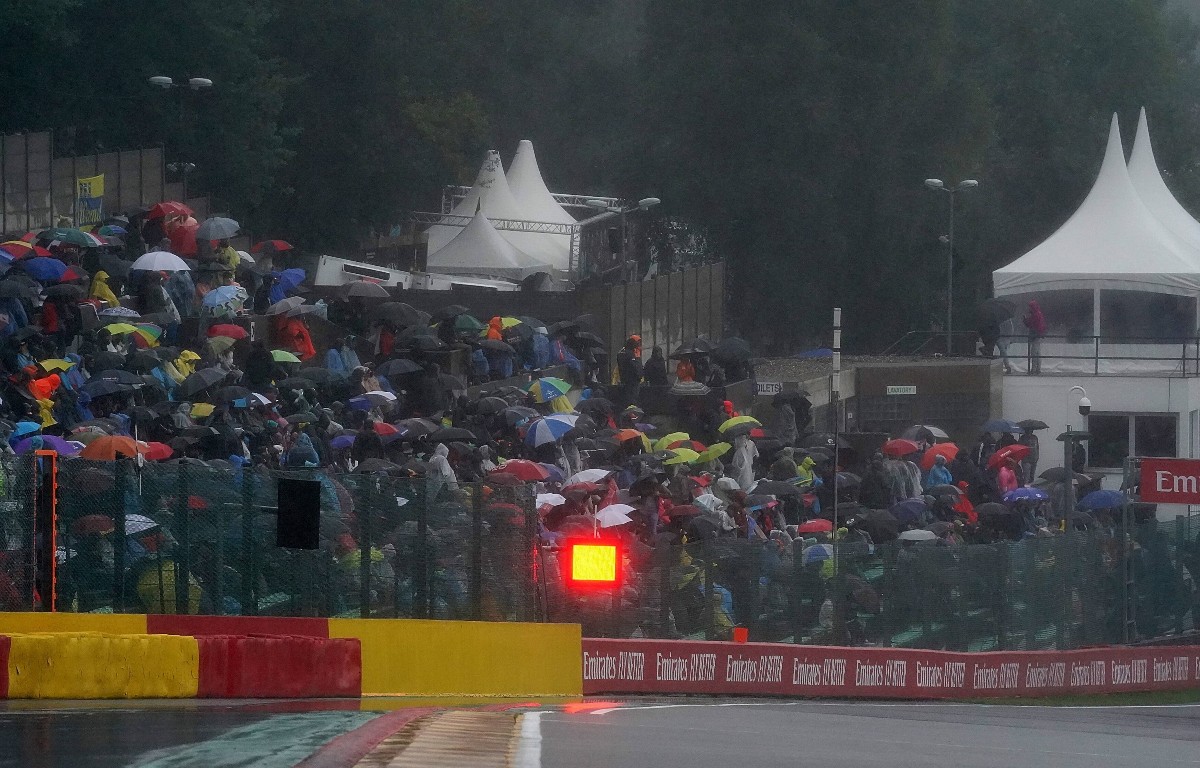 Jolyon Palmer is pleased drivers were given half-points at the Belgian Grand Prix and is unsure whether fans should receive refunds.
Due to the treacherous conditions caused by a constant barrage of rain, next to no racing actually took place at Spa on Sunday.
A precious few laps were completed behind the Safety Car though, making the result official and leading to half-points being awarded for the "race."
Many felt that it wasn't right for drivers to be awarded points for simply driving behind the Safety Car in the order that they started for a grand total of four laps, but Palmer for one is pleased that those who qualified well were rewarded.
"I don't mind the drivers finishing in the order that they did and getting half points for, basically, their qualifying efforts and getting around to the grid without crashing," he said on the Chequered Flag podcast.
"I don't mind that because otherwise, the alternative is – it's sort of harsh either way. It's harsh because if a driver didn't have a good qualifying then they've got no chance to make up points. But, the other way, if you cancel the race, have no points, it's harsh for the guys that did have a good qualifying.
"Verstappen was on pole, had a great chance to win this one; Russell had a blinder yesterday to qualify second; should that just go to absolute nothing?
"To me, half-points is a sort of: 'Well done, you were in a good position but we can't run the race,' but the weekend is not meaningless."
Another big talking point after race day was whether fans should be refunded given the lack of action that they saw. with Lewis Hamilton feeling they should.
However, Palmer isn't sure whether he agrees with his compatriot or not.
"In terms of should the fans get their money back and the rest of it…" he continued.
"I don't know, it's a tough one. They still had other races in the day.
"It's tough, I do feel really sorry for the fans, it's really tough for them, four hours out in the rain in the grandstands, hoping for something. Obviously, they've not got their money's worth.
"That's one for the circuit, for Formula 1 and for whatever commercial deals that are there."
What a weekend! It's no secret that we've had some tough times in recent years, but not one member of this team has ever stopped pushing. You all belong up on that podium, @WilliamsRacing. It was a privilege to represent you up there today. 💙 pic.twitter.com/9hLpCUaanF

— George Russell (@GeorgeRussell63) August 29, 2021
Check all the latest 2021 teamwear via the official Formula 1 store
On what was a largely glum day for the sport, one of the few feel-good stories was George Russell, with the Brit benefitting from the decision to make the race result official, thus finishing in P2.
The Williams man has had his fair share of misfortune since joining the grid, but Palmer says he was one of the luckiest drivers in Spa.
"He was interviewed before we had those two laps and he was desperate to get the result to stand," he added.
"We were thinking is this actually such an unlucky day for him where he's not going to get a chance to start from second and have his best-ever race?
"It's probably turned into the best outcome he could have hoped for. Were you ever going to beat Max Verstappen and this Grand Prix? Almost certainly not.
"He's had a majestic qualifying; for the first time pretty much ever, the results are just called based on qualifying, on the one day that he's had an incredible drive on a Saturday. He's ended up in a great position.
"Probably if the race carries on, Hamilton's passing him. Could he have held on in wet conditions? Maybe, but fair play, his qualifying in really tricky conditions was epic."