'Bottas' one-stopper was bold, but Merc did nothing wrong'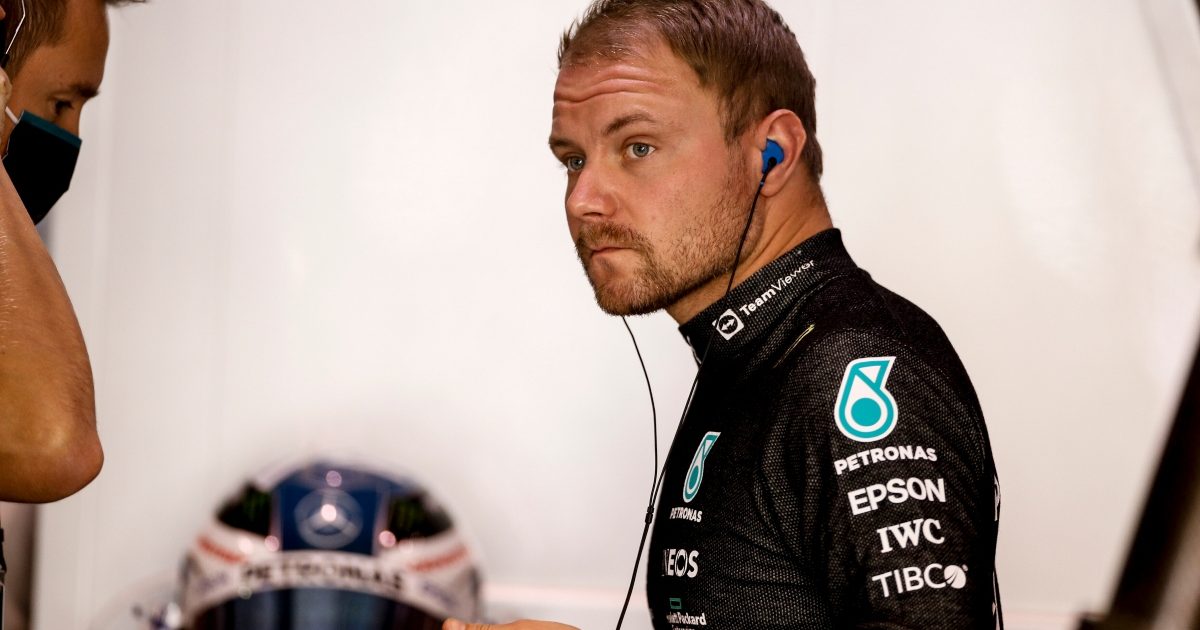 Jolyon Palmer says "in hindsight" Mercedes made the wrong call running Valtteri Bottas on a long first stint in Qatar.
But, he adds, the team cannot be blamed as they didn't have the data going into the race weekend given that it was Formula 1's first-ever visit to the Losail circuit.
Formula 1 raced in Qatar this past weekend with Lewis Hamilton taking the win ahead of Max Verstappen, both drivers on two-stop strategies although Red Bull did pit Verstappen late in the race for the fastest lap point.
Hamilton's team-mate Bottas, after a tardy start, set about working his way onto the podium with Mercedes opting for a one-stop strategy for the 32-year-old.
That ended in disaster when, on lap 33, his W12 suffered an unexpected tyre failure.
Off into the gravel, Bottas limped back to the pits for fresh tyres before retiring his car a short while later due to aerodynamic damage.
He was one of four drivers to have tyre issues, both Williams team-mates suffering punctures as they too attempt one-stoppers, while Lando Norris made it back into the pits as he noticed an issue.
"In hindsight," Palmer wrote in his post-Qatar column for the official F1 website, "Bottas trying to do 33 laps on a set of mediums was bold, but this was the inaugural race in Qatar, and teams hadn't managed to run a tyre to the end of its life around this circuit before.
"Bottas' lap times were hanging on very well, he was lapping at a consistent pace and Mercedes were leaving him out there to try to overcut Alonso in a bid to chase only Sergio Perez down for the podium.
A tough break for Valtteri Bottas as his hopes of a podium finish in Qatar take a hit on Lap 33 😞#QatarGP 🇶🇦 #F1 pic.twitter.com/rDQ5UtGCgf

— Formula 1 (@F1) November 23, 2021
"Suddenly Bottas' left front blew and with it going so early around the lap, he had a long way to get back to the pits – it ruled him out of contention even before the team decided to retire the car later on.
"Sometimes small vibrations at the wheel can be an alarm bell that the tyres are on the edge, and we heard some radio chatter from others, including the two leaders about this, forcing them into two stops, but in many cases the tyre can just puncture unexpectedly."
The former F1 driver reckons Bottas' tyre issue was similar to that suffered by his team-mate Hamilton and others in recent British GPs at the Silverstone circuit.
"The issue was, unlike most races where the tyres degrade and the driver becomes woefully slow before any structural issues arise, there was often absolutely no forewarning in Qatar," he added.
"It was akin to some of the Silverstone races we've had in recent times with similar issues, most notably with Lewis Hamilton finishing on three wheels to win last year.
"Losail and Silverstone are viciously quick circuits. The constant high speed corners result in increased wear to the loaded outside front tyre. Both circuits are clockwise so therefore it's the front left that takes the brunt it.
"On top of that, with relatively flat kerbs on the exits of these fast corners, drivers could push the edge of track limit boundaries, and with raised shark tooth kerbs just beyond in Qatar, it added extra stress to those front tyres, and as they became more worn they became more prone to further damage."
Mercedes have out-developed Red Bull
Mercedes and Red Bull have seemed to be level all year, but now the Mercs are stronger.