Montoya criticises 'crazy' penalties at Austrian GP
Juan Pablo Montoya has branded the controversial penalties which were handed out in Austria for robust defence as "crazy".
It all started when Sergio Perez tried to go around the outside of Lando Norris at Turn 4, with Perez going off into the gravel as he ran out of track.
The stewards deemed that Norris had forced him off the track, a decision which even Red Bull principal Christian Horner did not agree with.
But later in the race Charles Leclerc would go into the gravel in the same manner twice as he looked to pass Perez, leaving the stewards with no choice but to hand out the same punishment each time.
With 10 seconds' worth of time penalties added, Perez dropped to P6 in the final classification.
But Montoya, who raced in Formula 1 between 2001 and 2006, can not even begin to understand what the stewards were thinking.
"What happened in the race, in my opinion… I mean, why is it a penalty, because there's gravel?" Montoya told Motorsport TV.
"If there's a run-off, is it not a penalty? If somebody drives somebody over a banana and off the race track, why is there not a penalty and why in Turn 4 is there a penalty? Because it was gravel? Anybody that you are side by side with and pushes you off the track should get a penalty?
"I don't know. I think it's crazy. In my opinion, if I was the deciding person, I would say that if you were on the outside, you have no business being on the outside, and that's been taught from the karting days.
"Unless they change the mentality on the karting and the small formulas, how they do things, it's very difficult. All these kids grew up [being told] that if somebody tries to pass you around the outside, you drive them off the fricking race track! And you have to!
"So what do you expect? Why do you get mad if you go around the outside?
"The best example is Sergio. Sergio got dropped to the grass because he was on the outside, and then things inverted, and he was the guy on the inside, and he dropped the guy to the outside."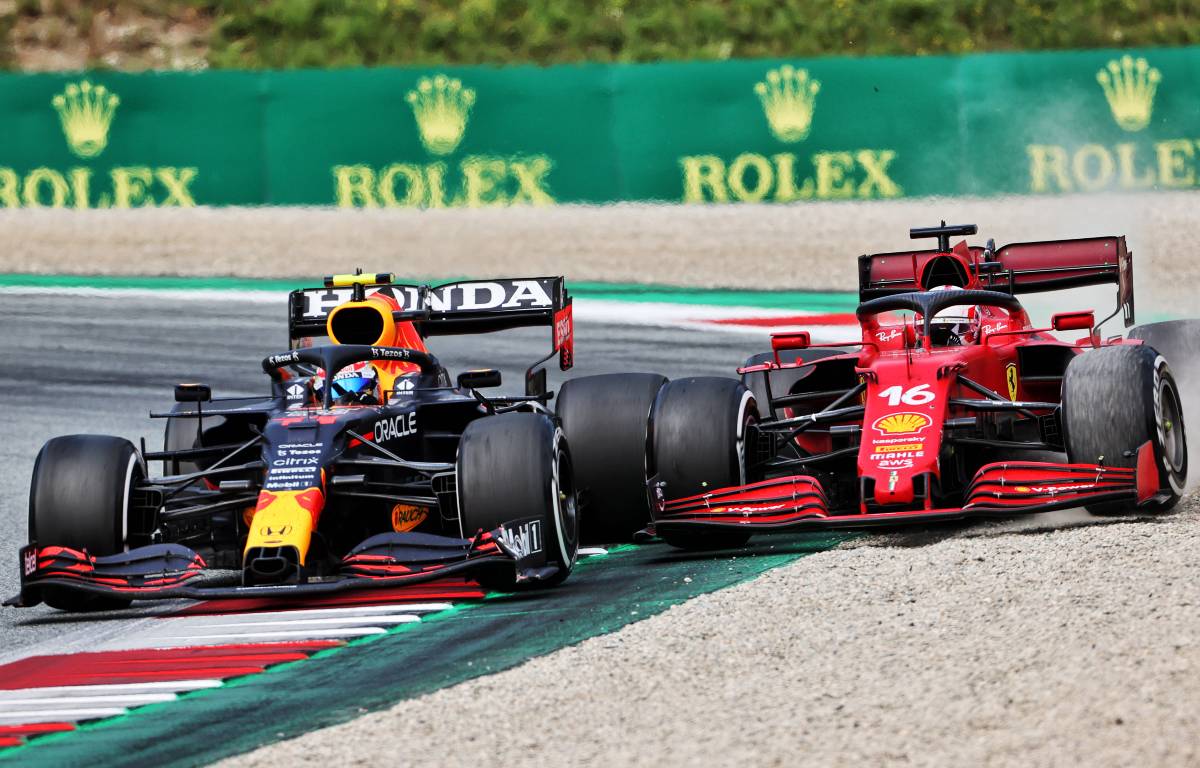 Check all the latest 2021 teamwear via the official Formula 1 store
Montoya feels the problem arises from the fact that these were all judgement calls by the stewards, and so if that manner of defence is not going to be tolerated, then actual rules need to be put into place to define what is acceptable.
"I think the hard thing is, it's either the drivers have control and they go and let us race, or the stewards go, oh no, you need to share a space," he explained.
"If you need to share a space, then you need to define, OK, half of the car is there, so you're side-by-side, when do you need to give space?"
Even then though, Montoya says further judgement calls will be made because drivers will dispute where they were in relation to the other car.
"It becomes again a judgement call, and when you have a judgement call, this is when everybody gets really, really unhappy, because [they'll say] 'oh, I thought I was there', and somebody else is going to say, 'no, you were not far enough, you were missing that much'," he said.
Follow us on Twitter @Planet_F1, like our Facebook page and join us on Instagram!