Montoya: Someone like Norris could decide the title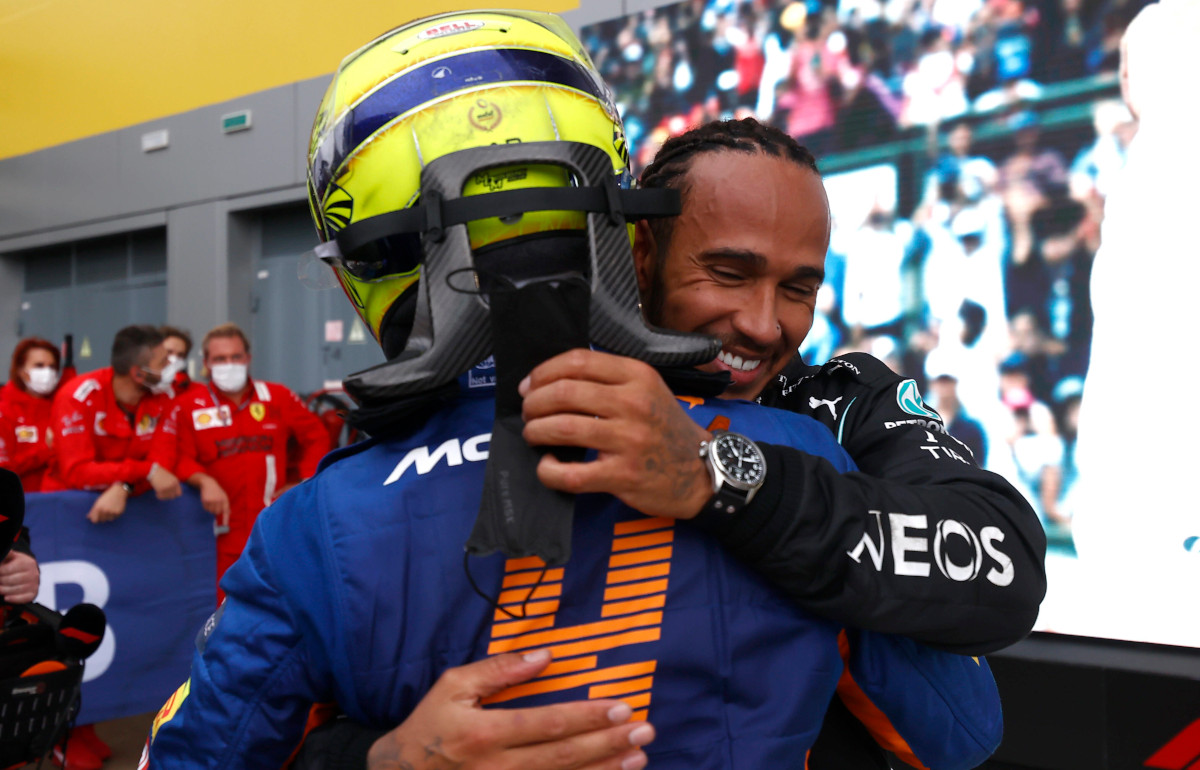 Separated by two points with a third of the season remaining, Juan Pablo Montoya feels it could be someone outside of Mercedes or Red Bull who crowns this year's champion.
This year's championship has seen an enthralling battle for the World title that many are predicting will only be decided at the final chequered flag of the season in Abu Dhabi.
While Lewis Hamilton held the early advantage, Max Verstappen edged ahead in Monaco before building up a 32-point advantage. Back-to-back crashes saw Hamilton regain the lead, which he then lost, and now has it again thanks to his 100th race win in Russian GP.
Hamilton's Sochi win was a piece of strategy masterclass from Mercedes, who insisted on their driver pitting when race leader Lando Norris stayed out as the rain fell at the circuit. Hamilton took the win while a similarly well-timed decision from Red Bull saw Verstappen finish P2.
It is making quick and decisive strategy calls that Montoya feels could again swing the pendulum one way or another, especially as neither Sergio Perez nor Valtteri Bottas are able to do much to help their team-mates.
So much so that one against one and evenly matched, Montoya reckons it will be "someone like Lando" who ultimately decides this year's World Champion.
"I believe Red Bull has the slightly faster car at the moment," he said in an interview with Motorsport.tv.
"The question is how they deal with the pressure, how they are going to make the calls and how everything is going to work.
"At the moment you have to recognise that Lewis and Max are on a different level from the rest.
"I think Sergio and Valtteri are having a bit of trouble with the cars and as a team sport that makes it difficult in terms of strategy and things like that.
"It's going to come down to these two, and a race where someone like Lando takes points."
The former F1 driver was impressed with Norris' Russian Grand Prix weekend even if it did end in heartache for the McLaren driver.
Agonising. 😩#RussianGP #F1pic.twitter.com/LC30fDUAS3

— PlanetF1 (@Planet_F1) September 26, 2021
Check all the latest 2021 teamwear via the official Formula 1 store
Norris claimed pole position and was leading the race before the rain began to fall and he decided to stay out a few laps too long. He finished P7.
"He's proven he can do it, that's the most important thing," Montoya said. "That is also what he can take with him in a positive sense, namely that he can do it.
'That's roughly what happened to me when Jos [Verstappen] ran over me in Brazil. Everyone thought I was pissed, but I was actually really happy. I had overtaken Michael [Schumacher], I was leading a grand prix. In my head I thought 'I can do this, I really can do this'.
"As soon as you start to believe in yourself in that way and believe that you can do it, then it comes relatively easy."
He feels for both the driver and the McLaren team, saying Sunday's result was because neither are used to having to make those sort of calls with the pressure on a race win on their shoulders.
"If you're not always there and you're under pressure, the mistakes will come. It needs some time. It takes some time to make sure you make the right choices," he said.
"Normally you also see the guys who win make mistakes. It is not easy. I don't think anyone can be blamed for what happened there."